More Midwives
The WI called on the government to increase investment in the training, employment and retention of midwives in England and Wales.

Background
Launched in 2012, our More Midwives campaign stemmed from a resolution put forward by a member who was also a midwife. She described a service that was stretched to the limit by high birth rates, increasing the complexity of care and financial pressures on the NHS.
In 2013 we published "Support Overdue", our first report with the NCT. It found that maternity services were struggling to cope with under-resourcing and were unable to deliver on their ambitions as a result.
We published our second "Support Overdue" report with the NCT in 2017. Based on a survey of 2,500 women who gave birth in England or Wales between 2014 and 2016, the report found:
While many women experienced excellent maternity care, too many were not getting the support they needed.
Half of the respondents experienced a 'red flag event' – a sign that staffing levels on wards are too low.
One in five women did not see a midwife as much as they needed to in the postnatal period.
Campaign Achievements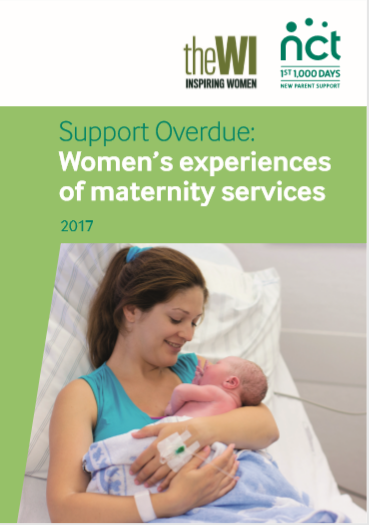 In 2015 the National Institute for Health and Care Excellence published its first-ever safe staffing guidelines for maternity settings. The following year NHS England published a major review of maternity services, which cited the Support Overdue (2013) report.
Further Information
In June 2019, the WI published a campaign update pack identifying key developments during the campaign, an update on the current situation and detailing ways for WI members to take the campaign forward. To download the pack click here.
---
If you are not already a WI member, the members decide the WI campaigns through a democratic vote. We would love to welcome a new WI member, please click here for further details.
Subscribe to the Public Affairs Digest
The Public Affairs team has created a monthly e-update on all the latest WI campaigning news. If you would like to receive the Digest please subscribe here.
---