See the Signs
Our campaign seeks to raise awareness of the subtle signs and symptoms of ovarian cancer to help ensure that more women are diagnosed earlier.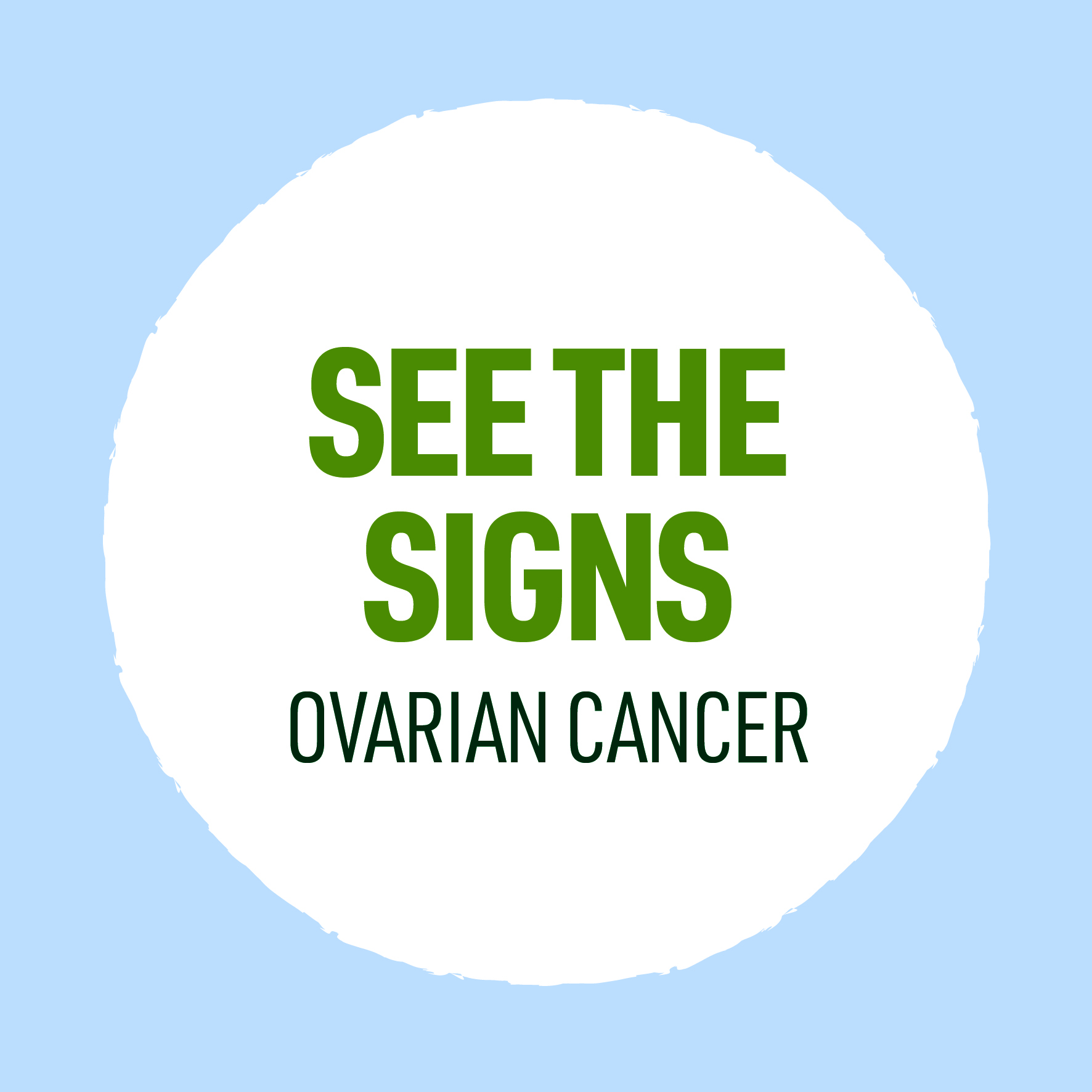 Coronavirus update
The way patients are seen in primary care has changed because of Coronavirus, but GP practices remain open and are still there to help if you are worried about symptoms.
Most appointments in the first instance are carried out over the phone or via video to reduce face-to-face contact to keep you safe. However, if you need a physical appointment (for a physical examination or a blood test for example) you will still be seen in person by a GP. The Royal College of General Practitioners advises speaking to your GP and reaching a decision on what is best for you.
You can find out more about GP consultations on the NHS website. For information and support on preparing for a remote appointment during the Covid-19 period, visit Ovacome's website.
Background
According to Cancer Research UK, there are around 7,500 new ovarian cancer cases in the UK each year, and 4,200 deaths.
It is one of the most common types of cancer in women, mainly affecting those who have been through menopause.
Although the risk of developing ovarian cancer increases with age, there are cases in younger women so it's important that all women know the symptoms to look out for. On average, 1,330 women under the age of 50 are diagnosed with ovarian cancer every year in the UK.
The earlier ovarian cancer is diagnosed the easier it is to treat. However, because the early signs of ovarian cancer are similar to conditions such as irritable bowel syndrome (IBS), and pre-menstrual syndrome (PMS), it is often not diagnosed until it has spread and a cure is not possible.
Overall awareness of the symptoms of ovarian cancer remains low, yet this is crucial to early diagnosis, alongside other factors such as healthcare professionals taking the necessary steps when women present with them.
How you can get involved
Visit our online exhibition to see all entries to the NFWI's See the Signs craftivism competition. You can also find craft guides for the winning and first runner up entries here and here if you would like to have a go at re-creating them to raise awareness.
Download our campaign action pack to find out more about the issue and how you can take action.
Share our symptoms leaflet and poster. We have also crated Welsh versions of the poster (download here) and leaflet (download here) for you to use.
Spread the word on social media by sharing our posts or using the hashtag #SeeTheSigns and our symptoms images which you can download at the bottom of this page. (Simply click the image to prompt the download)
Share your experiences with us. To raise awareness of the importance of being able to identify a possible sign of ovarian cancer, we would love to hear why this issue is important to you and about any experience you may have had linked to the resolution.
In support of the mandate, stories that are shared with us may be used to promote the WI's campaign in NFWI Public Affairs resources, WI Life, and on our social media channels. You can of course remain anonymous if you wish to. Contact pa@nfwi.org.uk
Use our meeting/event evaluation form to track the impact of your activities on a local level as part of this campaign. Please share the form with anyone who attends a meeting or event you are organising on ovarian cancer, and ask them to return it to the NFWI Public Affairs Department by email using the email address above. You can download the evaluation form here. Alternatively, you can complete it online: www.thewi.org.uk/seethesigns-event-survey
Symptoms images for social media