Press Releases
21st June 2019
WI members knit scarf to show the shocking reality of climate change over 100 years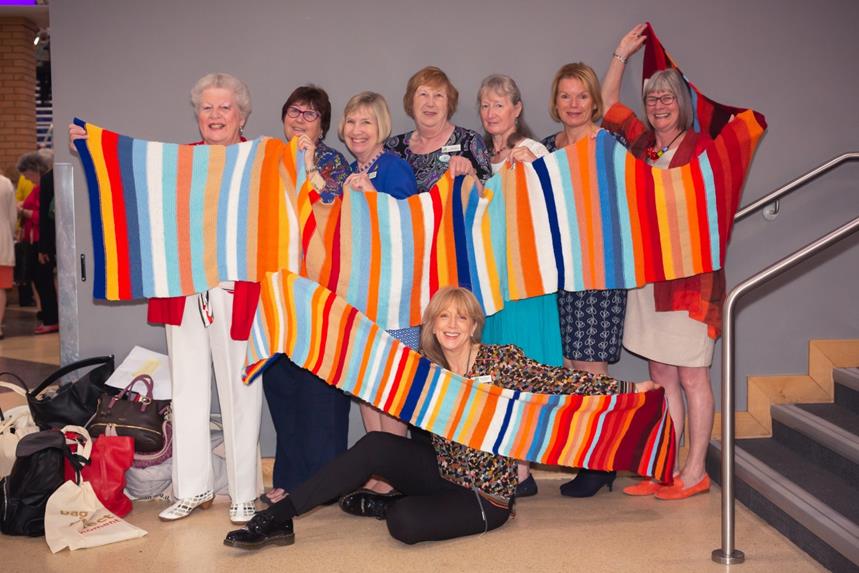 Eight of the knitters with the climate scarf at the NFWI Annual Meeting in Bournemouth
Image: Jenny Stewart
Eleven WI members from WIs across Cambridgeshire have knitted a five-metre long scarf representing the UK's average temperature from 1918 to 2018.
The idea was developed in the lead up to 'The Time Is Now' mass lobby, taking place on Wednesday 26June, which will see thousands travel to Parliament to call for MPs to end the UK's contribution to climate change, and for the protection of the environment through ambitious new laws to clean our air, slash plastic pollution and restore wildlife to our countryside.
The WI is known for its love of crafts as well as its history of campaigning on environmental issues, and members wanted to create a crafted item that would be a striking visual representation of climate change.
Each knitter was given a decade to knit, the bars on the scarf are colour coded with blue representing colder years and the red tones representing warmer years.
Sue Smales, Linton WI, said:
"I love knitting, so I jumped at the chance to get involved in a project that uses knitting to show climate change so clearly. It got us all thinking and talking about it. We need the policymakers to take account of climate implications in all decision making in order to reverse the current trend."
Lesley Challands, Mill Road WI, said:
"Taking part made me focus on the decade I was given (1990s) which happened to be the years I had my children! I had forgotten how cold it was the year my daughter was born! It was a trip down memory lane weather-wise. However, when my part was included in the main scarf I realised just how much the weather has changed, bringing many issues and actually just how important it is to address the issue for future generations - our children, grandchildren and great-grandchildren. The scarf is actually a very powerful tool as it highlights so much in such a visual way."
The scarf will be brought along to the lobby, which will take place in the area surrounding the Palace of Westminster. The event is being organised by campaign groups The Climate Coalition and Greener UK. The two coalitions consist of more than 130 organisations representing over 15 million people – including the WI.
Lynne Stubbings, Chair of the National Federation of Women's Institutes, said:
"Hundreds of WI members will travel far and wide on 26 June to tell their MPs the time is now for urgent action on climate and the environment. WI members' commitment to tackling climate change is evident through projects such as the climate scarf. We welcomed the UK Government's recent announcement on their legally binding target to reach net-zero emissions, but this is just the first step, we need to ensure that the Government follows through on the ambition needed to achieve net-zero by 2050."
Please call our Public Relations department on 0044 20 371 9300 (Ext. 211) for information and resources around the WI as well as media enquiries. You can also send an email to pr@nfwi.org.uk.