Press Releases
16 September 2020
The WI launches strategic vision for the future on its 105th birthday
The National Federation of Women's Institutes (NFWI) has launched an ambitious five-year strategic plan to continue its success as the largest and most influential UK based women's organisation for years to come. This has been launched on 'WI Day', which is the 105th anniversary since the WI formed in Britain on 16th September 1915.
The strategic vision is made up of a series of statements outlining how the organisation plans to grow its membership and reach more women, making a positive impact in communities across the UK. The vision statements are as follows:
---
NFWI Vision
We aim to be an organisation of choice for all women, building on our past successes and the strength of our current membership and influence to ensure a sustainable and strong future for the WI.
Vision statement 1: Bold and Inspiring
We will be a bold voice representing all women and the communities in which they live.
Vision statement 2: Growing and Relevant
We will work together to continually promote the achievements of our organisation, reach more women and grow our membership.
Vision statement 3: Inclusive
Our membership will reflect our local communities and we will represent women from all backgrounds through the work we do.
Vision statement 4: Flexible
We will remove any practical barriers to women supporting us by offering flexible ways they can engage with what we do.
---
These four vision statements will form the basis of all of the NFWI's work going forward.
Melissa Green, General Secretary, NFWI, said:
"As an organisation, the WI has always been evolutionary, adapting as women's lives have changed, and this is how it has stayed relevant for over a century. However, this new vision will allow us to challenge ourselves to meet the needs of women in the 21st century, and be an organisation for all women.
"The strategic vision was shaped by WI members across the organisation so we'd like to thank them for their input; the success of the WI is a reflection of the brilliant contributions from our members. We are committed to focusing our time and resources on ensuring that we continually improve and enrich the experience of our existing members, whilst also reaching out to more women.
"The WI is an organisation with community at its heart. It gives women a space to meet people, learn new skills and campaign on issues facing women and wider society."
Lynne Stubbings, Chair, NFWI, said:
"Today we are celebrating 105 years of the WI, and in particular, we are recognising the incredible way in which the WI has smashed stereotypes over the years.
"The WI is a place for all women, and our members consist of women from all generations and all walks of life. This diversity is what makes our organisation unique, welcoming and successful in effecting change in areas that matter to our members.
"Our strategic vision will guarantee a strong future for the WI, in which WI members continue to challenge stereotypes and be a voice for women in society."
---
For more information, please contact NFWI PR Officer Fiona Hughes at f.hughes@nfwi.org.uk or 020 7371 9300 ext 211
---
7 May 2020
Surge in appreciation for green spaces and outpouring of community spirit amid lockdown
A new poll on community spirit and attitudes to green spaces during lockdown finds nearly two-thirds (63%) of us think protecting and enhancing green spaces should be a higher priority after the lockdown.
Only 11% of us feel less connected to our community during the lockdown, while 40% feel more connected and one in three (33%) of 18 to 34-year-olds report having made new intergenerational connections.
Despite us living under the strictest social distancing measures we've ever experienced in the UK, there has been an increase in community spirit and appreciation for local green spaces and countryside during the lockdown, according to new research released today. Commissioned by CPRE, the countryside charity and the National Federation of Women's Institutes (NFWI), and carried out by Opinium, the poll has found that over half (54%) agree that people are doing more to help their communities and nearly two-thirds of people (63%) feel that protecting local green spaces should be a higher priority for the government when lockdown ends.
The results show local green spaces have been a haven for many people since lockdown measures began with:
The majority (53%) of people saying they appreciate local green spaces more since the country adopted social distancing measures;
Over half (57%) of us reported that the lockdown has made us more aware of the importance of these local green spaces for our mental health and wellbeing; and
One in three people (35%) reported visiting green spaces more since the start of lockdown.
Crispin Truman, chief executive of CPRE, the countryside charity, said:
"Our countryside and local green spaces are facing mounting pressure but the coronavirus pandemic has reminded us why the countryside next door, including our Green Belts, is so important to ordinary people. More people are aware of the health and wellbeing benefits that access to green spaces delivers and support for protecting and enhancing these after lockdown is impossible for the government to ignore.
"Going back to business as usual is not an option. The government must use the forthcoming planning reforms to protect these precious spaces and also go further by investing in their enhancement.
"Many of us feared that lockdown would see more people isolated, lonely and cut off from their communities and the outside world. However, today's results have turned these notions on their head. While we are physically distanced, many of us are more connected than ever and people are helping each other in their communities – with different age groups connecting more – which is truly inspiring to see."
It is clear that some of the high-profile volunteering and fundraising initiatives, including the remarkable fundraising by Captain Tom, are not isolated acts of kindness and community spirit. The poll has also uncovered an outpouring of community spirit and feeling of togetherness, revealing that:
Only 11% of us feel less connected to our community at this time – 40% feel more connected and 42% just as connected as before;
Over half (54%) of us agree that people are doing more to help their community under lockdown;
Two in five people (42%) are communicating more with people in their local community and one in six people (19%) communicating at least twice as much with their neighbours as before; and
The top five ways in which we're connecting more under lockdown are:

'Clap for the NHS' on a Thursday evening (49%)
Saying hello at the front door (37%)
Social media (36%)
Phone calls (33%)
Seeing people in person and at a safe distance in communal spaces like parks (29%)
Intergenerational connections have also been impacted:
Nearly a quarter (24%) of people reporting they have made new connections with different age groups in their local community;
One in three (33%) 18 to 34-year-olds saying they have made new intergenerational connections;
For all those who have made these new connections, over two thirds (69%) are optimistic these new relationships will continue once lockdown is over.
Lynne Stubbings, Chair, National Federation of Women's Institutes, said:
"It is wonderful to see how communities have become more connected in response to the coronavirus pandemic. It is clear that we are cherishing our local communities now more than ever – by supporting our neighbours and those who are vulnerable and getting out in the fresh air at our local green spaces.
"The WI has always thrived through difficult times and for over one hundred years it has remained at the heart of its communities, supporting those in need – and today's lockdown is no different. WI members across the country have stepped forward to help others throughout the crisis – whether by arranging free book deliveries, sewing for the NHS, supporting food banks, or creating craft kits for families home-schooling their children. It is these acts of kindness and solidarity which have spread positivity, alleviated loneliness, and lifted people's spirits through what has been an incredibly challenging time.
"Throughout this crisis, green spaces have also been a lifeline to people dealing with the impact of lockdown. So many of us have discovered pockets of green right on our doorsteps – a chance to get out in the fresh air, exercise, and support our mental wellbeing, which has been an oasis in difficult times. Yet too many of these places are threatened - by pollution, litter or the impacts of climate change. As we look to rebuild after the crisis, we must make sure that we continue to cherish our communities and this new sense of connectedness – both to each other and to our local environment."
2nd April 2020
The WI goes virtual to continue supporting its members and communities
As a central pillar of community life for many women in towns, cities and villages across the UK, the WI has had to adapt rapidly over the last couple of weeks as the Coronavirus pandemic has developed. In true WI style, members have risen to the challenge of continuing their WI activities despite not being able to meet in person.
Many WI meetings, subgroups (book clubs, knitting clubs, film clubs) have been held virtually via Zoom or other video calling software. For those members who don't use the internet, WIs have set up telephone trees and buddy-up schemes to make sure all members are being checked in on.



The National Federation of Women's Institutes (NFWI) has launched #MyVirtualWI to acknowledge members efforts to keep the WI going.


Lynne Stubbings, Chair, NFWI, said:
"It is incredible to see the creative ways in which WI members are staying connected and tackling loneliness during the Coronavirus outbreak. The WI has always thrived through difficult times and for over one hundred years it's remained at the heart of its communities, supporting those in need.
Not only are members looking out for people in their own WI, but many are starting or joining in local initiatives to support vulnerable people in their communities."

Dovestone WI in Saddleworth has launched a community team of volunteers to help vulnerable and elderly people in isolation with food shops, prescription collection and doorstep drops. For members that are isolating due to their age, they are joining in efforts by ringing people who have given their phone numbers for a chat.

Dovestone WI were given a particularly important task on Friday 27 March when Nando's distribution centre contacted them and asked if they could get rid of some spare chicken that needed using in the community.
Jessica Moreland, President, Dovestone WI said:
"This 'spare' chicken turned out to be 3 tonnes of chicken! We got the call at 9 am, 11 am logistics were put in place, by 12 noon we had boots on the ground and troops deployed for delivery. By 5 pm it was all gone.
Lots of families, NHS workers and elderly people were very well fed all weekend. Here at Dovestone WI we get the job done!"
Finningley WI in Doncaster is supporting vulnerable people in isolation by delivering books.
Jayne Sims, President, Finningley WI, said:
"Books are wiped over with anti-bacterial wipes and then sealed in plastic bags. Wearing rubber gloves, our members have dropped the bags in porches, on doorsteps, or hung onto gates.
The delivery has been counted as our outdoor exercise and has proved popular with both members and villagers."

Alongside community efforts, WIs have been coming up with new ways to keep their members entertained without attending their regular meetings. St Mary's West Wickham WI in Kent hosted a cook-along for members via Facebook Live and is now planning a virtual beetle drive.
Manchester WI has started a project called #WhatWImDoingNow and is asking their members to share what they are up to via social media and challenge two other WI friends to do the same.
For women who are not already members of the WI but are interested in joining, the NFWI is encouraging them to get in touch so they can connect virtually until normal meetings resume.
---
For more information, please contact Fiona Hughes, PR Officer at the NFWI – f.hughes@nfwi.org.uk / 020 7371 9300 ext. 211
---
21st June 2019
WI members knit scarf to show the shocking reality of climate change over 100 years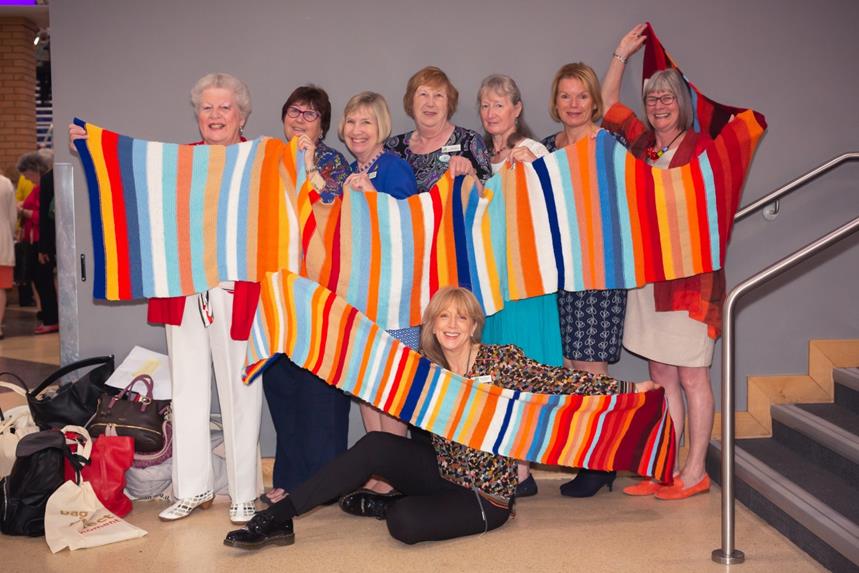 Eight of the knitters with the climate scarf at the NFWI Annual Meeting in Bournemouth
Image: Jenny Stewart
Eleven WI members from WIs across Cambridgeshire have knitted a five-metre long scarf representing the UK's average temperature from 1918 to 2018.
The idea was developed in the lead up to 'The Time Is Now' mass lobby, taking place on Wednesday 26June, which will see thousands travel to Parliament to call for MPs to end the UK's contribution to climate change, and for the protection of the environment through ambitious new laws to clean our air, slash plastic pollution and restore wildlife to our countryside.
The WI is known for its love of crafts as well as its history of campaigning on environmental issues, and members wanted to create a crafted item that would be a striking visual representation of climate change.
Each knitter was given a decade to knit, the bars on the scarf are colour coded with blue representing colder years and the red tones representing warmer years.
Sue Smales, Linton WI, said:
"I love knitting, so I jumped at the chance to get involved in a project that uses knitting to show climate change so clearly. It got us all thinking and talking about it. We need the policymakers to take account of climate implications in all decision making in order to reverse the current trend."
Lesley Challands, Mill Road WI, said:
"Taking part made me focus on the decade I was given (1990s) which happened to be the years I had my children! I had forgotten how cold it was the year my daughter was born! It was a trip down memory lane weather-wise. However, when my part was included in the main scarf I realised just how much the weather has changed, bringing many issues and actually just how important it is to address the issue for future generations - our children, grandchildren and great-grandchildren. The scarf is actually a very powerful tool as it highlights so much in such a visual way."
The scarf will be brought along to the lobby, which will take place in the area surrounding the Palace of Westminster. The event is being organised by campaign groups The Climate Coalition and Greener UK. The two coalitions consist of more than 130 organisations representing over 15 million people – including the WI.
Lynne Stubbings, Chair of the National Federation of Women's Institutes, said:
"Hundreds of WI members will travel far and wide on 26 June to tell their MPs the time is now for urgent action on climate and the environment. WI members' commitment to tackling climate change is evident through projects such as the climate scarf. We welcomed the UK Government's recent announcement on their legally binding target to reach net-zero emissions, but this is just the first step, we need to ensure that the Government follows through on the ambition needed to achieve net-zero by 2050."
Please call our Public Relations department on 0044 20 371 9300 (Ext. 211) for information and resources around the WI as well as media enquiries. You can also send an email to pr@nfwi.org.uk.