The WI celebrates International Women's Day 2020
Over the weekend of 7 and 8 March, the WI were proud to celebrate International Women's Day (IWD), by joining in marches and hosting events across the country. IWD is a global celebration of women's rights and progress, which has been held annually since 1977.
Image: Anne-Marie Bickerton
As the largest women's membership organisation in the UK, with a longstanding history of campaigning for women's equality, the WI embraces IWD each year and encourages WI members to join community initiatives that raise awareness of important women's issues.
Image: Anne-Marie Bickerton
Million Women Rise
On Saturday 7 March, WIs from London and beyond, joined forces to attend the Million Women Rise march, which focuses on ending the epidemic of male violence against women. While WI members have attended this march for several years, 2020 was the first year where the NFWI hosted a pre-march panel discussion around the topic of domestic abuse, to tie in with the "No More Violence Against Women" campaign.
Image: Anne-Marie Bickerton
An incredible panel of expert speakers joined the Million Women Rise pre-march event. They included Lucy Hadley, Campaigns and Policy Manager at Women's Aid; Janaya Walker, Policy and Campaigns Officer at Southall Black Sisters; Ruth Barker, member of Nutfield Gals WI and Domestic Abuse Children's Advocate and Emma Armstrong, Manager at Reigate and Banstead Women's Aid.

Speakers discussed how their respective organisations work with survivors of domestic abuse and shared shocking statistics about the lack of funding to domestic abuse services and women's refuges. The audience learned that 64% of referrals to women's refuges in 2018/2019 were declined due to a lack of space.[1]

Janaya Walker from Southall Black Sisters discussed the challenges faced by migrant women in accessing domestic abuse support services due to unstable immigration status and fears of losing children. Meaningful support for migrant women experiencing domestic abuse is something Southall Black Sisters is calling for to be included in the Domestic Abuse Bill.
Image: Anne-Marie Bickerton
Emma Armstrong, Manager at Reigate and Banstead Women's Aid (RBWA) shared her personal story of surviving an abusive relationship. Her powerful story demonstrated how vital women's refuges and support services are, to help women recover and rebuild their lives. Nutfield Gals WI member Ruth Barker, who volunteers alongside Emma at RBWA, also shared how WI members can take action by volunteering at their local women's refuge or donating much-needed items such as clothing, children's clothing, toiletries, toys and books.
Image: Anne-Marie Bickerton
Following the panel discussion, WI members joined Million Women Rise and marched through central London to Trafalgar Square. The atmosphere on the march was empowering as thousands of women joined together to stand in solidarity with survivors of domestic abuse and to remember those we have lost.
#March4Women
On Sunday 8 March, a few members of the NFWI staff team joined Care International's #March4Women, which this year celebrated the power and passion of women and girls who are on the frontline of responding to climate change. Despite the rain, staff members proudly paraded the WI banner and even received a shout out from host Sandi Toksvig who spotted the banner among the crowd.
Walk for Women Manchester
"Walk for Women" is organised by Manchester City Council to celebrate IWD and it's now in its third year. Social Lites WI members have taken part before, but this year they organised to go as a group and meet with Manchester WI, League of Ladies WI and others who they'd seen on Twitter would be there.

The theme for this year's event was "Rise, Roar, Represent", and with over 2000 women taking part with drums, bells and whistles, members made their voices heard as they walked through the centre of Manchester, literally bringing the traffic and the trams to a standstill.

Members made flags and banners promoting the inclusive message that the WI is for all women. WI Events Coordinator Caroline Myers said: "We're proud to be part of an organisation which recognises that women still face discrimination in society and is committed to raising awareness about the need for change both within the organisation and out".
BBC 6 Music Festival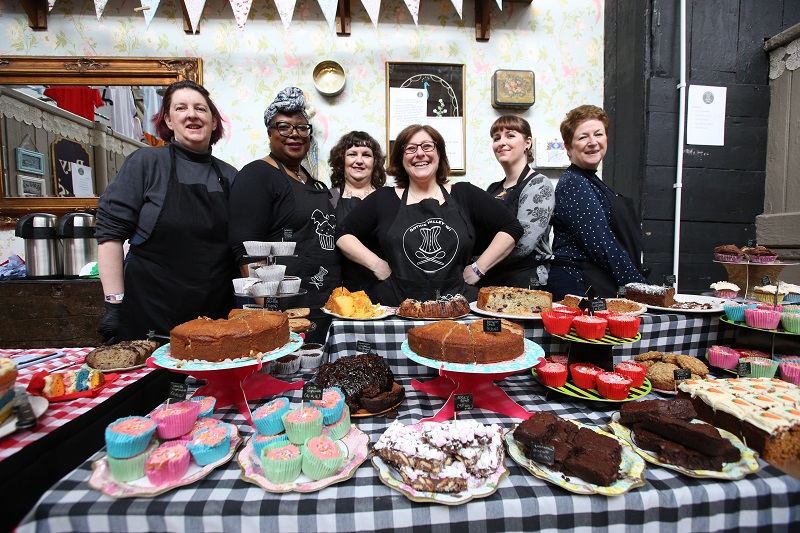 Image: BBC
Another event which took place over the IWD weekend was the BBC 6 Music Festival in Camden. This year the WI were asked to host a tea and cake stall at the event and Gothic Valley WI, with the help of WI members from other London WIs, proudly took on the challenge.
Lisa Hughes, President of Gothic Valley WI who organised the stall, put a call out to London WIs asking for volunteers to help man the stall and make the 900 portions of cake needed. She was overwhelmed by the support she received. Lisa said how successful the event was, and she described it as "a great example of how the WI sisterhood works collectively to raise up women".
Visitors to the stall were delighted to see the WI there and there was a great deal of interest in joining not just Gothic Valley WI but WIs all around the country. Lisa added that they also got to meet Jodie Whittaker, the first female "Dr Who" on International Women's Day, which was a real honour.
Find out more about the NFWI's No More Violence Against Women campaign here.