Inspiring Black Women throughout History
October is here which means its Black History Month! Over the next four weeks, we'll be celebrating inspiring Black women throughout history and the present day, all of whom have made an incredible impact on society. All of these women have been highlighted for their achievements in different areas of work, both from history and those who continue to accomplish amazing things today. Many of the issues that these women campaigned for or worked on, are important to the WI and resonate with issues WI members have proposed as resolutions over the last 102 years.
Law and law enforcement
Sarah Remond (1826 – 1894)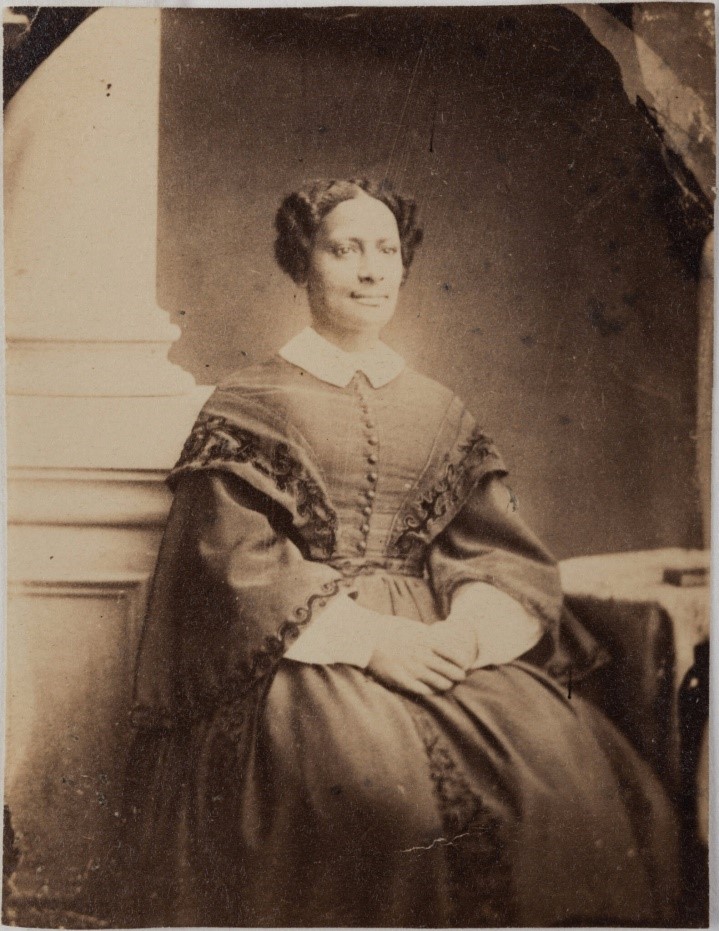 Sarah Remond was an African American lecturer and anti-slavery campaigner. She is believed to have been the only Black woman to have signed the 1866 petition for women's suffrage in the UK. She toured around USA, Europe and the UK giving speeches to campaign to end slavery. Even after slavery was abolished in the British colonies in 1833, it still traded with countries such as the USA that condoned and used slavery so Sarah continued to appeal to people in the UK to not use slave-produced goods.
Source: University of London
Dame Doreen Lawrence Baroness Lawrence of Clarendon, OBE
Photo: Chris McAndrew
Doreen Lawrence, Baroness Lawrence of Clarendon OBE, is a British campaigner and politician.
In 1993, Doreen's son Stephen was murdered in a racist attack in South East London. Following Stephen's death, Doreen campaigned tirelessly for justice for her son and for other victims of racist crime. She has worked to bring about reforms in the police service and founded the Stephen Lawrence Charitable Trust.
She was appointed OBE for services to community relations in 2003 and was created a Life Peer in 2013.
Watch a short clip from an interview with Doreen Lawrence here.
Source: Wikipedia
Marcia Willis QC (hon)
Marcia Willis Stewart is the managing partner of the renowned human rights firm Birnberg Peirce and Partners. She represented the family of Jean Charles de Menezes and Mark Duggan after they were killed by armed police. She represented 77 of the 96 victims' families of the Hillsborough disaster at the Hillsborough inquest.
Source: Each Other
Sislin Fay Allen
Sislin Fay Allen was the first non-white woman police constable in the UK. She served in the Metropolitan Police in Croydon, London from 1968 to 1972. She worked in the Yard's missing person's bureau for a while before she was transferred to Norbury police station.
Dame Linda Dobbs
Dame Linda Dobbs was the first Black female high court judge. Whilst on the High Court Bench she was the Senior Liaison Judge for the Diversity and Fawcett Commissioner. She has also been involved in the training of lawyers and judges both in the UK and internationally for over 20 years and is the Director of training at the Judicial Institute for Africa. She has 7 honorary doctorates. Her current roles include being on the Advisory Board of the Bonavera Institute of Human Rights and Independent Assessor for Miscarriages of Justice Compensation.
Source: Wikipedia
Alexandra Wilson
Alexandra Wilson is a barrister, author and founder of @blackwomeninlaw20 (BWIL) that aims to unite women of colour across the world in the legal profession.
Alexandra is on Instagram and Twitter @essexbarrister
Equal Pay
Connie Mark (1923 - 2007)
Constance Winifred Mark was a Jamaican-born community organiser and activist. At 19, she served as a Medical Secretary in WW2. During her decade-long service, she was promoted twice but was denied the usual pay rise. As a result, she became a fierce advocate for fair pay and became an activist advocating for proper recognition of Caribbean servicewomen.
Uzo Iwobi (born 1969)
Uzoamaka Linda Iwobi OBE is a British-Nigerian solicitor and equalities practitioner. She established the very first African Community Centre in Wales and founded the Race Council Cymru, which challenges racial inequalities in Wales. Uzo is currently serving as the first Black African woman to be appointed as a specialist advisor on Equalities to Welsh Government.
Watch an interview with Uzo Iwobi here.
Environment
Wangari Maathai (1940 – 2011)
Photo: Wikimedia Commons
Wangari Maathai was a renowned Kenyan social, environmental and political activist. She was the first African woman to be awarded a noble peace prize and founded the green belt movement in 1977 in Kenya which is now a global movement including the UK.
Health
Mary Seacole (1805 - 1881)
Mary Seacole was a pioneering British-Jamaican nurse and heroine of the Crimean War. In 1854, Mary requested to be sent to Crimea as an army nurse but was refused by the War Office. Mary funded her own trip to Crimea where she established a hotel to provide for the sick and convalescent. Mary visited the battlefield to nurse soldiers and became known as 'Mother Seacole'.
In 2016, a statue of Mary was erected outside St Thomas' Hospital in London, believed to be the UK's first in honour of a named Black woman.

Watch a BBC documentary about the life of Mary Seacole here.
Angela Jackman
Angela Jackman is a solicitor and partner at Simpson Millar LLP. She played a key role in furthering women's rights to abortion. She also applies to health for this reason and mental health as she is an expert in Community Care and Mental Capacity Law.
Watch an interview with Angela Jackman here.
Source: Each Other
Science
Dr Maggie Aderin-Pocock MBE
Dr Maggie Aderin-Pocock MBE is a British space scientist and science educator. She was also a guest speaker at the 2012 NFWI Annual Meeting.

Dr Aderin-Pocock is an honorary research associate in University College London's department of physics and astronomy. Since February 2014, she has co-presented the long-running astronomy television programme The Sky at Night with Chris Lintott and has three published books. She has won multiple awards for her services to science education.
Photo by Andy Lane
Prison reform and justice
Cheryl Phoenix
Cheryl Phoenix is founder of the Black Child Agenda, an organisation that fights the schools to prison pipeline, representing parents and children against bias treatment in school and wider society.
Source: The Black Child Agenda
Janet Alder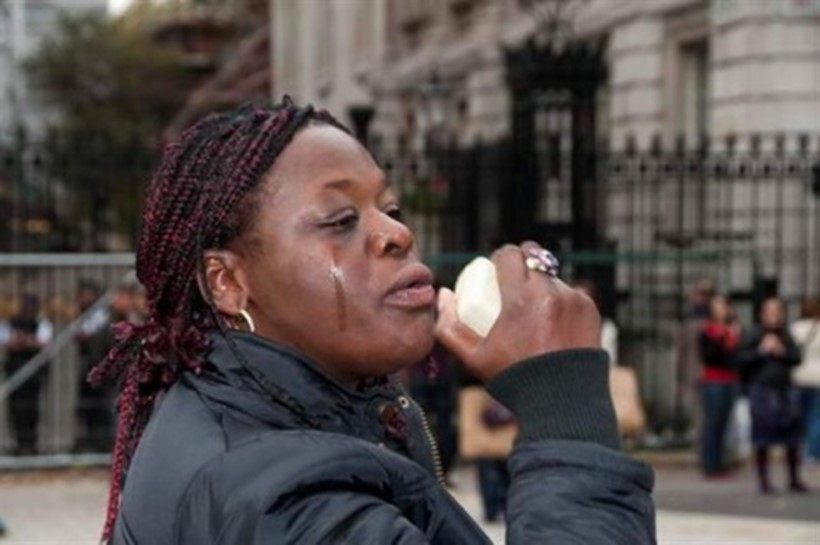 Photo: 4WardEver Campaign / Flickr
In 1998, Janet's brother, Christopher Alder, died in police custody. Janet has spent the subsequent years campaigning courageously to get justice for Christopher and bring the circumstances of his death to light. In 2011, the British Government apologised to Janet's family over Christopher's death.
Source: Each Other
Angela Davis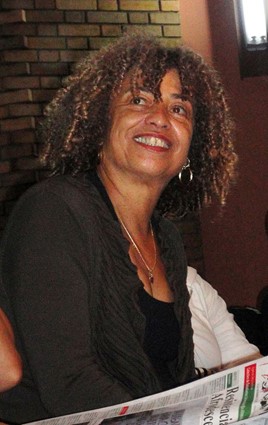 Photo: Wikimedia Commons / DILINHOS
Angela Davis is an activist; she had become a supporter of three prisoners known as the Soledad Brothers who were accused of killing a prison guard after several African American inmates had been killed in a fight by another guard. It was thought that these prisoners were being used as scapegoats. Much of her work has focused on the abolition of prisons and in 1997 she founded Critical Resistance, an organisation working to abolish the prison industrial complex.
Source: history.com
Violence Against Women
Marai Larasi
Embed from Getty Images
Marai Larasi is a Black feminist activist who was the executive director of the anti-violence charity Imkaan until last year. Imkaan is a national women's organisation dedicated to addressing violence against Black and minority women and girls. As part of drawing attention to the Time's Up campaign to end discrimination, harassment or abuse in the workplace, Marai went to the Golden Globe Awards and the Oliver Awards in 2018.
Source: Imkaan
Tarana Burke
Photo: Wikimedia Commons / Brittany "B.Monét" Fennell
Tarana Burke founded the #metoo movement when in 2006 she started using the hashtag on Twitter to help other women with similar experiences to stand up. In 2017 this became a viral hashtag popularised by female actors who began using it about the sexual abuse experienced from Harvey Weinstein. In 2017 she was named Time Person of the Year. She continues to speak at events, particularly in universities across America.
Source: Me Too Movement
Children
Betty Campbell MBE (1934-2017)
Betty Campbell was Wales' first Black head-teacher and she championed her nation's multicultural heritage throughout her life.

Born in Butetown, she was raised in poverty in Tiger Bay, Cardiff. In 1960, she was one of six female students at Cardiff Teacher Training College that had been admitting women for the first time. She later became the first Black headteacher in Wales in a school in Butetown. She put Black culture on her curriculum at Cardiff and so her pupils learned about the positive contribution to British society by people of colour. She also helped to create Black History Month.

Betty's influence later spread all over Wales and further, and she became a member of the Home Office Race Advisory Committee and a member of the Commission for Racial Equality. As a Butetown Councillor on Cardiff City Council, she helped to see through the major development of Cardiff Bay. In 2019, following a public vote Betty Campbell won the Hidden Heroines Vote, to erect an outdoor statue of an influential Welsh woman in Wales.
Source: BBC
Candice Brathwaite
Candice Brathwaite is an author, blogger and Instagram Influencer who writes about the challenges that Black mothers face. Her debut book I Am Not Your Baby Mother, published in May 2020 explores issues such as unconscious bias, microaggression and White privilege. She discusses how racism has affected her in life in her own words.
Candice founded an online initiative – Make Motherhood Diverse – that aims to encourage more accurate and diverse representation of motherhood in the media. Candice has found methods and platforms to make this a reality, she took advantage of Instagram Stories which uses a video format to reach followers on her platform. She introduced 'Teatime', a 5-minute daily show to be the face she thought was missing from the mainstream media.
Candice boasts an incredible following on her social media channel Instagram, which reaches almost 200 thousand followers on her personal account and 34.9 thousand followers on her Make Motherhood Diverse account.
Source: candicebrathwaite.com
Mental Health
Agnes Mwakatuma
Agnes Mwakatuma co-founded Black Minds Matter UK with Annie Nash in 2020 in the aftermath of George Floyd's murder. Black Minds Matter aims to improve Black people's access to mental health services in the UK.
Agnes was born in Tanzania and has lived in the UK for 12 years. Agnes studied Business Management at UWE Bristol and has since worked in the charity sector. While growing up in a predominantly white town in Devon, Agnes remembers early examples of racism such as people touching her hair.

Learn more: https://www.blackmindsmatteruk.com/
Politics
Mary Prince (1788-1833)
Mary Prince was a British abolitionist and autobiographer, born in Bermuda to an enslaved family of African descent. She became the first woman to present an anti-slavery petition to Parliament and the first Black woman to write and publish an autobiography.
Source: The Abolition Project
Diane Abbott MP
Photo: Chris McAndrew https://beta.parliament.uk/media/S3bGSTqn
Diane Abbott MP is a British politician, serving Member of Parliament for Hackney North and Stoke Newington since 1987. Diane was Britain's first Black female MP and is the longest-serving Black MP in the House of Commons.

She is founder of the London Schools and the Black Child initiative, aimed at raising achievement levels of Black pupils in London, but also nationwide.
Watch Diane's first election speech in 1987.
Dame Sharon White DBE
Photo: Wikimedia Commons / UK Government
Sharon White is a British businesswoman. She is currently the Chairman of the John Lewis Partnership. Previously she held many roles in the British Civil Service and was the first Black woman to hold the position of permanent secretary at HM Treasury.
Baroness Valerie Amos
Photo: Simon Davis/Department for International Development
Baroness Valerie Ann Amos is a British politician and diplomat who served as the eighth UN Under-Secretary-General for Humanitarian Affairs and Emergency Relief Coordinator.

When Valerie was appointed Secretary of State for International Development in May 2003, she became the first Black woman to sit in the Cabinet of the United Kingdom. In 2015, Valerie was appointed Director of SOAS, University of London, becoming the first Black woman to lead a university in the UK.
Literature
Phillis Wheatley (1753-1784)
Phillis Wheatley was the first-ever African woman to be published in Britain and America when in 1773 she published Poems on Various Subjects, Religious and Moral the first volume of poems by an African–American author. Wheatley received patronage from Selina Hastings, the Countess of Huntingdon, in England to publish.
Wheatley's first poem to appear in print was "On Messrs. Hussey and Coffin" (1767), but she did not become widely known until the publication of "An Elegiac Poem, on the Death of the Celebrated Divine…George Whitefield" (1770) published as a broadside and a pamphlet in Boston, Newport, and Philadelphia, the poem was published with Ebenezer Pemberton's funeral sermon for Whitefield in London in (1771), bringing her international acclaim.
Source: Poetry Foundation
Margaret Busby OBE
Photo: Andy Mabbett / Wikimedia Commons
Margaret Busby OBE, Hon. FRSL, a Ghanaian-born publisher, editor, writer and broadcaster.

Margaret was Britain's youngest and first Black female book publisher when she co-founded the London-based publishing house Allison and Busby (A & B) in the 1960s. She has campaigned for diversity in publishing throughout her career and has received many awards for her work. Margaret edited the ground-breaking anthology Daughters of Africa, a collection that brings together the work of more than 200 women writers of African descent.
In 2005, she was appointed an OBE for her services to Literature and to Publishing.
Source: Wikipedia
Reni Eddo-Lodge
Reni Eddo-Lodge is an award-winning British author and journalist, whose work primarily focuses on exposing structural racism. She is author of Why I'm No Longer Talking to White People About Race which won the Jhalak Prize in 2018. Reni also has a podcast called About Race with Reni Eddo-Lodge which was named one of the best podcasts of 2018 by British GQ and Wired.
Watch an interview with Reni Eddo-Lodge here.
Chimamanda Ngozi Adichie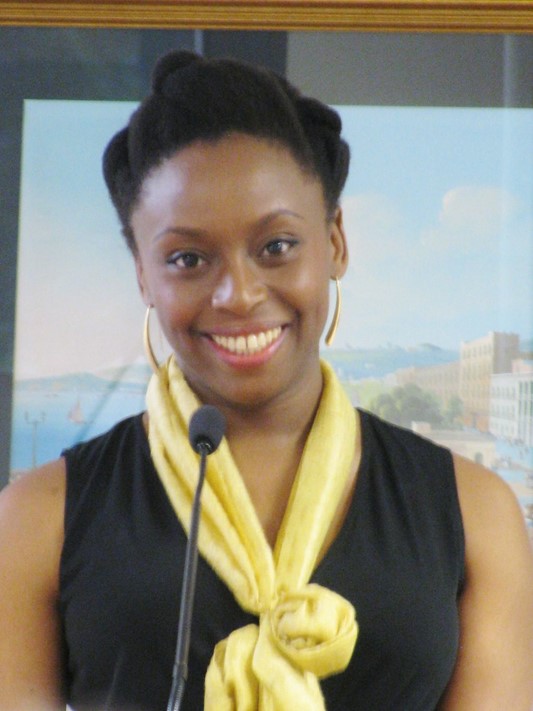 Photo: Slowking / Wikimedia Commons
Chimamanda Ngozi Adichie is an award-winning author of We Should All Be Feminists and Dear Ijeawele, or A Feminist Manifesto in Fifteen Suggestions. She is also the author of the novels Purple Hibiscus, which won the Commonwealth Writers' Prize and the Hurston/Wright Legacy Award; Half of a Yellow Sun, which won the Orange Prize and was a National Book Critics Circle Award Finalist and a New York Times Notable Book; and Americanah, which won the National Book Critics Circle Award and was named one of The New York Times Top Ten Best Books of 2013.
Source: chimamanda.com
Bernardine Evaristo
Photo: Acthom123/ Wikimedia Commons
Bernardine Evaristo is the award-winning author of Girl, Woman, Other which won the Booker Prize in 2019. In 2020, Bernardine topped the UK bestseller list with Reni Eddo-Lodge, they became the first Black British women to top the UK's fiction and nonfiction paperback charts in the wake of anti-racist protests.
Zadie Smith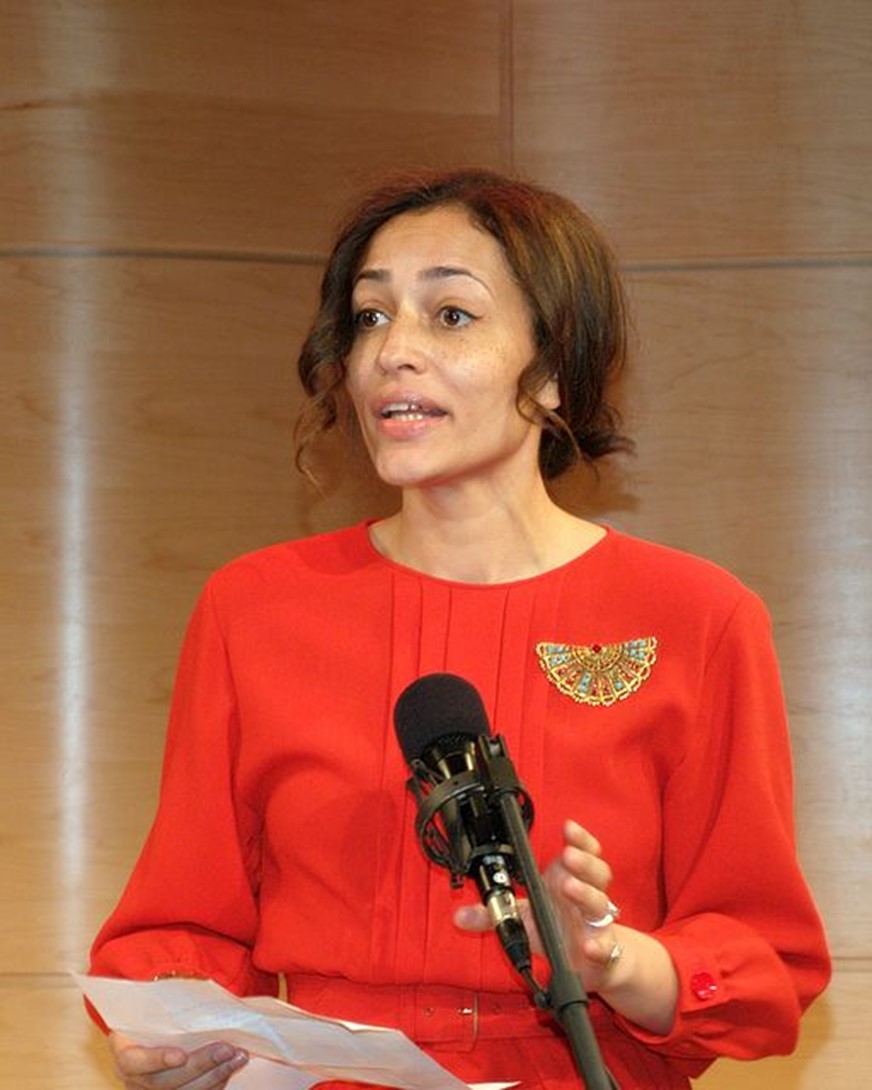 Photo: David Shankbone / Wikimedia Commons
Zadie Smith is a British novelist, essayist and short-story writer.
Her first acclaimed novel, White Teeth, immediately became a best-seller and has won several awards including Time magazine's list of the 100 best English-language novels from 1923 to 2005. In 2002, Zadie was elected a fellow of the Royal Society of Literature. She became a tenured professor of fiction at New York University in 2010.
Music
Ella Fitzgerald (1917 – 1996)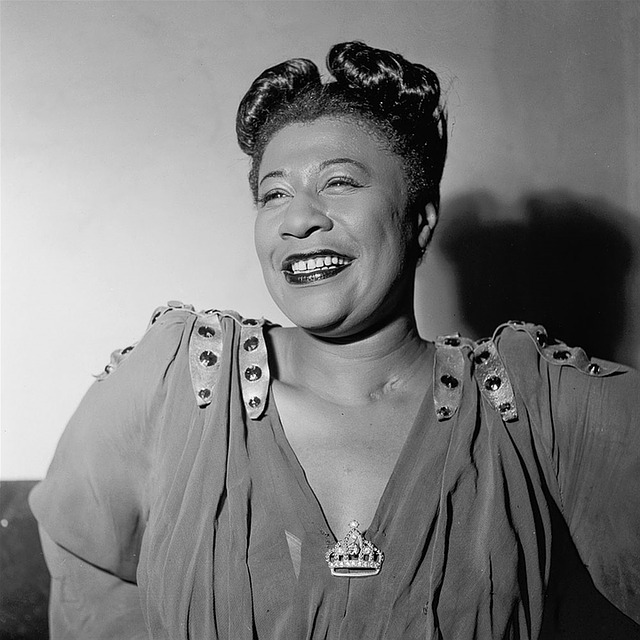 Known as the First Lady of Song, the Queen of Jazz and Lady Ella, Ella Fitzgerald was an American jazz singer. In her lifetime, she won 13 Grammy awards and sold over 40 million albums.
Source: Wikipedia
Clara Amfo
Clara Amfo is a TV and radio presenter. She currently hosts the BBC Radio 1 mid-morning show and in June 2020 she was praised for her emotional and honest speech about George Floyd's death, racism and its effect on her mental wellbeing.
Clara is on Instagram @claraamfo
Celeste
Photo: fluffytoy77/Wikimedia Commons
Celeste was born in California but moved to the UK when she was three. As a teenager, she wrote songs and performed in bands. She started working in Sarm West Studios in Notting Hill when she was 18 where she impressed with her songwriting skills. She has been described as the 'finest British soul singer to emerge in years'.
Celeste is on Instagram @celeste
Source: Wikipedia
Travel
Cynthia Ogbonna
Cynthia Ogbonna is the first female Managing Director of Cardiff Bus and the first woman to hold the position in the company's 110-year history.
Source: 100 Welsh Women
Sport
Tessa Sanderson CBE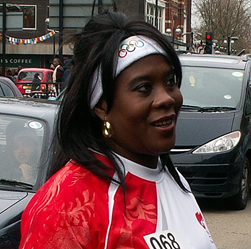 Photo: Indianathletics at en.wikipedia
Tessa Sanderson CBE is a Javelin thrower and hepta-athlete. A six-time Olympian in the javelin, she won the gold medal in 1984 for Great Britain, and in 1996 she became the second track and field athlete to compete at six Olympics. Tessa was the first Black British woman to become an Olympic gold medallist.
Alex Scott MBE
Photo: James Boyes/ Wikimedia Commons
Alex Scott is one of the best known female footballers in England and Great Britain. She became the first female pundit to be taken to a World Cup by the BBC in 2018.

Alex boasts some incredible honours, including; 140 caps for England and 12 goals, 5 FA Women's Premier League titles; 1 WSL title; 7 Women's FA Cups; 2 FA Women's Premier League Cups; 3 FA WSL Cups; 1 UEFA Women's Cup. She also represented Team GB at the Olympics.

She ended her playing career being the second most capped England player. Since retirement, Alex Scott has appeared on popular Sports channels, championing both the women's and men's game including the FIFA Women's World Cup with the BBC. Aside from her work with the BBC, she also became the first female pundit to appear on Sky Sports Super Sunday. Now she appears regularly on the BBC for both men's and women's football and is a regular host on BBC's The One Show as well as being an ambassador for Nike and Mastercard.

In 2012, the Alex Scott Academy was opened which is the first of its kind for women in the UK. It focuses on training, skill development but also on gaining qualifications in the classroom at the same time.
Source: National Football Museum and Arsenal
Dina Asher-Smith
Photo: Wikimedia Commons
Dina Asher-Smith is a British sprinter – the fastest British woman in recorded history. Last year, Dina became the World Champion in the 200m, setting a personal best and new British record of 21.88 seconds. This made her the first British woman to win a global sprint title.

Dina's website is www.dinaashersmith.com
Activism
Olive Morris (1952-1979)
Olive Morris was a Jamaican-born British-based community leader and activist who campaigned for racial and gender equality and squatters' rights. She led protests and demonstrations and helped to found the Brixton Black Women's Group in 1973, one of Britain's first networks for black women.
Source: BBC
Dr Shola Mos-Shogbamimu
Dr Shola Mos-Shogbamimu is a solicitor, author and political commentator. As a political and women's rights activist who teaches intersectional feminism organises women's marches and social campaigns and scrutinises government policies from a gender and inclusion perspective.
Dr Shola is on Twitter @SholaMos1
Source: Women's Budget Group