National Allotments Week: Liverbirds WI share their allotment top tips
To mark National Allotments Week, we have interviewed Liverbirds WI member Kath about their WI shared allotment. Kath discusses the benefits of having an allotment with her WI, what they have been growing and how they've made it eco-friendly to reuse and reduce plastic. The theme for this year's National Allotments Week is Growing Food for Health and Well-being, a reflection of the many benefits of growing, cooking and eating your own fruit and vegetables.

How long have you had your WI allotment and how do you manage it among your members?
At the Liverbirds, we have had our allotment for almost 3 years now! We have a sub-group of ladies from our main membership group who started an allotment club and share out the space between them. When we got the plot, it was pretty overgrown and needed a good rehaul, so after a lot of digging and weeding we were able to split the large main plot into smaller manageable ones. These smaller ones we share out between allotment club ladies so that everyone has two each (if they would like a full two) and then the 'left over' plots are used for communal growing of larger crops.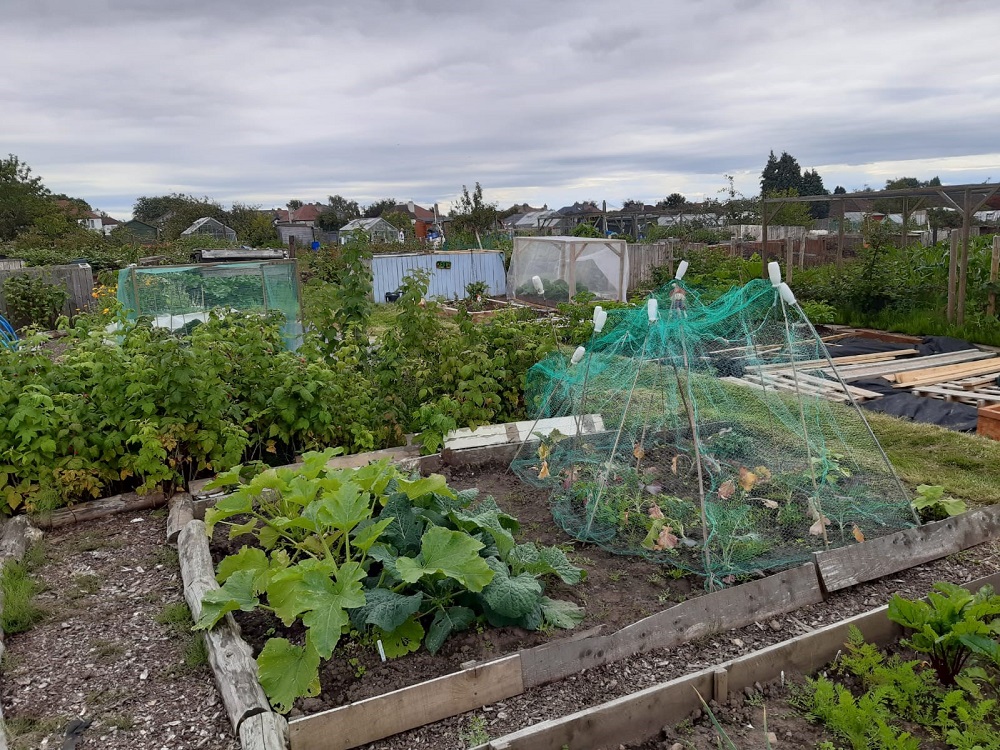 What are you growing at the moment?
We've currently got quite a lot on the go at the allotment as it's peak growing season! Some of the fruit and vegetables we have right now include;
Tomatoes
Potatoes
Green beans and runner beans
Celeriac
Kohlrabi
Garlic
Red and white onions, shallots
Raspberries, blueberries, gooseberries
Lettuces
Beetroot
Sweetcorn
Squashes
Courgettes and marrows
Mangetout and sugar snap peas
Cucumbers
Kale
Broccoli
Carrots
Spouts
Cauliflower
Swede
Swiss chard
Rhubarb
We've also got a wildflower section of our allotment which we made from eco-bricks (filling plastic bottles with any unavoidable plastic that we had until they are full and sturdy and can be used as bricks) to make raised beds. It's turning out great for our pollinators!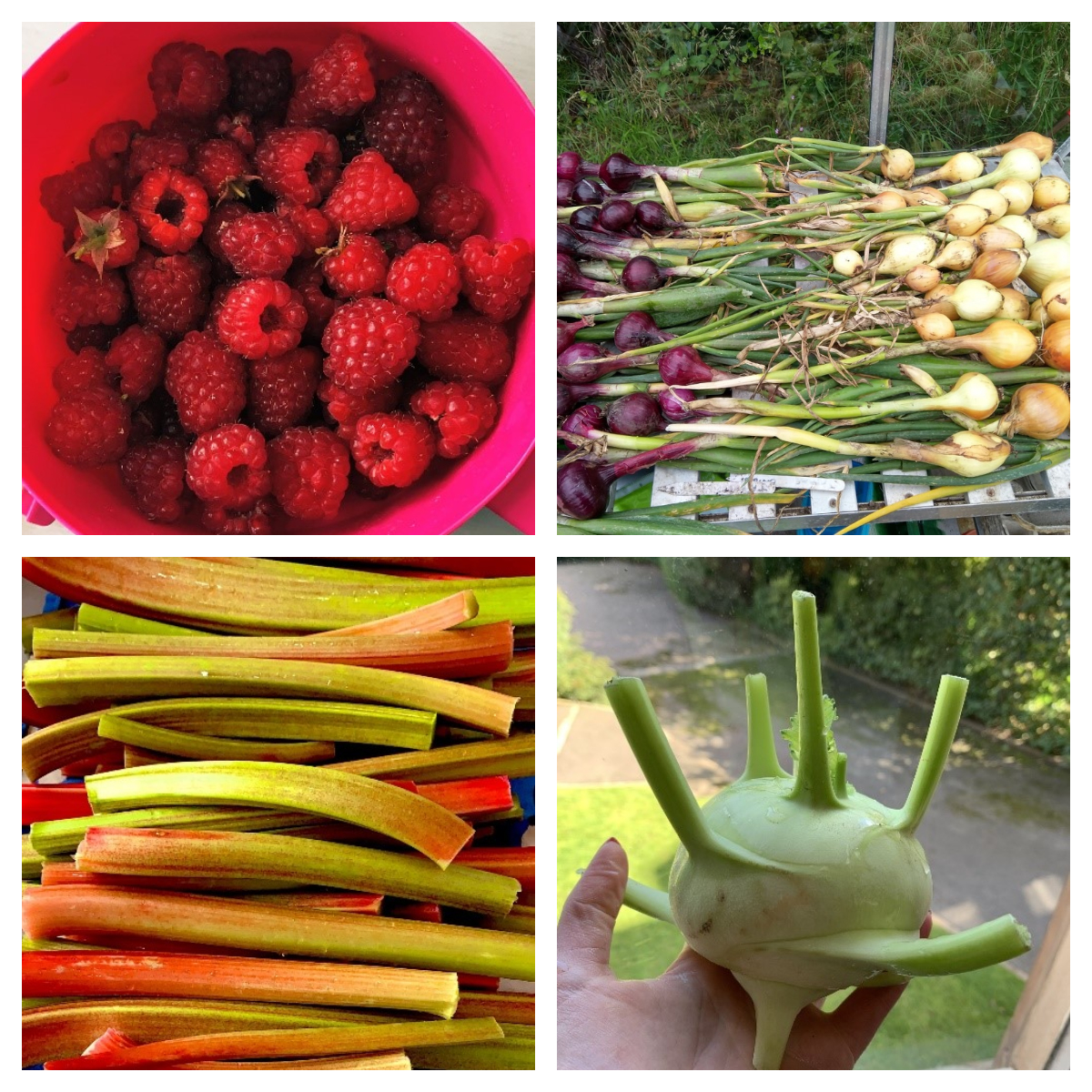 Have you been visiting the allotment more since lockdown?
During the lockdown, the allotment had some new rules put in place to ensure that the safety of everyone was the priority. For the first couple of months, we were only allowed one person per plot, all communal sharing of equipment was stopped, and the toilets were closed. The past few weeks have seen a slight relaxing of rules where we can now have two allotment members on the plot at one time as long as social distancing is maintained.

These rules have meant that during hot days watering the allotment solo turns out to be a mammoth task, but everyone has got stuck in and there is no complaining – the results are more than worth the sweaty days! We have a mixture of allotment club members with around half being retired, some working part-time and our Vice-President working full time, so it changes week to week on how much people can get down but we have a WhatsApp group so that every day we can keep in touch and see who is available to head on over.

What have been the benefits of having the allotment, particularly during these past few challenging months?
There is a myriad of benefits to having an allotment, we would really recommend that if you are able to get one, or share one, then it's really worth it. During the lockdown, in particular, it's been a great place to go and relax and clear your head and try to see some light at the end of the tunnel. As well as the peace that comes with a good hour of weeding, we are so fortunate to be able to grow our own food. It means fewer trips to the greengrocer or supermarket (which is a great thing now with minimising time in large public places) and it's really satisfying to eat something you know you have grown. We are passionate at the Liverbirds to try and keep our environmental footprint on the world as small as possible so we don't use any pesticides (grind up eggshells to keep the slugs and snails at bay), we love our veg loose and plastic-free and we try and reuse, recycle and upcycle as much as we can.
What are your favourite dishes/bakes that members have made using the food from your allotment?
Oh, the list is endless! Our Vice-President really enjoys using vegetables and fruits in sweet bakes, so this year has been making beetroot and chocolate brownies, blueberry muffins, spiced rhubarb cake and courgette loaves. Our President is a dab hand at doing preserves so makes us chutneys as well as making a goat's cheese, pea and broad bean frittata which she gave out on our of allotment open days for members last year.

What advice would you give to other WIs thinking of starting an allotment together?
Our main advice would be to go for it! No matter how daunting it might seem there will always be people around to give advice and help out – allotment folk are incredibly willing to share their knowledge. We'd also say that you don't have to do everything in one go – take your time when you start off, it's better to go slow and steady and have a good starting base than to rush in and think you have to grow everything in the first few months. We love making the most out of recycling, reusing and keeping our allotment plastic (apart from raised recycled beds) and pesticide-free so would recommend that to other groups as well.
If anyone would like any tips or to come on a socially distant visit to our allotment, then get in touch!