Floral crown
You will need:
Florist wire
Green florist tape
Scissors
Selection of flowers (these could be from your garden or shop bought, ideally you want a mix of smaller flowers and leafy foliage, such as cornflowers, daisies and honeysuckle)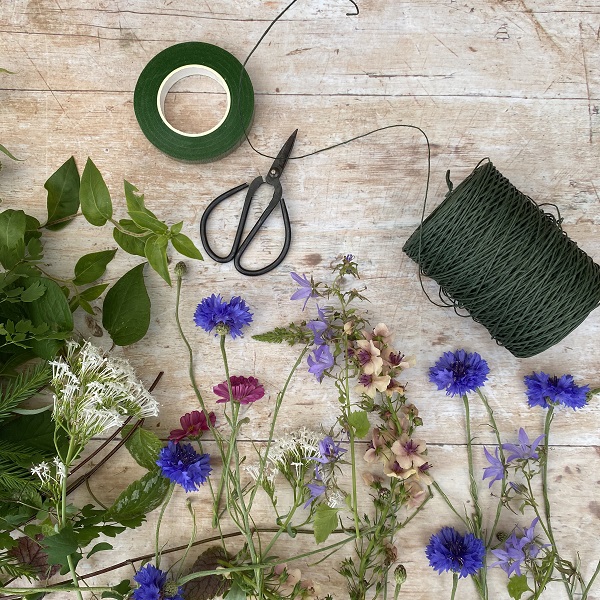 To make:
Wrap a length of wire around your head to work out a rough size for the floral crown and cut 4 x the length so that you can twist the 4 lengths together to create a thicker piece of wire. Tie in a circle and secure by twisting the ends together.
If you have something that has a flexible stem, like honeysuckle, you can use this for a base to your crown by wrapping the lengths over and under the wire.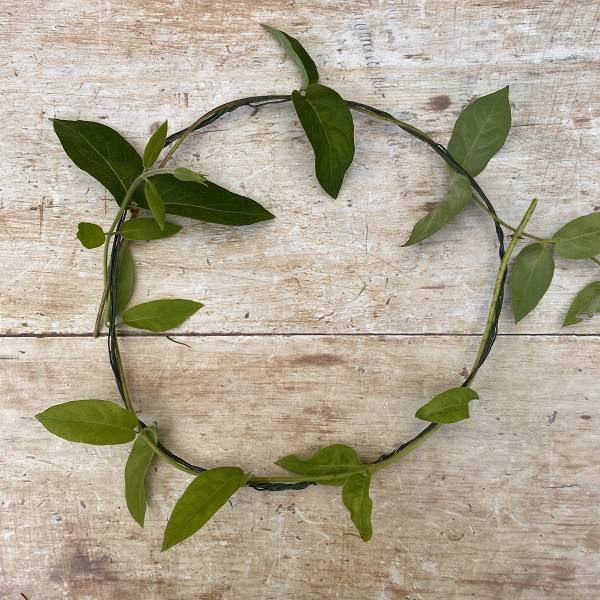 Secure them with the tape at either end. If you don't have anything that is flexible this step isn't essential, so don't worry, you can skip to the next step.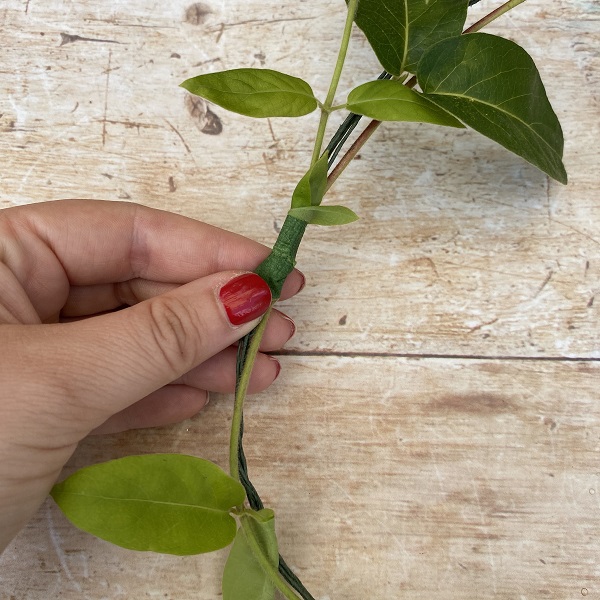 Begin making small bunches with your flowers, mixing florals and foliage, ideally 3-5 stems per mini bunch. Cut their stems and then wrap the ends with the tape to secure them together.
We've made 4 mini bunches to work around the crown with a mix of heights on the bunches. This will help give the crown movement and flow so that it looks wild and whimsical rather than too structured.
With the wire, begin attaching your bunches, working them around your crown base all heading in the same direction. You can add extra wire higher along the bunch if needed so that the bunches are secure to the base.
The lovely thing about these garden-inspired crowns is there's no wrong or right, as long as you point your florals in the same direction along the crown they should all sit harmoniously together. If there are any flowers that are looking out of place you can wrap and secure them closer to the band with more wire.
---
Project by Becki Clark (www.beckiclark.com) | Becki Clark is a creative designer inspired by the wonders of nature and seasonal changes. She has illustrated and designed surface patterns and designs for cards, wrapping paper and stationery which have been sold by large retailers in the UK. Becki's work has also been used in magazines and she regularly runs workshops teaching Brush Lettering and Botanical Illustration. Her first book Modern Brush Lettering' will be published later this year.