Self-care Positivity Dice
Self-care Positivity Dice
May is mental health awareness month. Practicing self-care and self-belief is beneficial for our mental health and wellbeing. Focussing on an activity, in this case a crafty one, can help combat stress/anxiety and take us to our happy place. This simple project is fun and easy to make to either use ourselves, or give away as a random act of kindness (RAK).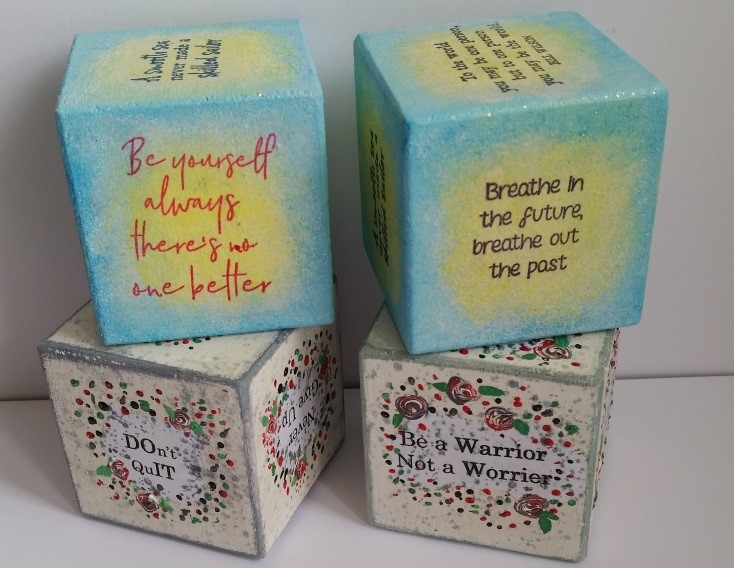 Materials used:
6cm hollow MDF cube
Acrylic paints, ball tools, sponge, clear sealant spray, glitter glaze
Rice paper, word stamps, waterproof ink pad, craft stamp block
PC, printer, copier paper
Water & fine paint brush, decoupage glue
Instructions:
Undercoat the blocks with white paint then paint over in colours of your choice. My preferred painting tool is a cut off piece of sponge, as I find this gives a better coverage than using a brush. Draw round the MDF block on the rice paper so you know what space you have available to use. Stamp centrally into the drawn squares onto the rice paper using waterproof ink. To 'cut' them out, paint round the image with a wet paintbrush to weaken the fibres and carefully tear to size – this helps blend the edges in. Alternatively, the same can be achieved by printing out sayings/words from your PC and tearing in the same way. If your handwriting is good, write directly onto the rice paper with a permanent marker. Search online for positive quotes to use if you can't think of any - you only need six, one for each of the sides.
Glue on your torn out chosen words/quotes with decoupage glue and leave to dry. Add any additional decorative painting touches at this stage. When completely dry and you are happy with your project, spray with clear waterproof sealant. This is essential if you are leaving them to be picked up as a RAK. Finish off with glitter glaze to add a bit of happy sparkle.
For two of the 'dice' I've added canal folk art style 'roses'. The technique is pictured below. Using a ball tool, dab three blobs of paint near each other, mixing in a circular motion (practice on some scrap paper first). Add leaves using a blob of paint and pulling it out to a point. Fill in with smaller dots of matching coloured paint.
Also below are simple use instructions that can be left with your RAK (or to remind yourself how to use them). If leaving outside, make sure it is weatherproofed by either laminating or placing in a waterproof container.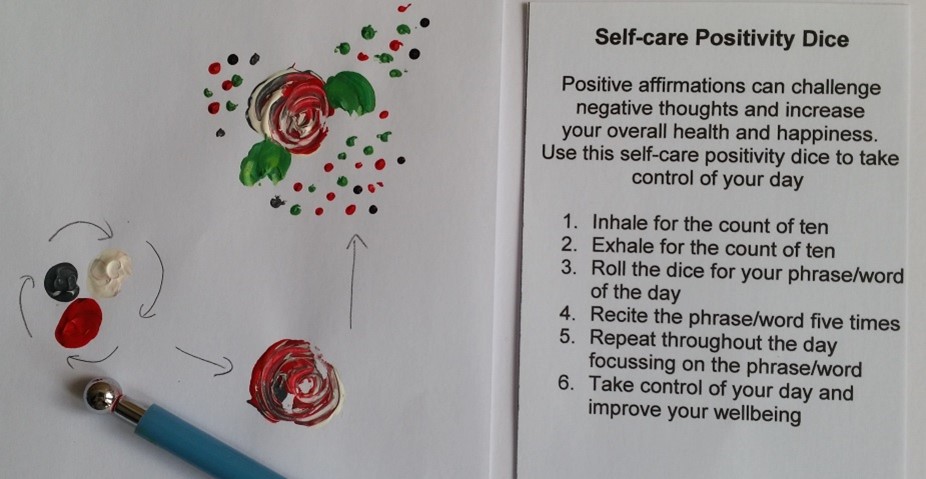 Try using this project on a painted pebble, as a card or maybe as a framed picture.
---
Gillian Cain, Bowes Belles WI, Tyne & Wear South Federation
https://www.facebook.com/gillcrafts