Beetroot Falafel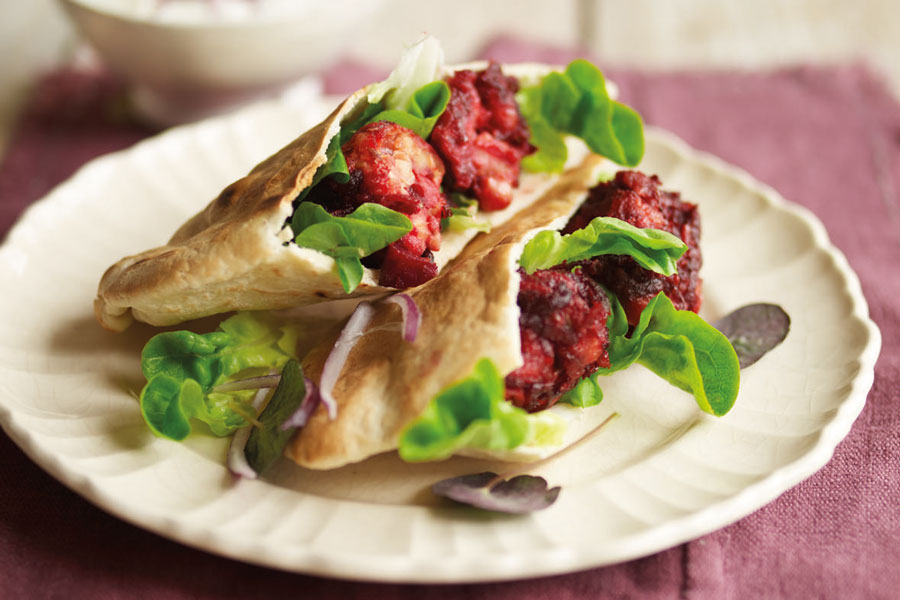 Although traditionally made with just chickpeas and fried onions, the addition of grated beetroot adds the most amazing colour.
Serves: 6
Preparation: 45 minutes
Ingredients
500 g raw beetroot, peeled
1 tablespoon olive oil
1 onion, finely chopped
2 teaspoons cumin seeds, roughly crushed
1 teaspoon ground ginger
300ml milk
115g chickpea flour (gram flour)
salt and freshly ground black pepper
410g can chickpeas, drained
1 litre sunflower oil
To serve
6 pita bread
250g greek yoghurt
mixed salad leaves
1 red onion, thinly sliced
fresh mint or coriander leaves
Method
Coarsely grate the beetroot using a hand-held grater or a food processor fitted with a grating blade.
Heat the olive oil in a frying pan, add the onion and fry for a few minutes until just beginning to soften.
Add the beetroot and fry for 5 minutes, stirring occasionally until tender.
Add the cumin seeds and ginger and cook for 1 minute.
Pour the milk into a saucepan, bring just to the boil, add the chickpea flour and cook over medium heat, whisking constantly until very thick and smooth.
Season generously and then stir in the fried beetroot and onion mixture and the chickpeas.
Mix well and then spoon dessertspoonfuls on to a chopping board – aim to have 24 mounds.
Heat the sunflower oil in a medium-sized saucepan to a temperature of 60–180C or until the oil bubbles around a small piece of falafel when it is added to the oil.
Add the falafel, one by one, to the oil until about one-third are in the pan. Fry until browned and crisp.
Lift out with a slotted spoon and put on a plate lined with a kitchen towel.
Continue until all the falafels are cooked.
Meanwhile, warm the pitta bread under the grill for a few minutes until hot and puffy.
Split and fill the pittas with the falafels and spoonfuls of yoghurt, the salad leaves, onion and herbs.
Tips
Prepare beetroot wearing rubber gloves or thin disposable latex gloves so that your hands don't become stained dark red.
These are also good served with a garlic dip.
This recipe is from Cooking from the Garden by Sara Lewis and published by Simon & Schuster.