Tapenade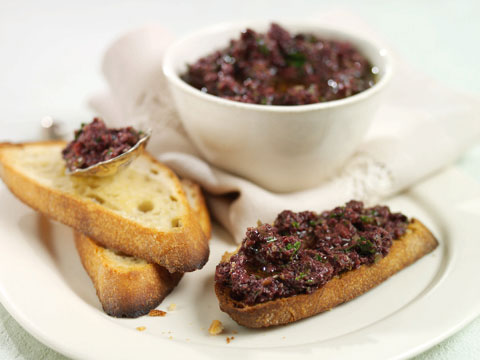 Use this spread on crisp, toasted French bread slices and serve with dry sherry as an hors d'oeuvre.
Ingredients
1 clove Garlic, crushed
Juice of 1 Lemon
3 tbsp Capers, chopped
6 Anchovy fillets, chopped
250g Pitted Black Olives, chopped
Small bunch Parsley, chopped
Salt and freshly ground Black Pepper
4 tbsp Extra Virgin Olive Oil
Method
Depending on whether you prefer a coarse or smooth texture, either mix everything together and transfer to an airtight container or put everything except the oil into a food processor and blend until smooth.
Then add enough of the oil to make a paste, blend again briefly to mix and transfer the mixture to an airtight container.
Top with any remaining oil.
Use within 1 week.
This recipe is from Preserves by Carol Tennant and published by Simon & Schuster 2009.