Manon Lagreve - Canelé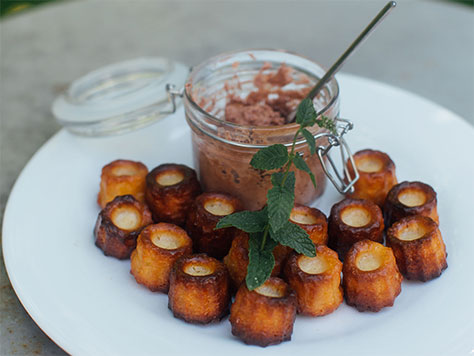 Canelé… ever heard of it? They are these little caramel "things", not quite a biscuit because they are soft, and not a cake because they are so tiny. Either way they are delicious and super easy to make, which means they are perfect for a Big Lunch. This is not a last minute recipe though, you will need to be patient and let the batter rest overnight so be patient, it'll be worth it!"
Serves: 20 normal size Canelé or 40 mini Canelé
Ingredients
50cl of milk
2 large eggs
2 egg yolks
1 tsp of vanilla paste (or vanilla pod)
1 tbsp of white rum
100g of plain flour
250g of caster sugar
50g of salted butter
Utensils: Canelé Moulds
Method
Canelé batter: In a pan: heat the butter, milk, and vanilla and bring to the boil. In another bowl, mix the sugar and the flour, then add all of the eggs and the egg yolks all in one go. When the egg mix is smooth, add the boiling milk to the egg mix and mix constantly to get to a "Crêpe" consistency. Finally, add the rum.
Rest the batter overnight and cover with cling film.
The next day: Pre heat the oven at 220 degrees. Fill out the Canelé moulds to 3/4 of the moulds and cook first for 20min and then turn down to 180 degrees and cook for another 40min until nice and golden brown.
Take out of the mould when still hot and reserve in an air tight container.