Jill's Dark and Fruity Christmas Pudding
Jill's Dark and Fruity Christmas Pudding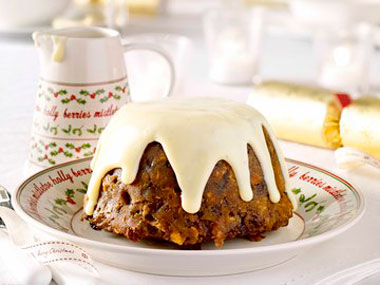 Jill Brand a lead NFWI Cookery Judge, Denman Tutor and Home Economist has created this special festive pudding for Christmas
Ingredients
225g Sultanas
80g chopped Dried Apricots
80g chopped Dates
80g chopped Dried Mango
80g chopped Glace Cherries
3 tbsp Rum
175ml Guinness
Zest and juice of 1 Lemon
80g Vegetarian Suet
115g Dark Brown Sugar
3 tbsp Golden Syrup
80g Plain Flour
1 tsp ground Cinnamon
1 tsp ground Ginger
1 tsp ground Nutmeg
1 large Egg, beaten
50g white Breadcrumbs
Method
Lightly butter a 1.2 litre pudding basin and place a disc of parchment in the base
Put the dried fruit, cherries, rum, Guinness and zest and juice of a lemon in a large saucepan and bring to steaming, then remove from the heat and leave for 30 mins
Add remaining ingredients to the saucepan and mix well
Spoon the mixture into the pudding basin pushing down well. Cover top of the mixture with a circle of parchment and cover with a piece of foil with a pleat in the middle
Tie string around the top of the basin
Cook by placing in a large saucepan with a saucer in the base. Half fill with boiling water and steam for 4 hours; top up with boiling water as necessary
When cooked allow to cool completely before wrapping in new foil and storing for 2 months.
Many thanks to Lakeland for the image to a WI recipe