Tiramisu Tart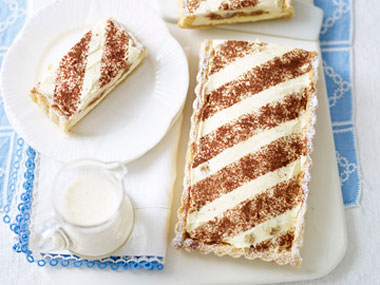 A glorious, rich creamy tart based on the famous Italian pudding. It is perfect as a dessert or for a special afternoon tea.
Serves: 8 - 10
Preparation: 20 minutes + 1½ hours chilling and 35 minutes cooking time
Plus: To make the cocoa stripes, cut a strip of greaseproof paper and lay it diagonally over the filling. Dust with cocoa powder, moving the paper as you move up the tart.
Ingredients
225g Chilled 'All Butter' Puff Pastry
1 Egg Yolk
2 teaspoons Caster Sugar
1 teaspoon Vanilla Extract
250g tub Mascarpone
100ml Double Cream
1 teaspoon Icing Sugar
2 tablespoons strong cold black Coffee
2 tablespoons Tia Maria or other coffee-flavoured liqueur
3 Savoiardi or Sponge Fingers, broken or chopped into small pieces
Cocoa Powder and Icing Sugar, for dusting
Method
Put a baking sheet in the oven and preheat to 220°C Gas Mark 7.
Roll out the pastry thinly on a lightly floured surface, then use to line a 34 x 11.5 cm loose-based tranche tin.
Prick the base with a fork and pop in the freezer for 30 minutes.
Line the pastry case with a sheet of foil, pressing it gently into the curves of the tin and folding it down over the outside.
Fill with baking beans and bake on the baking sheet for 15 minutes.
Remove the foil and beans, then bake for a further 15-20 minutes or until the pastry is golden and cooked through.
Cover with foil if necessary until the pastry case is crisp.
Beat the egg yolk with the caster sugar until pale and thick, then add the vanilla extract and mascarpone and whisk until evenly mixed.
Lightly whip the cream with the icing sugar and fold gently into the mascarpone mixture.
Spoon half the mixture carefully over the base of the pastry case.
Mix together the coffee and Tia Maria.
Briefly submerge the biscuit pieces, a few at a time, in the coffee liquid and arrange evenly on top of the mascarpone. Spoon the remaining mascarpone mixture over the biscuits and chill for 1 hour.
Dust the top of the filling with stripes of cocoa powder and the pastry with icing sugar.
Serve cut into fingers.
This recipe is from Perfect Pies and Tarts by Moyra Fraser and published by Simon & Schuster in 2011.