St George's Day Cupcakes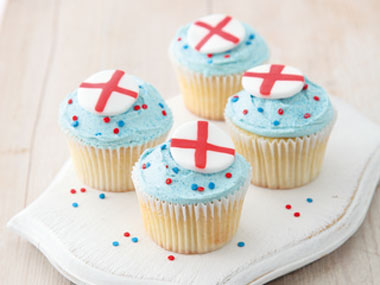 Serves: 12
Preparation: 30 minutes
Plus: To make truly vanilla cupcakes add the seeds from 1 vanilla pod or 1 tbsp vanilla extract to a 3 egg cupcake mixture (eg use the ingredients for Victoria Sandwich).
Ingredients
Icing Sugar, for dusting
75 g ready-to-roll White Fondant Icing
25 g ready-to-roll Red Fondant Icing
Blue Food Colouring
1 quantity Vanilla Buttercream
12 Truly Vanilla Cupcakes
Red and Blue Sugar
Sprinkles or Confetti
Edible Blue Glitter
Method
Lightly dust a clean work surface with icing sugar and roll the white fondant icing out until about 5 mm thick.
Using a 4 cm round cookie cutter, stamp out 12 circles. You may need to re-roll the icing.
Roll a little of the red fondant icing between your fingers and the work surface to make a thin sausage. Cut in half and lay in a cross over the top of one white circle. Lightly roll with a rolling pin to flatten.
Re-stamp out the circle and set aside.
Repeat with the remaining red fondant icing and white circles to make 12 round St George's flags.
Mix a little blue food colouring into the buttercream until combined and light blue in colour.
Using a small palette knife, spread the buttercream over the tops of the cupcakes to cover.
Put a St George's flag on top of each cupcake, pressing down lightly, and then sprinkle the exposed buttercream with the red and blue sprinkles or confetti and a little blue glitter.
This recipe is from Celebration Cupcakes by Kim Morphew published by Simon & Schuster 2011.