Panettone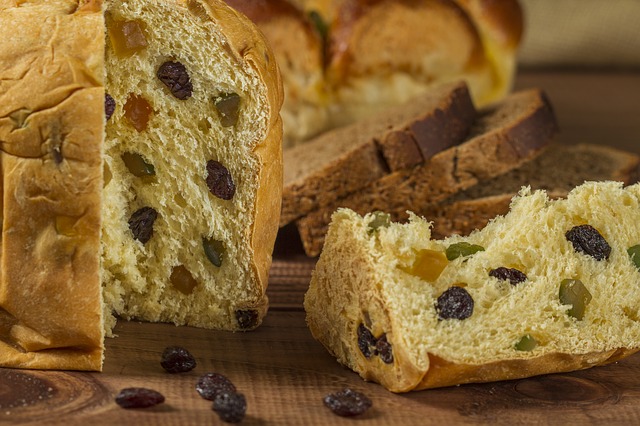 This is an Italian speciality which is served on festive occasions such as Easter and Christmas. Traditionally, it is sold in tall blue boxes and keeps well. It is also delicious when toasted.
Ingredients
350g Strong Plain Flour
pinch of Salt
50g Sugar
25g fresh Yeast or 7g Dried Yeast
150ml Milk, lukewarm, see below
50g Butter, melted
3 egg yolks
75g Raisins, seedless
50g Chopped Mixed Peel
Grated rind of 1 Lemon
a little beaten egg to glaze
Method
Mix the fresh yeast with 1 tsp of sugar and lukewarm milk. (If you are using dried yeast, sprinkle on the milk with 1 tsp of the sugar and leave until frothy.)
Sieve the flour and salt into a bowl and stir in the sugar.
Add the yeast mixture to the flour with the melted butter, egg yolks, raisins, peel and lemon rind
mix well to form a stiff dough. Knead well.
Leave to prove for 2 hours
Heat the oven 220C, Gas Mark 7
Shape the dough into a tall domed loaf and place in a greased deep cake tin or alternatively place into a panettone tin.
Glaze the panettone well with beaten egg
Bake 15 mins then reduce to 190C, Mark 5 for 25 mins. Cool on a wire rack
Tips
Yeast needs careful temperature conditions to become active. Too cold and it will not grow; too hot and it will die. The optimum temperature is blood heat; lukewarm and this temperature can be achieved if one-third of the liquid is at boiling point and two-thirds is cold. Therefore use 100ml cold milk and 50ml boiling milk
This recipe is adapted from the WI Book of Bread and Buns by Mary Norwak published in 1984.