Easter Biscuits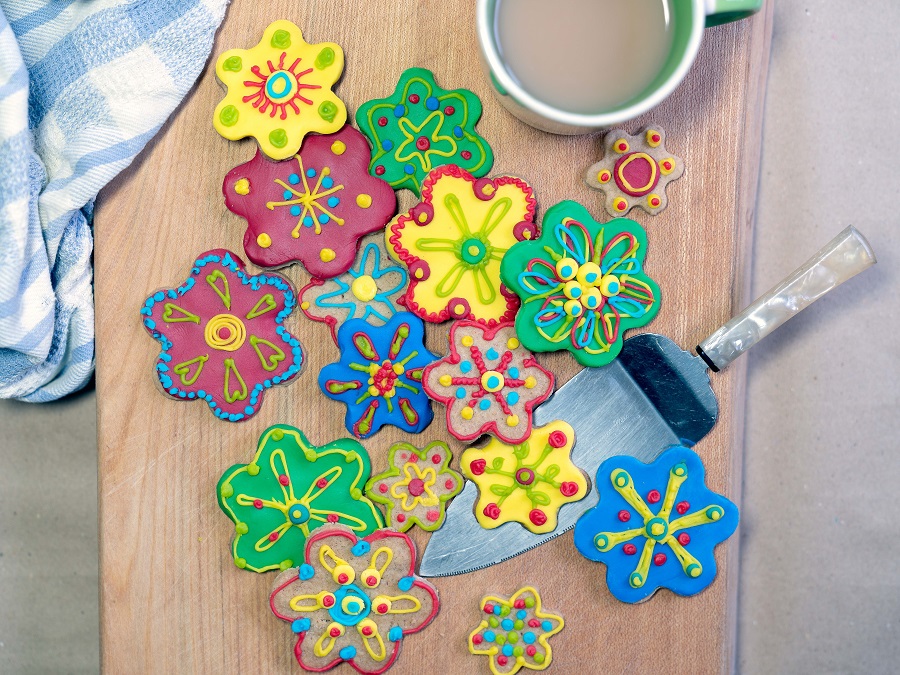 Serves: 10-12
Preparation: 15 mins + 40 mins for icing and 15-20 mins cooking
Ingredients
For the biscuits
30g light brown soft sugar
60g butter (room temperature)
90g plain flour
1 tsp mixed spice
I egg yolk
For the icing
150g fondant icing in various colours
3-4 x 'writing icing' tubes
Method
1. Preheat the oven to 150°C and grease a large baking tray.
2. Cream together the butter and sugar, with an electric mixer or wooden spoon.
3. Sift in the flour and mixed spice, then stir in the egg yolk, until the mixture comes together and forms a ball. Knead briefly until smooth, and pop in the fridge for ten minutes.
4. Dust the work surface with flour and roll out your dough. If it sticks, sandwich between sheets of baking paper and roll to a thickness of about 3mm.
5. Use shaped cutters to stamp biscuits out, and transfer to the baking tray with a palette knife.
6. Bake for 15-20 minutes until golden but still slightly soft. Remove, and cool on a wire rack till hardened.
7. Roll out your fondant icing, sandwiched in baking paper. Keep the other colours wrapped in baking paper till you need them. Use the cutters to stamp out icing to fit the biscuits and brush the shapes with warm water before applying to the biscuits. Repeat with the other colours.
8. Use the writing icing to pipe flower or abstract designs onto your biscuits. Allow to dry for a few minutes before eating.
Words and styling by Flic Everett | Photography: Andrew Bowden-Smith | This recipe was first published in WI Life magazine.