Berry & Elderflower Tart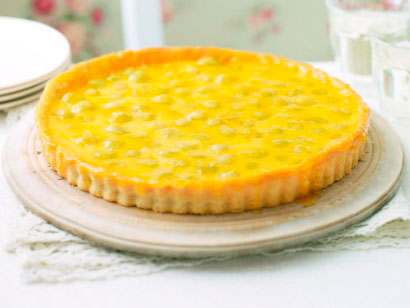 If you have time it is best to start this dish the night before. Sharp, tender gooseberries with a hint of elderflower, all in a light pastry. Delicious!
Serves: 8
Preparation: 30 minutes + 30 minutes chilling + overnight soaking + 1 hour cooling
Plus: Cooking time: 55−60 minutes
Ingredients
450g gooseberries, topped and tailed
50ml Elderflower Cordial (see WI recipe)
375g rich Shortcrust Pastry
3 Eggs
100g Caster Sugar
300ml Double Cream
1 tsp Vanilla Extract
Use a 375 g pack of ready-made chilled shortcrust pastry if you wish.
Method
Prick the gooseberries with a cocktail stick and drop into a bowl. Pour over the cordial and leave to soak overnight.
Put a baking sheet in the oven and preheat to 200°C/Gas Mark 6.
Roll out the pastry on a lightly floured surface to about 3mm thick, then use it to line a 23cm loose-based, fluted flan tin, about 4.5−5cm deep.
Prick the base with a fork and pop in the freezer for 30 minutes.
Line the pastry case with a sheet of foil, pressing it gently into the curves of the tin and folding it down carefully over the outside.
Fill with baking beans and bake on the baking sheet for 15 minutes. (Bake blind)
Remove the foil and beans, then bake for a further 5−10 minutes or until the pastry is firm and pale golden brown around the edges.
If necessary, use a little beaten egg to brush over any cracks and return to the oven for 2−3 minutes to seal.
Reduce the oven temperature to 180°C/Gas Mark 4.
Mix together the eggs, sugar, cream and vanilla extract in a jug.
Drain the gooseberries and spoon them into the prepared pastry case. Pour over the egg mixture.
Bake for 35 minutes until the centre is just firm.
Leave to cool for 1 hr before serving.
Tip
To glaze the tart, warm 3 tablespoons of apricot conserve with 1 tablespoon of boiling water.
Brush evenly over the cold tart to cover completely.
This recipe is from Perfect Pies and Tarts by Moyra Fraser and published by Simon & Schuster in 2011 ISBN 978-0-85720-355-7 priced £9.99
For a complete list of all WI recipe books please send a sae to WI Enterprises 104 New Kings Road, London SW6 4LY