Not in my Name prose competition
In February 2016, NFWI-Wales established a competition for members to write a prose on the title 'Not in my Name', reflecting, and inspired by, the campaign to end violence against women.
Congratulations to the winner and 4 joint runners-up of the competition.
Winner: Therese Casemore, Llandogo WI, Gwent Federation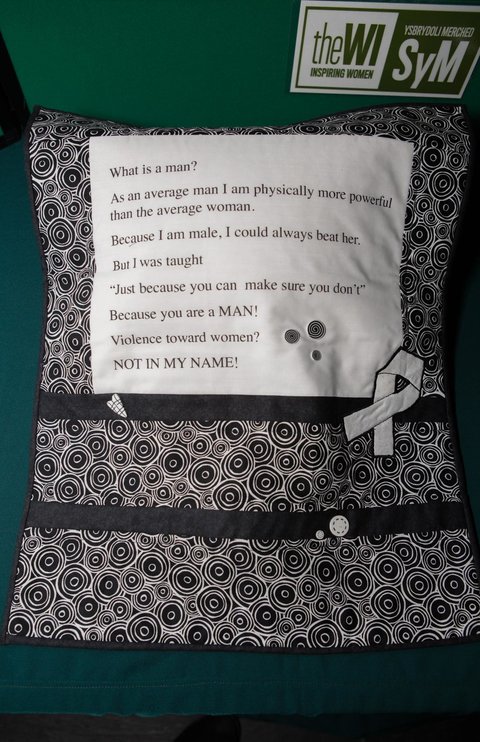 Joint runners-up:

She poured her love and honesty – generously – constantly
It was not enough
She poured her freedom - choice - identity
There was nothing left
But a gentle hand and a kind voice came
She poured out all the fear - hurt - shame - waste
It was enough
Lorna Cunningham, Chalfont Common, Buckinghamshire Federation

'You look straight at me,
Is my truth so easy to see?
It all began as Fairytales do
Now it's a constant hell I have to live through.
Well who can I tell? Can I trust you?
One day maybe I'll explain all
But till then dear Nurse – yes another fall'.
Robin Rootes, Southport Central WI, Lancashire

Gwae fi fy myw gyda dyn treisgar. Dywedodd fod ei fwyd yn hwyr a'i daflu dros y wal. Fy ngwaed i yn gymysg efo'r tomatos oedd hi. Nid oedd y wal ar fai, na finnau chwaith.
Rwyf fi wedi cael hen ddigon. Beth amdanoch chi?
Sheila Cousins, Trelech WI, Sir Gâr/Carmarthenshire

He waits outside, ready to escort me from WI.
"Dutiful husband", they whisper.
Support that member. Never there to chat after meetings. In constant mobile phone contact with him at home. Clock-watching Cinderella. Never committing to anything without his consent.
Dominance masked by chivalry.
Look, no bruises.
Eirwen James, Llanddewi Brefi WI, Ceredigion
Therese Casemore, Sheila Cousins and Eirwen James attended the stakeholder event at the Senedd on 22 November to mark International White Ribbon Day.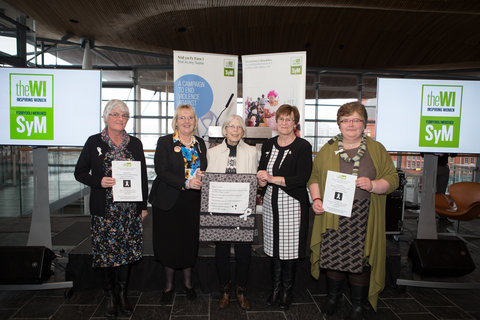 Congratulations to the winner and 4 joint runners-up of the Not in my Name prose competition.