2019 National Eisteddfod of Wales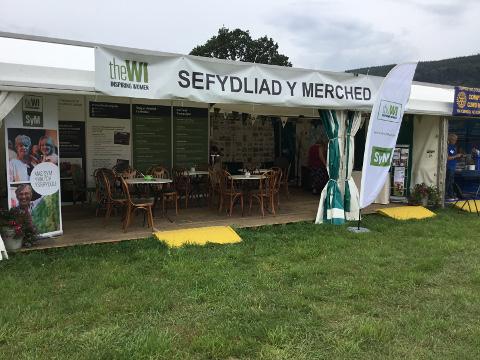 We had a wonderful week at the National Eisteddfod of Wales in Llanrwst from 3 to 10 August 2019.
The WI stand, hosted by Clwyd Denbigh Federation of WIs, was based on the theme Nooks / Cilfachau with the focal point comprising of a large tree displaying handcrafted small animals made by members.
On display were eye-catching promotional panels showcasing the diverse range of opportunities offered to women through membership of the WI, from campaigning and participating in sport and leisure activities, to learning and developing new skills.
Also on display were craft panels, designed by Clwyd Denbigh Federation, promoting the contribution of the WI towards achieving sustainable development.
Learn Welsh on-line course
On 5 August, a session was held on the stand to promote the WI's new on-line Welsh language course developed by the National Centre for Learning Welsh. The course will be played on the stand throughout the week.
Winners of the WI trophies
To encourage higher standards of exhibits at the Eisteddfod, NFWI-Wales sponsors a competition for the best and runner-up stand from the voluntary sector. In addition it sponsors a competition for the best decorated local community welcoming the Eisteddfod to the area. Huge congratulations to the winners:-
Best voluntary sector stand - British Heart Foundation Cymru;
Runner-up voluntary sector stand - Mudiad Meithrin (Welsh early years specialists);
Best decorated community - the village of Pentrefoelas.
Contact the NFWI
Phone: 020 7371 9300
Open hours: 9am–5pm Mon–Fri
Address: 104 New Kings Road, London SW6 4LY
Or fill in the contact form... to email a specific department