Get Cooking
This project involves WI members delivering Get Cooking courses to groups in their area.
The project was previously delivered in seven federation areas in Wales - Ceredigion, Clwyd-Denbigh, Clwyd-Flint, Glamorgan, Gwent, Gwynedd-Caernarfon, Pembrokeshire and Powys-Montgomery - funded by the Welsh Government. Volunteer Project Co-ordinators attended community sessions on the Cooking Bus that was visiting schools all over Wales and encouraged parents to sign up for free Get Cooking courses in their area.
A DVD of the project has been produced to promote the project both to tutors within the organisation and to external partners, containing footage of some of our courses being delivered and demonstrates the positive impact of the course on its participants.
Get Cooking course in Powys Montgomery Federation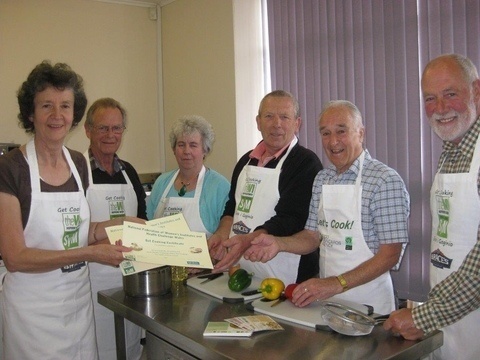 Get Cooking course in Glamorgan Federation
Get Cooking course at Chepstow Rugby Club
Contact the NFWI
Phone: 020 7371 9300
Open hours: 9am–5pm Mon–Fri
Address: 104 New Kings Road, London SW6 4LY
Or fill in the contact form... to email a specific department