"Not in my Name" campaign to recruit male ambassadors to speak out against domestic abuse
In 2014, members got involved for the third year in recruiting male ambassadors from their communities to speak out on violence against women during the 16 Days of Activism Against Gender Violence (25 November –10 December).
Since 2012, NFWI-Wales has been working with Joyce Watson AM, Assembly Member for Mid and West Wales to engage men in pledging their support to never commit, condone or remain silent about violence against women.
Cardiff Blues players and staff signed the Not in my Name Poster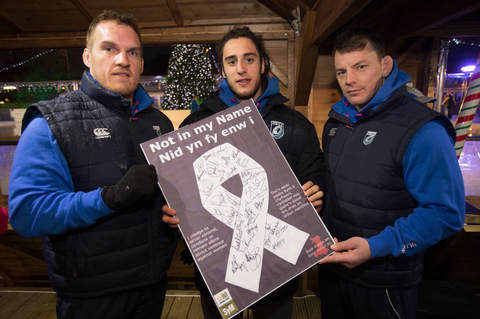 Cricket Wales and Glamorgan Cricket pledge support for the 2014 Not in My Name Campaign
'Cricket Wales is pleased to provide its support to the 'Not in my Name' campaign to end male violence against women', Peter Hybart, Chief Executive Officer, Cricket Wales
NFU Cymru pledge their support at the Winter Fair
John Mercer, NFU Cymru Director; Stephen James, NFU Cymru President and John Davies, NFU Cymru Deputy President pledged their support at the Winter Fair on 2 December.
Rhiwbina WI from Glamorgan Federation engaged the support of Cardiff Arms Park male choir. The choir wore white ribbons during their performance at The Angel Hotel in Cardiff ahead of the victorious Welsh rugby win over South Africa.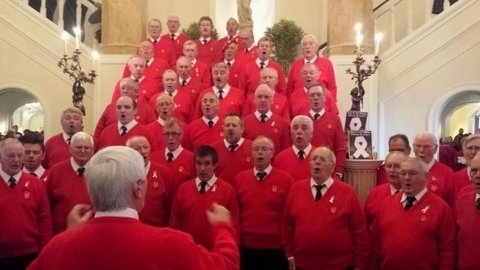 Powys Brecknock Federation of WIs has secured the support of a number of local groups including Aberhonddu male choir, Brecon Bowling Club, Brecon Lions Club, Sennybridge Gym and Cobra Leisure and Fitness.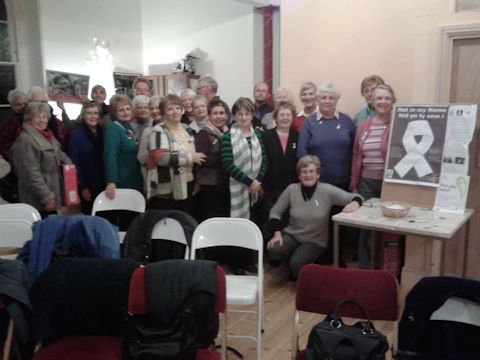 Fishguard WI gathered the support of Fishguard Round Table.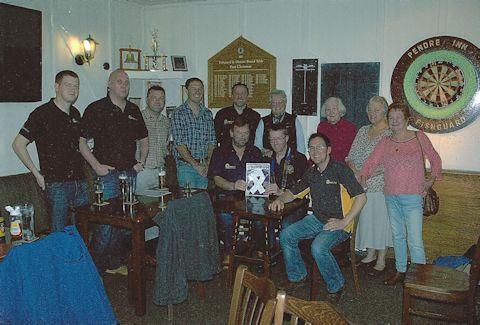 Whitland male voice choir supported the Campaign for the second year.
White Ribbon event at the Assembly - 25 November 2014
The White Ribbon event organised by NFWI-Wales and Joyce Watson AM in the National Assembly for Wales on 25 November 2014 was well attended by stakeholders and politicians. Joyce Watson AM presented an overview of the campaign and the links she had established this year with The Scarlets, South Wales Fire and Rescue Service and a number of schools including Welshpool High School and Coedcae Comprehensive School.
Jon Daniels, Chief Operating Officer at The Scarlets outlined the Club's endorsement of the campaign explaining that it was a privilege but also a responsibility to get involved. He reported that The Scarlets had dedicated a game to raise awareness of domestic abuse; the Scarlets wore white ribbons on their shirts and high coverage had been gained on radio, TV and social media in awareness raising.
Huw Jakeway, Chief Fire Officer at South Wales Fire and Rescue Service, the first fire and rescue service in the world to gain White Ribbon accreditation, said that the fire service as a predominantly male and life changing organisation had a vital role in taking action to address violence against women. A ribbon relay will go to every fire and rescue service across south Wales.
Ann Jones, shared with stakeholders, the great links established by federations and WIs this year as part of the Not in my Name Campaign such as rotary clubs, roundtables, male choirs, rugby clubs, youth clubs and fitness clubs. She highlighted that the Not in my Name Thunderclap message had gained 125 supporters and had reached 92,000 social media accounts. She emphasised the need to engage with boys and men to challenge the inequalities and attitudes that contribute to violence against women and said that every link established had a part to play in helping achieve a culture change where violence against women is not accepted by society.
Pupils from Coedcae Comprehensive School in Llanelli presented a Service about the White Ribbon campaign that will be given to every year group in the school. They also showed illustrations that they had produced to demonstrate the impact of domestic violence.
Leighton Andrews AM, Minister for Public Services spoke about the commitment of the Welsh Government in protecting the domestic abuse budget and in engaging all public organisations in developing domestic abuse workplace policies. He said that he was also working with the Economy, Skills and Transport Minister and the WCVA to gather support of the private and third sectors respectively. The Minister reported that the Welsh Government had gained White Ribbon accreditation and that 13 out of the 22 local authorities had gained accreditation whilst another 8 local authorities were working towards accreditation.
110269
2013 Campaign
74686
Read about the 2013 Not in my Name Campaign
Read about the 2012 Not in my Name Campaign
Contact the NFWI
Phone: 020 7371 9300
Open hours: 9am–5pm Mon–Fri
Address: 104 New Kings Road, London SW6 4LY
Or fill in the contact form... to email a specific department