Seasonal Recipe
Christmas Vegan Mince Pies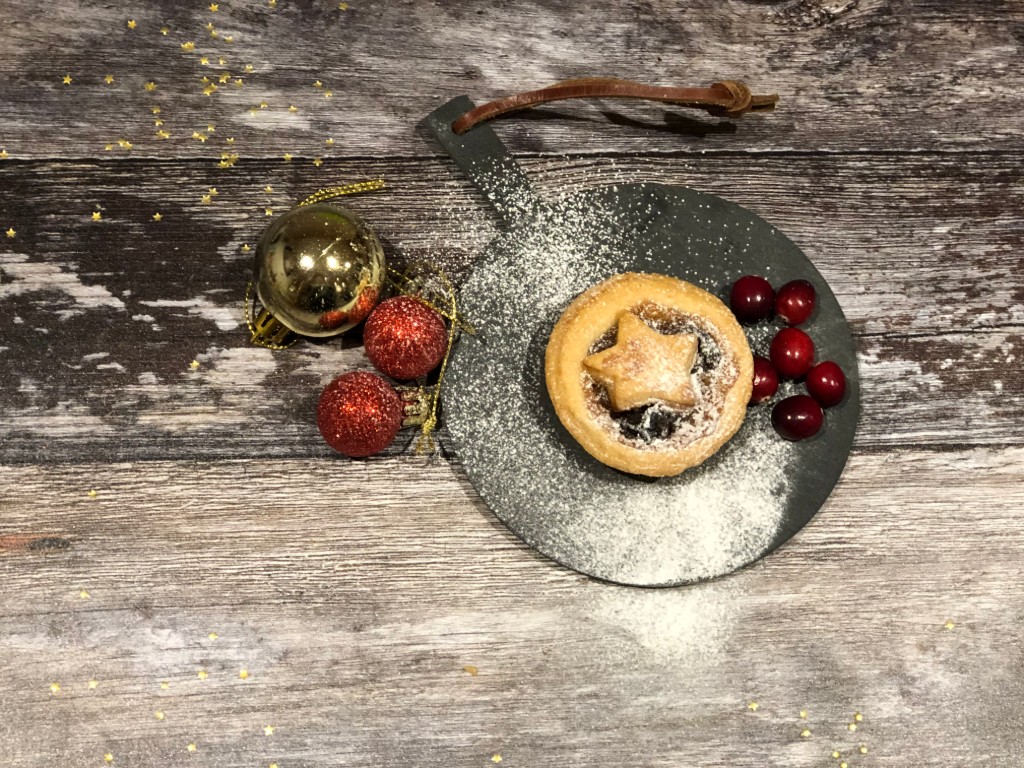 Ingredients
Makes 12-14 mince pies
Christmas Vegan Mincemeat with Brandy
Makes: 1 x 1.5-litre jar
Preparation and cooking time: 3 hours 20 + macerating overnight and cooling
500 g (1 lb 2 oz) raisins
250 g (9 oz) sultanas
250 g (9 oz) currants
125 g (4 oz) candied peel, chopped
350 g (12 oz) soft brown sugar
Juice and finely grated zest of 1 lemon
Juice and finely grated zest of 1 orange
2 Bramley apples, cored and diced
50 g (2 oz) blanched almonds, roughly chopped
75 g (2 oz) glace cherries, roughly chopped
1 teaspoon mixed spice
1 teaspoon ground cinnamon
½ teaspoon freshly grated nutmeg
150ml (¼ pint) brandy
The day before you want to bottle your mincemeat, mix everything together, except the brandy, in a very large non-metallic (ceramic, glass or earthenware) bowl. Cover with a clean tea towel and leave overnight.
Next day, place all the ingredients in a saucepan and heat gently to combine all the ingredients. Alternatively, preheat the oven to low heat (Gas Mark ¼/ 110°C/225°F). Remove the tea towel from the bowl and replace with foil. Put the bowl into the oven and leave for about 3 hours. Remove from the oven and allow the mixture to cool completely, stirring occasionally.
When completely cold, stir in the brandy and pack into warm sterilised jars and seal. Label the jars before storing.
Sweet Shortcrust Pastry
200g plain flour
40 g icing sugar
100g solid coconut oil
Dash of cold water
Place the plain flour into a bowl and sift in the icing sugar, stir through.
Add the coconut oil in solid form in chunks and rub into the flour to form breadcrumbs. Do not panic if it does not resemble fine breadcrumbs as with traditional pastry.
Add a dash of water into a well in the centre of the breadcrumb mixture and using a knife incorporate the mixture together until it forms a ball (add extra water if it does not come together).
Wrap the ball in cling film and place in the fridge for 30 minutes.
Preheat the oven to 200◦ C fan/220◦ C/gas 7.
After the pastry has chilled place on a floured surface and roll out. Using a cutter cut circles from the pastry sheet. Place the circles of pastry into a lightly greased 12 cup muffin tin. If the pastry breaks up at first don't panic it lends itself better to traditionally pastry, you can keep forming together and re-rolling.
Fill the pastry cases with vegan mincemeat and top with a pastry star.
Lightly brush the pastry with almond milk.
Place in the oven for approximately 15 minutes.
Once baked and golden colour, remove and place on a wire rack to cool.
---

Tip.: Head over to our short skills video section and watch Pastry Chef Kelly Mauger make shortcrust pastry!
#mincepiemoments
Contact the NFWI
Phone: 020 7371 9300
Open hours: 9am–5pm Mon–Fri
Address: 104 New Kings Road, London SW6 4LY
Or fill in the contact form... to email a specific department