Recipe of the week
Apricot Jam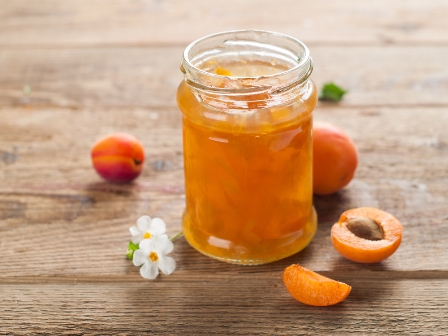 A bright coloured full of flavour jam using dried apricots
Ingredients
500g dried apricots
1500g preserving sugar
1. Finely chop 400g of the apricots and place all the apricots in a large preserving pan, add 2 litres of water and bring to the boil, remove from heat, cover and leave overnight to soak.
2. Next day bring the pan of apricots to the boil again, reduce heat so liquid is simmering and cook for 30-45 minutes until apricots very soft.
3. Add sugar, stirring continuously, keeping heat low so the sugar dissolves.
4. Return to the boil and boil the mixture, stirring often for 20-25 minutes. Remove any scum during the cooking.
5. When the jam falls from the spoon in thick sheets without dripping, start testing for setting.
6. Allow to cool for 5 minutes then spoon into clean warmed jars and seal immediately.
7. Turn jars upside down for 2 minutes, label and store in a cool place. Refrigerate after opening.
This recipe was kindly contributed by Jill Brand, NFWI Lead Cookery Judge.