Recipe of the week
Plum Ketchup
Try this spicy sauce, instead of hoisin, with crispy duck.
Perfect for National Plum day on the 24th August.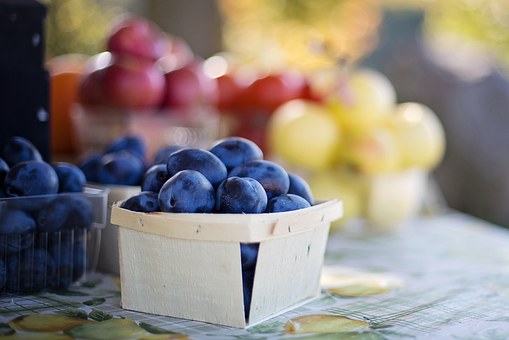 Makes 5 x 500 ml (18 fl oz) jars
Preparation & cooking time 3½ hours
Ingredients
2 teaspoons black peppercorns
2 teaspoons mustard seeds
1 cinnamon stick
1 star anise
2.5 cm (1 inch) piece fresh ginger, peeled and grated
4 allspice berries
1 clove garlic peeled
1.8 kg (4 lb) plums or damsons, halved and stoned
115 g (4 oz) currants
225 g (8 oz) onions, peeled and finely chopped
600 ml (1 pint) distilled white vinegar
1 tablespoon sea salt
1 pinch chilli flakes
250 g (12 oz) demerara sugar
Method
Tie the peppercorns, mustard seeds, cinnamon stick, star anise, ginger, allspice and garlic in a small muslin bag and set aside.
Put the plums, currants, onions, half the vinegar, salt, chilli flakes and spice bag into a large pan or preserving pan.
Bring to the boil and cook for about 30 minutes, until the plums are very soft. Remove the bag of spices and set aside. Transfer the plums to a food processor or blender, or use a stick blender, and process until very smooth – if necessary, use a sieve.
Return the resulting purée to the pan along with the bag of spices, remaining vinegar and sugar. Return to a simmer and cook for a further 1½-2 hours until very thick, stirring often to prevent it catching.
Using a jam funnel, pour the sauce into sterilised jars, leaving a gap of about 2 cm (1 inch) at the top. Replace the lids and place the filled jars in a large, deep pan, ensuring that the jars don't touch each other (thread a tea towel between them to keep them apart if necessary). Completely cover the jars with water by at least 2.5 cm (1 inch). Bring to the boil and simmer for about 20 minutes. You will see the lids become slightly indented at the top. This is because a vacuum has now formed between the sauce and the lid.
Allow to cool completely. Remove the jars and dry well before labelling and storing.
The ketchup will keep for up to 6 months.
Recipe from the Women's Institute Book of Preserves by Carol Tennant. Simon & Schuster 2009.
Contact the NFWI
Phone: 020 7371 9300
Open hours: 9am–5pm Mon–Fri
Address: 104 New Kings Road, London SW6 4LY
Or fill in the contact form... to email a specific department