Recipe of the week
Manon's Strawberry Tiramisu
The Big Lunch is about millions of people getting together to share food, have fun and get to know each other better. It's a simple idea – that for a few glorious hours, cars stop, shyness stops and neighbours come together in the street to meet, eat, share, swap ideas and have a laugh.
To Make 6 tiramisu jars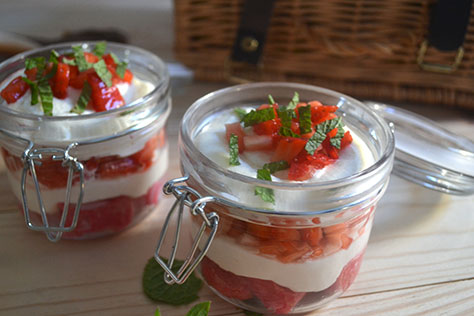 Ingredients
500g of mascarpone (find it at the cheese section)
4 eggs (3 eggs yolk and 4 white separated)
100g of sugar
250g of strawberries
A pack of ladyfinger biscuits
1 tsp of vanilla extract
1 tsp of Pink food colorant
(1 tsp of Kirsch Alcohol, not necessary)
Method
Make the cream: In a bowl, mix the egg yolks and the sugar, beat well until the mix is nearly white. Add the mascarpone.
Beat the white eggs with a pinch of salt until stiff, and slowly add them to the cream mix.
In another bowl, pour some warm water, add the vanilla, food colorant and alcohol.
Assemble the tiramisu: Start by a layer of ladyfinger biscuits dipped into the vanilla / pink mix for about 30sec, then cover with a layer of tiramisu cream and finish with a layer of cut strawberries. Add another layer of tiramisu cream and finish with some strawberries to decorate.

Refrigerate for at list an hour before eating. Best to leave it overnight.
To join in the UK's biggest get together for neighbours, go to thebiglunch.com
For more amazing recipes from Manon that are perfect for any Big Lunch, go to www.manonlagreve.com or www.instagram.com/manonlagreve/
Contact the NFWI
Phone: 020 7371 9300
Open hours: 9am–5pm Mon–Fri
Address: 104 New Kings Road, London SW6 4LY
Or fill in the contact form... to email a specific department