Recipe of the week
Whisky and sugar-cured salmon gravlax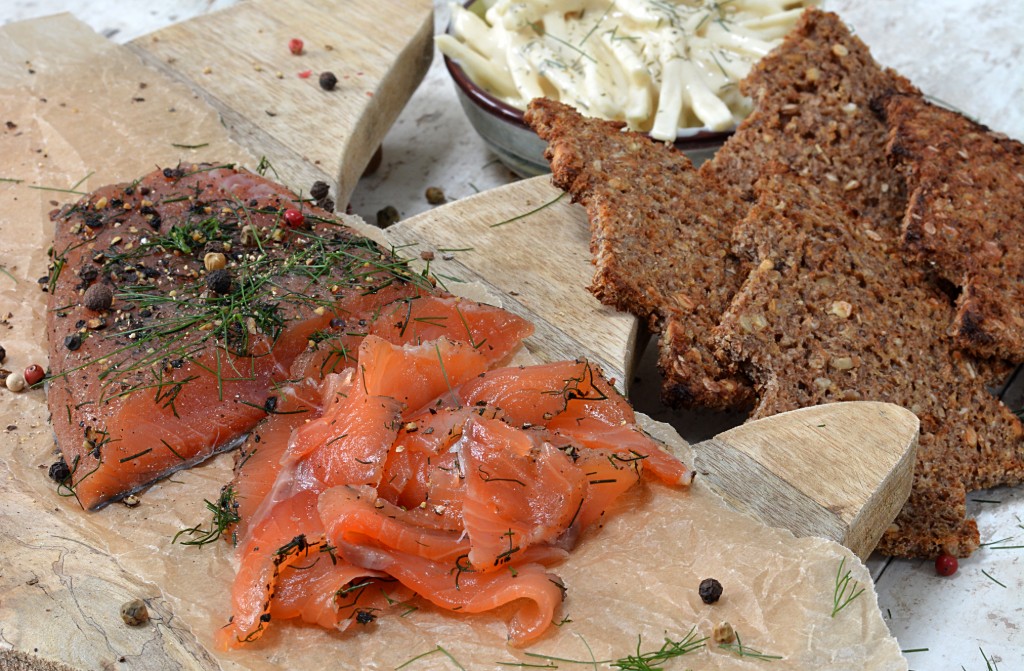 Kickstart your Christmas feast with luxurious gravlax. This recipe shows you not only how to cure your own smoked salmon, but also how to put a twist on tradition with new flavours.
Recipe by Linzi Barrow, Lancashire Federation
Ingredients
For the gravlax:
0.5kg salmon tailpiece, filleted with the skin left on
1/3 cup soft light brown sugar
1/3 cup coarse sea salt flakes
1 tbsp. black peppercorns, crushed in a pestle and mortar
¼ cup fresh chopped dill (you also could use fennel)
¼ cup Scottish whisky
For the celeriac slaw:
1 small-to-medium celeriac, peeled and cut into fine batons
6 to 8 tbsp. mayonnaise
1 tbsp. Dijon or grain mustard
Juice of 1 lemon
Pinch of sugar
Sea salt and freshly ground black pepper
Parsley or dill to garnish
Method
For the gravlax:
Unpack your salmon and dry with a paper towel, checking for any fine bones missed by your fishmonger.
Mix the sugar, salt, pepper, dill and whisky in a small bowl.
Place your salmon in a shallow dish, rub the cure mixture into the top surface of your salmon ensuring it's all coated.
Wrap the dish in cling film or foil, pressing it down so you remove all the air from the dish and the foil or film is in contact with the salmon.
Place 3 or 4 heavy tins on your salmon and leave to cure in the fridge for 3 days, turning the salmon every 12 hours or so. Initially, the salmon will lose a lot of liquid, this can be poured off.
After 3 days remove the film and scrape the majority of the cure off the salmon. Your gravlax is now ready to serve, finely slice leaving the skin behind. Use as needed and keep it wrapped in the fridge, it keeps for about a week. Alternatively, you can freeze it, doubled wrapped.
Serve accompanied by celeriac slaw and rye or wholemeal toast. To keep things festive use a Christmas tree biscuit cutter to cut the toast into cute shapes.
For the celeriac slaw:
Mix the mayonnaise, mustard, lemon juice, sugar and salt and pepper in a bowl, until you have a smooth mixture.
Add the celeriac batons to the mayonnaise mixture as you prepare the batons and toss in the mixture so as to prevent any browning of the batons.
Once mixed, garnish with dill or parsley. Taste and adjust seasoning if required.
Contact the NFWI
Phone: 020 7371 9300
Open hours: 9am–5pm Mon–Fri
Address: 104 New Kings Road, London SW6 4LY
Or fill in the contact form... to email a specific department