Victoria Sandwich
Victoria Sponge Sandwich
This is the traditional recipe. A cake that was popularised in the reign of Queen Victoria and is still a classic today.
This recipe was demonstrated on the Hairy Bikers TV programme
It is a great basic recipe to adapt or develop to create special cakes such as the 3 Tiered Chocolate Cake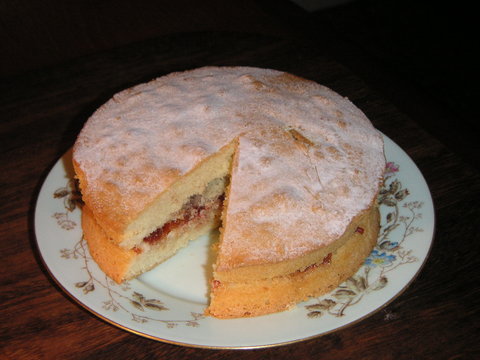 Ingredients:
3 medium eggs weighed in their shells (probably 6oz/170g)
The weight of the eggs in Butter / Soft Margarine
The weight of the eggs in Caster Sugar
The weight of the eggs in SR Flour
Raspberry Jam to fill – home made / good quality
Method:
Set oven Gas 4 160C (fan oven) or 180C
grease and base line the bottom of 2 20cm/8" sandwich tins
Cream butter/margarine and sugar
Beat the eggs then gradually add to the mixture beating well each time
Sieve the flour and fold into the mixture with a metal spoon
Divide equally between the 2 tins and bake 25mins in the middle of the oven.
They are ready when they are golden, shrunk from the sides of the tin and spring back when touched
Remove from the tins and fill with raspberry jam when cold to avoid jam bleeding into the cake
A light dusting of caster sugar on the top will finish it
Tips:
Kath Mepham a Denman Home Economics tutor demonstrated this recipe on the Hairy Bikers TV programme 25th August 2008.
If you use butter remove from the fridge to soften. This is not necessary with soft margarine.
To reduce the cost of the cake and increase the volume you could use half butter and half soft margarine. Use the soft margarine straight from the fridge.
If large eggs are used they may weigh 7 ½ ozs/210g. If so make sure you use this weight for the other ingredients.
A smaller sandwich cake can be made with 2 medium eggs, these weigh in total about 4 oz/55g. If these are used, put the mixture in 2 x 18cm/7" sandwich tins and the cakes will need less time in the oven – probably 20mins.
For a special luxurious occasion fill and cover with cream and fruit or add chocolate or coffee flavourings!
Contact the NFWI
Phone: 020 7371 9300
Open hours: 9am–5pm Mon–Fri
Address: 104 New Kings Road, London SW6 4LY
Or fill in the contact form... to email a specific department