Crafts Beautiful magazine projects
Every month we'll be giving you a brand new project to try from the WI pages of Crafts Beautiful magazine.
Have fun and get crafting!
Crafts Beautiful's festive projects...
Turtle Dove Christmas card
Create this enchanting card using scraps of festive fabric and some simple machine embroidery.
1. Take a card blank, 10cm x 15cm, and glue patterned fabric to the front. Snip a strip of card, 2cm x 15cm, and cover one side of with spotty fabric.
2. Cover a second strip,1.5cm x 13.5cm, with a coloured fabric. Trace the the words onto white tissue, place on the fabric strip, then machine or hand stitch over the letters twice, then tear the tissue away.
3. Glue the stitched fabric to the spotty strip and mount onto the card. Stick a length of ricrac across the top and set aside. Trim two sprigs of mistletoe from fabric, stick to thin card, machine stitch around the details, then cut them out.
4. Attach mistletoe to the card using foam pads. Cut two out birds and wings. Stick them to scrap card, stitch the details, then cut and mount onto the card. To finish, add glitter to the berries, birds and wings.
Project by Crafts Beautiful designer, Carolyn Letten
Painted glass baubles
Glass baubles, outliner and some brightly coloured glass paints will get you started on this stunning set of decorations. They're bound to be admired, but beware, we think your friends and family will want them, so you could be kept very busy!


You will need:
Glass baubles 8cm diam and 6cm diameter
Glass paints, in the colours of your choice
Paintbrush, soft fine
Cerne relief outliner, silver
Sparkly gems, mixed sizes and colours
Fineliner pen, water based
Acetate
Card, white
Tape
Craft tweezers
Ribbons, organza
How to paint a Bauble
1. Use a water-based pen to draw six equally spaced marks round the top of the bauble. From each of the marks draw a line 3cm long straight down the bauble so the top is divided in six segments. Check the segments are equal and adjust your lines if needed.
2. Hold the tip of the outliner just above the surface at the top of the bauble. Squeeze the tube gently and lay the outline on top of the penned lines. Next, working on area at a time, use the outliner to draw a line across the bottom of each segment.
3. Balance the bauble in the top of a tumbler or something similar so the outlines don't smudge. Use tweezers to fix sparkly gems in the wet outliner. Leave to dry.
4. Pen a triangle at the base of each segment. Outline the triangles. Fix gems in the wet outliner as previously. If required, dots of outliner can be used to fix additional gems on the bauble. Leave to dry for at least an hour.
5. Carefully paint one of the sections at a time. Use a fine brush and make sure you've painted right up to the outline. You'll need to position the bauble on top of a tumbler, allow the paint to set then turn the bauble before painting the next section.
Tips
Outliner is applied in much the same way as icing. Be sure to hold the tip just above the surface and work as smoothly as possible.
Mistakes in the outlining can be carefully removed when dry with a sharp knife.
Where to Buy
Project by Crafts Beautiful designer, Jill Alblas
Take a look at previous projects...

Felt Bird Decorations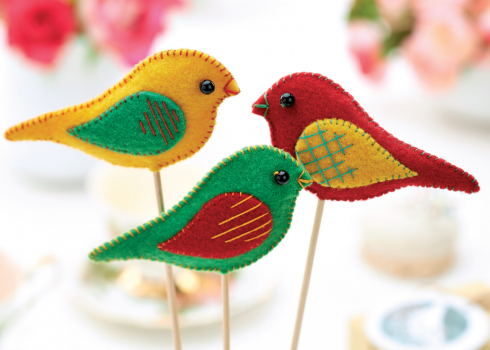 Have a go at making these sweet little bird decorations. You could even change the colours of the felt to make robin decorations for Christmas. The instructions can be found here.

Foil leaf card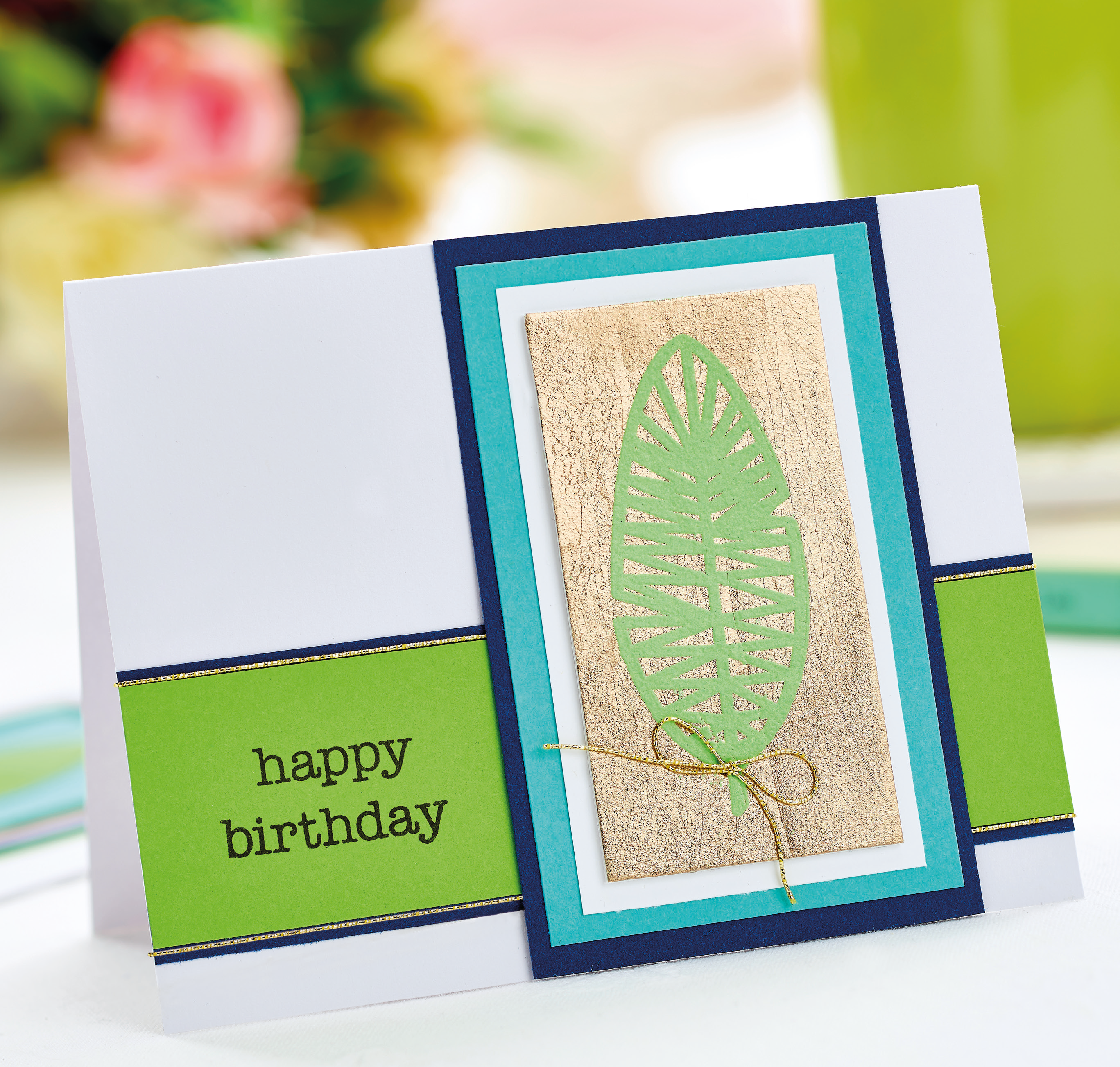 Instructions to make this foil leaf card can be found here.

Floral decorations, tag and card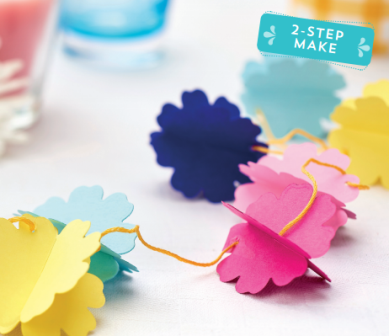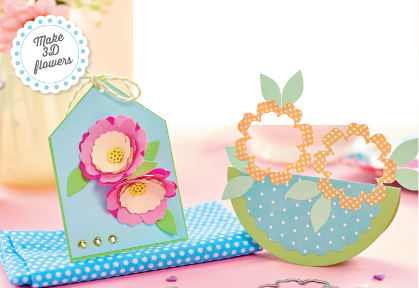 Click here for instructions to make these pretty decorations, tag and card.
Stitched Nautical Sampler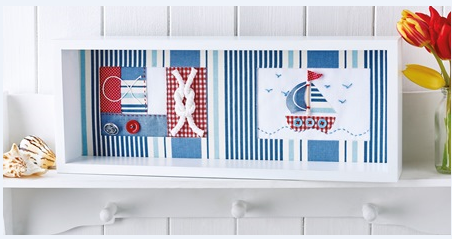 Click here for a step-by-step guide on how to make this nautical themed sampler.
Garden Card

Use up your fabric scraps to make this beautiful garden card.
Click here for instructions.
Patchwork Pencil Case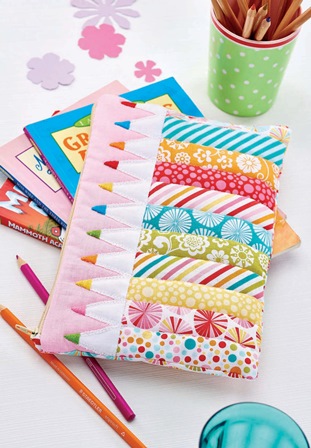 Keep your pens and pencils together in this creative and colourful patchwork pencil case.
Click here for step-by-step instructions.
Patchwork Quilt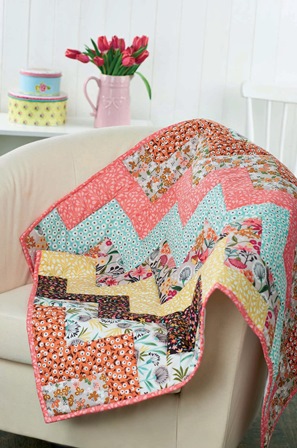 Have a go at making this colourful and cheery quilt to brighten up your home.
Click here to see how to make this patchwork quilt.
These are just a taster... for more makes, there are lots of other great projects available on the Crafts Beautiful website and in the Craft Area of My WI.