Crafts Beautiful magazine projects
Every month we'll be giving you a brand new project from the 'Your WI Highlights' pages of Crafts Beautiful magazine.
You'll also find more fantastic projects, blogs and craft news from Crafts Beautiful at www.crafts-beautiful.com.
This month we are making...
Rockin' Robin
Try this quick-to-do appliqué for a festive greeting, using Tracey Daykin-Jones' cheery design.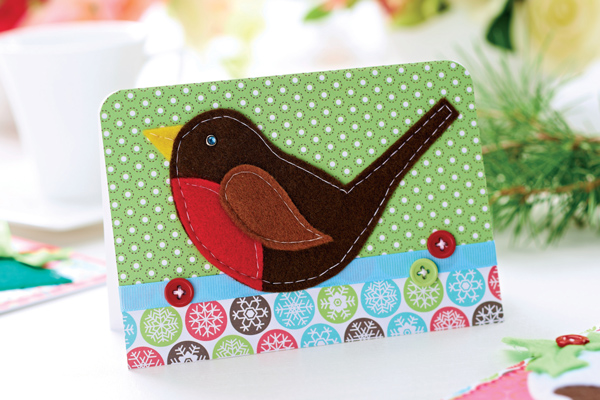 You will need
Paper: Dovecraft Make Merry
Felt, assorted colours
Buttons
Gem brad
Grosgrain ribbon
White thread
Sewing machine
Round corner punch
To make
Line an A6 card blank with green and snowflake patterned paper. To conceal the join, stick a grosgrain ribbon horizontally across, securing the ends on the inside of the card. Round the corners with a punch.
Position buttons on the front and mark where the holes are, then prick through and sew in place. Create the robin shape from coloured felt. Stitch the red breast to the brown bird body.
Sew the lighter brown wing next and then a line of running stitch along the bird's back. Fix the robin onto the card and sew around the edges, leaving the section on the back free to create a pocket. Stitch a single line through the centre of the beak. Add a gem brad for the eye.
Head over to the Craft Area on My WI for many more fantastic makes and inspiring projects!
Contact the NFWI
Phone: 020 7371 9300
Open hours: 9am–5pm Mon–Fri
Address: 104 New Kings Road, London SW6 4LY
Or fill in the contact form... to email a specific department