Crafts beautiful projects
Crafts beautiful projects
Discover a brand new project every month from the WI Highlights pages of Crafts beautiful magazine.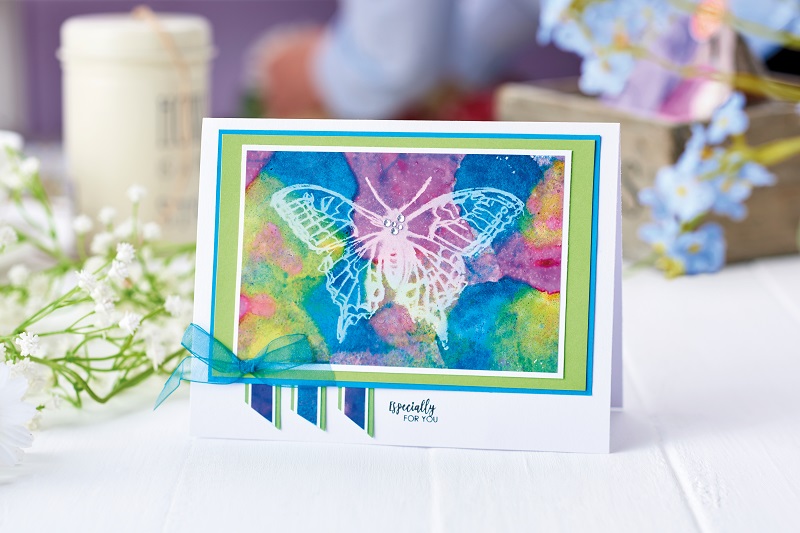 Butterfly Dreams
Use alcohol ink lifting to create this stunning stamped card!
You will need:
Card: white, pink, dark pink, blue, green, black
Paper, Yupo Synthetic
Dies, nesting
Stamps: Dina Wakley, Scribbly Insects
Inks: Ranger Alcohol, Wild Plum, Meadow, Stream; Alcohol Lift Ink, Alcohol
Ink Mini Applicator; Black
Water brush
Clean lint-free cloth
Embellishments
Adhesives
To make:
Create an alcohol ink background on Yupo, by dabbing on various colours. Darker shades work best, as the stamped image will stand out more clearly. Use Alcohol Lift ink to stamp the butterfly. Working quickly, dab off the ink with a clean cloth to reveal the stamped image. Trim and mount on white, green and blue card.
Form a folded white card, 12cm x 15.5cm. Cut narrow strips of alcohol-inked Yupo and mount them onto white and green card. Trim the ends at an angle and glue to the front of the card. Stamp a sentiment with black, then fix a stamped butterfly. Add a sheer bow as shown.
---
For more projects, blogs and craft news visit the Crafts beautiful website.