WI Celebrations
Take a look at how WIs celebrated the Queen's 70th jubilee.
Ann Jones on Sky News on the Queen's longstanding relationship with the WI
Where's WInnie project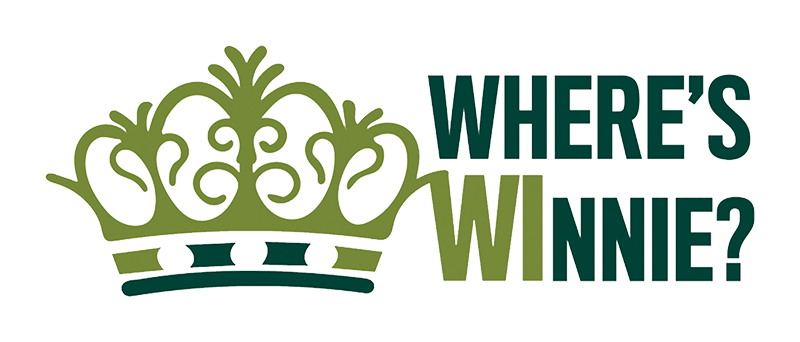 WI members were encouraged to knit a corgi named WInnie and hide it in their local community for others to find and share. Click on the image below to see all the photos that were sent to us!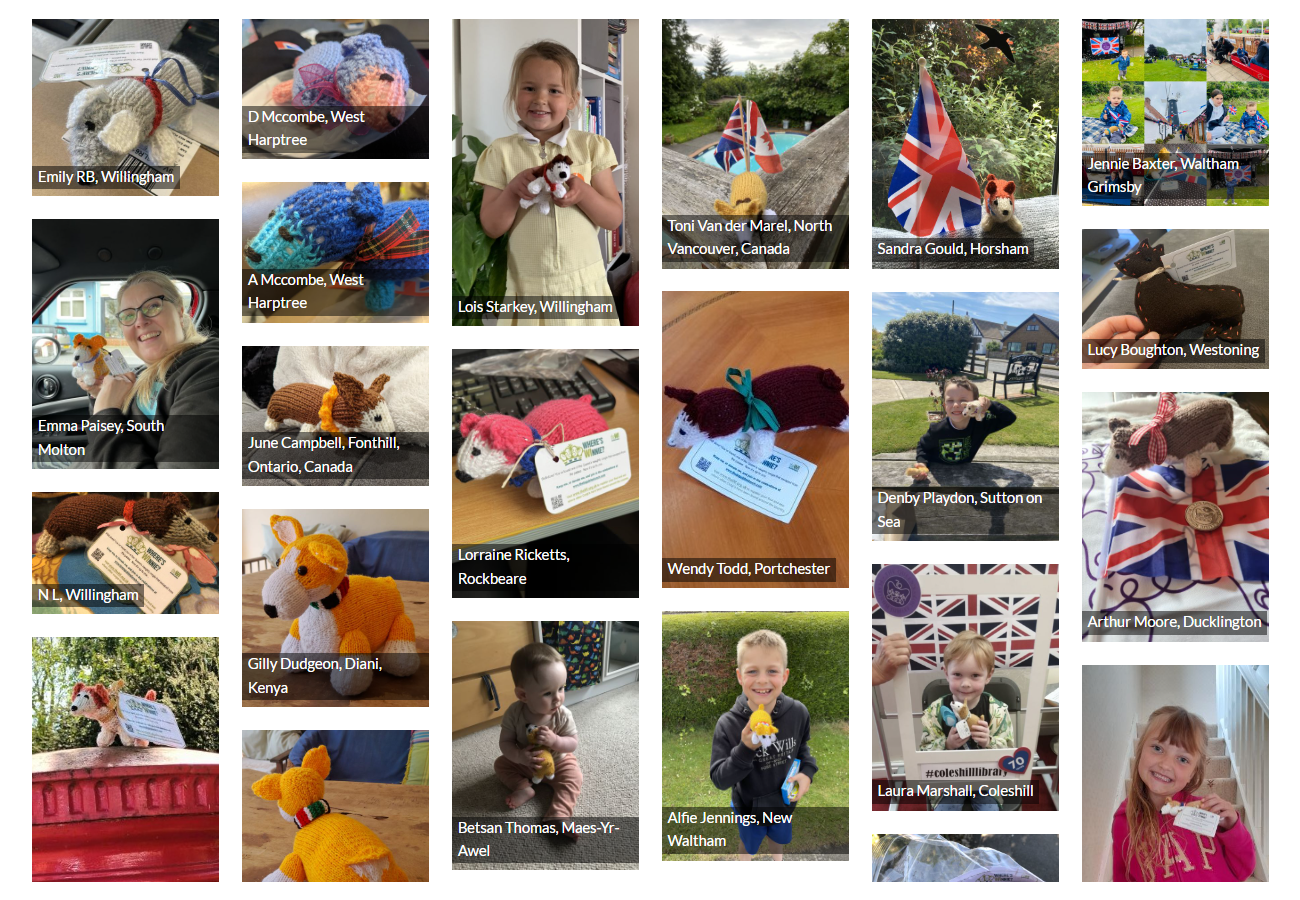 Newton Abbot WIs 1950's themed Platinum Jubilee Garden Party
The Platinum Jubilee weekend celebrations provided an opportunity for the members of Newton Abbot WI to come together and enjoy the great friendships that have been forged within the group. Every member contributed to the occasion and showcased the creative skills we have amongst us. From floristry, baking, sewing, bunting, ribbon art, and embroidered tablecloths, to knitted Queen and corgis. Royal games included a lucky number "ration book", "pin the jewel on the crown" and "find the corgi". We can now make the claim "as seen on the telly" as we were featured on ITV West Country News.
Jubilee Crown Walk from Hastings Ore and Surrounding WIs
Hastings Ore WI Jubilee Crown Walk took place on 1st June along the seafront at St Leonards. Hastings Ore invited nearby WI groups to join us and members from Saxonwood, Brede, Westfield and Pett , all took part in the walk, dressed in red, white and blue and their Jubilee Crowns.
Together we raised £526 in donations for the sensory courtyard garden project at MacDonald Ward, which is for elderly patients at our local Conquest hospital. We also had a small team from the MacDonald Ward accompany us, headed up by Mark Chamberlain, the Matron.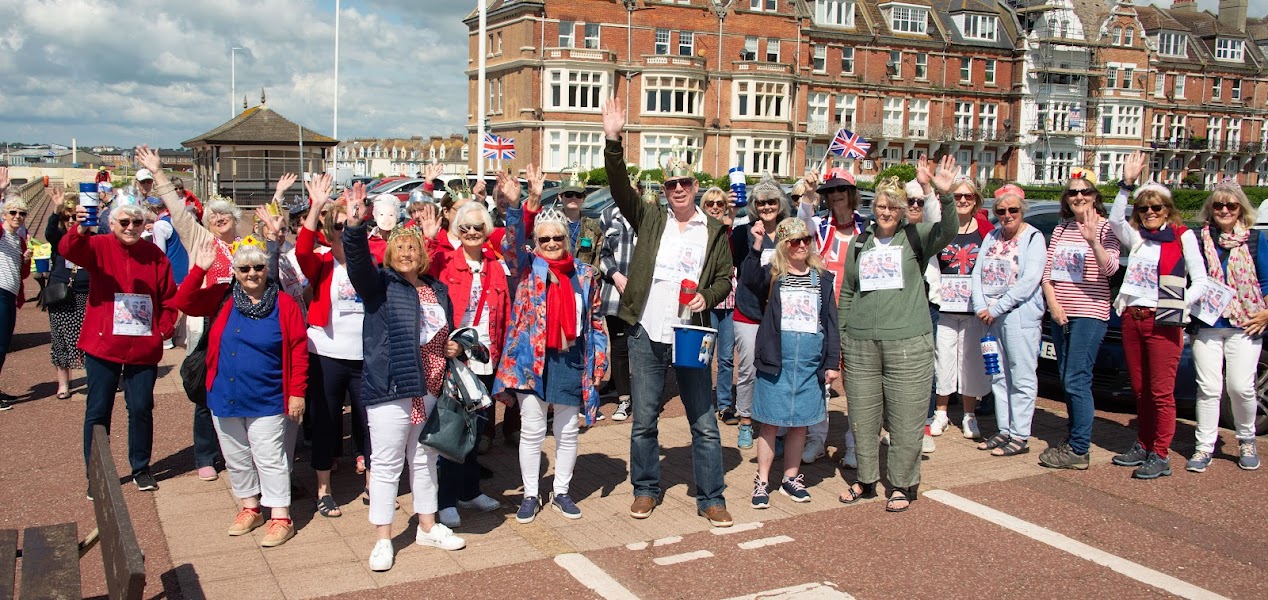 Killamarsh WI Jubilee party
Killamarsh WI enjoyed a jubilee party on 2bd June, all members decorated a crown, there was a competition for this, several games were played, a lovely buffet served, along with a photo with the Queen.
Goytre and Penperlleni WI stand at Goytre village Jubilee celebration
The Jubilee Celebration held on 4th June in Goytre Village was a mix of local groups, local musicians, a dog show and a barbecue to celebrate the Platinum Jubilee.
"GAP had a stall with information about our WI and children's games of Catch a Duck, Tin Can Alley and Lucky Dip, plus lovely homemade Welsh Cakes. It was our first experience of running a stall with activities and it's fair to say we were nervous before the event, especially when the rain was lashing down for a large part of the morning. Luckily it cleared in time for setting up and the afternoon was dry and even had some sun. The games proved very popular with children and adults alike and we were so pleased to see the fun that was had by all. We also managed to spread information about our lovely WI and hand out copies of our programme and contact information.
It's the first opportunity we have had to do this since our information stall at the 2019 village fair a few days after the WI was founded. It was a great opportunity to show how we had grown despite the difficult time we have all faced over the last couple of years.
I would like to thank all the members, committee and their partners who worked to set up the stall, run it all afternoon and pack up. Thanks also to all the members who came to say hello, have a go and spread the word, it was lovely to meet your families."
Shropshire Federation Jubilee picnic
Shropshire held Jubilee Picnic in the Quarry on Friday, May 27th.
"Lots of fun and games enjoyed by all. The weather stayed good and the picnics were delicious. Glenys Wheeler, Shropshire President welcomed Selina Graham, Shropshire New High Sheriff, to the day."
Crowlas & Ludgvan WI Big Jubilee Picnic Lunch
Crowlas and Ludgvan WI got together with local schools and churches to hold their Ludgvan Big Jubilee Picnic Lunch. Everyone was invited along to bring a picnic and enjoy a day full of fun for the community by the community!
Kathy Merritt was crowned Queen for the Day. Here she is wearing her fantastic handmade regal headwear! She gave out prizes, drew the raffle etc.