Crafts beautiful projects
Crafts beautiful projects
Discover a brand new project every month from the WI Highlights pages of Crafts beautiful magazine.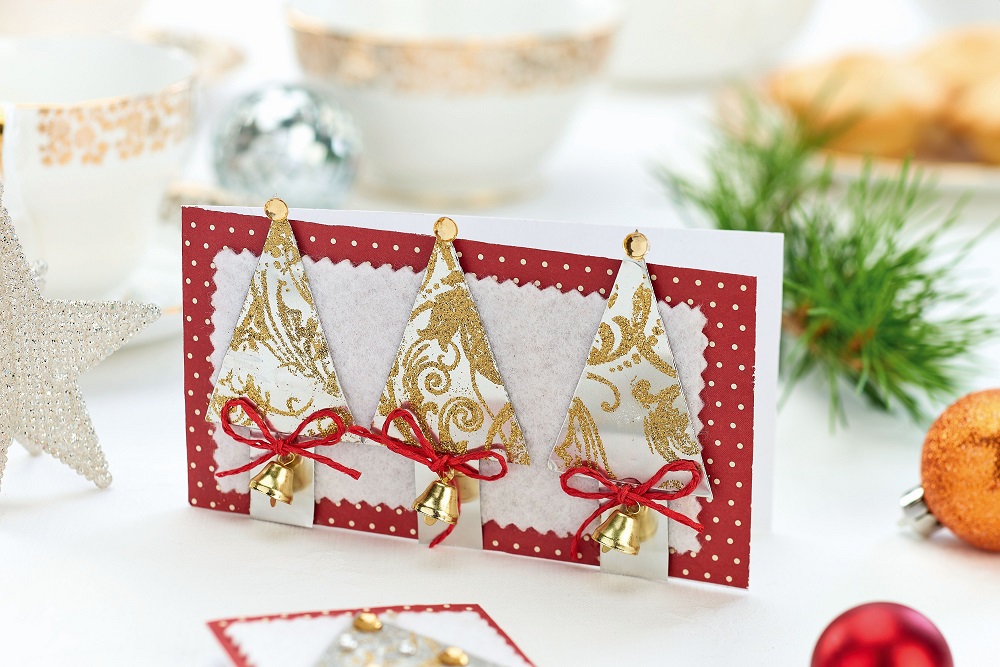 Festive Shimmer
Sprinkle sparkle onto this luxury Christmas card!
You will need:
Card, white
Paper, red-spotted
Embossing foil, silver
Background stamp
Embossing ink, metallics
Embossing powder, gold
Heat gun
Felt, white
Paper string, red
Bells, gold
Sparkly gems, gold
Adhesives
To make:
Use a background stamp and gold embossing ink to stamp a piece of foil. Generously sprinkle with gold embossing powder, shake off the excess, then hot emboss with a heat gun until the powder has melted.
Cut the embossed foil into Christmas trees, or shape of your choice. Take a card blank and cover the front with spotty paper. Use pinking shears to cut white felt, a little smaller than the blank, then glue on the front.
Fix the embossed foil shapes on top of the felt. Tie a few bells with red string into bows and glue them at the bottom of the card, then embellish with sparkly gems to finish.
---
For more projects, blogs and craft news visit the Crafts beautiful website.