Moroccan Lentil Soup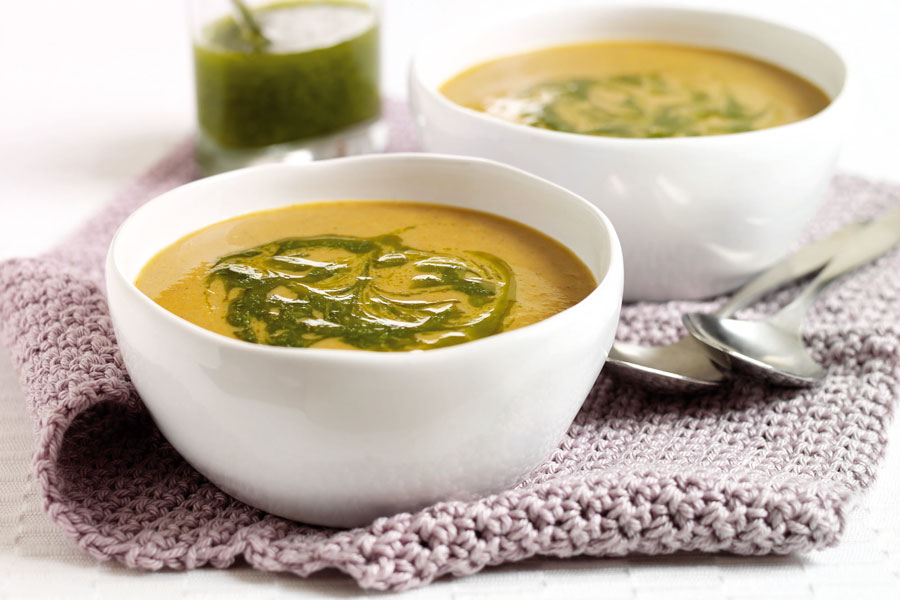 Red lentils have a fabulous flavour when infused with Eastern spices. A couple of teaspoonfuls of coriander oil drizzled over the surface makes a simply stunning soup.
Serves: 4
Preparation: 20 minutes + 40 minutes cooking
Plus: Freezing: recommended for soup but not Coriander Oil
Ingredients
2 tbsp Olive Oil
1 large Onion, diced
1 large Carrot, diced
2 cloves Garlic, crushed
1 tbsp ground Coriander
2 tsp ground Cumin
1 tsp Paprika
175g Red Lentils, rinsed well
1.5 litres Vegetable Stock
Salt
freshly ground Black Pepper
For the Coriander Oil:
4 tbsp Olive Oil
25g Fresh Coriander, roughly chopped
1⁄2 clove Garlic pounded with a good pinch of coarse Sea Salt
squeeze of Lemon juice
dash of hot Chilli sauce
Method
Heat the oil in a large lidded saucepan.
Add the onion, carrot, garlic, coriander, cumin and paprika.
Cover and sweat for 10 minutes, shaking the pan occasionally.
Add the lentils and about three-quarters of the stock.
Bring to the boil and boil rapidly for 10 minutes, uncovered, then reduce the heat, cover and simmer for 15–20 minutes.
Meanwhile, make the coriander oil. Pour the oil into a liquidiser or blender. Add the coriander, garlic with salt, a little lemon juice and chilli.
Blend until you have a smooth sauce.
Cool the soup slightly before puréeing in a liquidiser
Add a little more stock if the consistency requires it, and adjust the seasoning.
Rinse out the saucepan and re-heat the soup gently, without boiling.
Pour into warmed serving bowls and swirl some coriander oil onto the top.
This recipe is from Soups for all Seasons by Liz Herbert and published by Simon & Schuster 2008 priced £14.99 ISBN 978-1-84737-178-2