Sourdough Summer Salad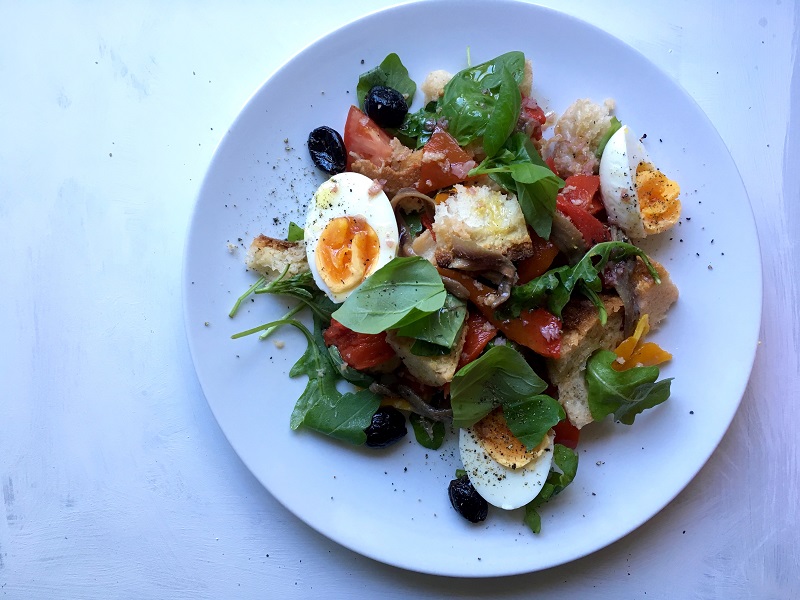 Much like pain bagnat, the famous Niçoise stuffed sandwich, this salad can take more or less, add what you like in terms of vegetables - jarred artichokes or griddled aubergines in olive oil could be swapped for the peppers, for example. If you prefer tuna to anchovies, use that instead - make it the good stuff packed in oil for the best result.
Serves: 4-6
Preparation: 20 - 30 minutes
Ingredients
6 medium eggs, from the fridge
4 tbsp extra virgin olive oil, plus a drizzle to serve if you like
8 anchovies, either packed in oil or salted and rinsed
3 tbsp red wine vinegar
250g crusty sourdough, torn into bite-size chunks
1 large garlic clove, crushed
70g (a good handful) dry pitted black olives
4 large ripe tomatoes, cut into wedges
450g jar flame-roasted peppers, drained and then torn or sliced
Good handful basil leaves, plus a few more to serve
2 handfuls rocket
Method
Bring a pan of water to the boil, carefully lower in the eggs and boil for 6 ½ minutes. Whisk together the oil and vinegar then tumble 2 tablespoons of this with the bread in a large bowl. Set aside to soak for at least 10 minutes.
When the eggs are ready, cool under cold water then peel and cut in half. The yolks should be slightly jammy in the middle, season.
Add the garlic and plenty of seasoning to the remainder of the oil and vinegar to make a dressing. Mound the anchovies, olives, tomatoes, peppers, basil, and rocket on top of the bread.
When ready to serve, toss the salad with the bread, top with the eggs, then drizzle the dressing all over. Scatter with the remaining basil and a drizzle more olive oil if you like.
This recipe was written by Jane Hornby, cookery writer, cookbook author and food stylist. Her aim is to inspire you to cook more, with recipes that deliver on flavour and look great whatever your skill level.