Tomato Crusted Salmon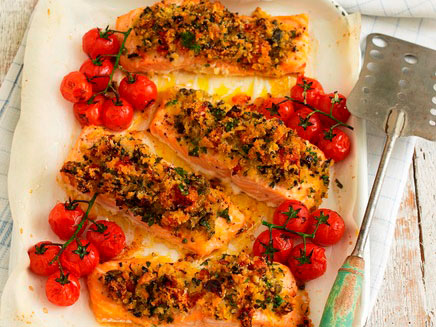 Use sunblush or semi-cuit tomatoes for this recipe in preference to sun-dried tomatoes, because they are brighter in colour and also more moist.
Serves: 4
Preparation: 20 minutes + cooking time 15–20 minutes
Ingredients
4 x 150–175g Skinless Salmon Fillets
75g Fresh White Breadcrumbs
finely grated zest of ½ a Lemon
25g Stoned Black Olives, chopped finely
25g Sunblush Tomatoes, chopped finely
1 tbsp finely chopped fresh flat leaf Parsley
2 tbsp Olive Oil
Roasted Tomatoes
1 packet Cherry Tomatoes on the vine
1 tbsp Olive Oil
freshly ground Black Pepper
Method
Preheat the oven to 200ºC/Gas Mark 6.
Line a baking tray with non-stick baking parchment and place the salmon fillets on it.
In a small bowl, mix together the breadcrumbs, lemon zest, olives, sunblush tomatoes and parsley.
Add the olive oil and stir well to moisten the breadcrumbs and combine the ingredients.
Spoon the breadcrumb mixture evenly over the salmon pieces and press it down lightly to form a crust.
Bake in the oven for 15–20 minutes until the salmon is cooked and the breadcrumbs are lightly golden and crusty.
Meanwhile, place the cherry tomatoes, still on their stalks, in a small roasting tin.
Drizzle over the olive oil and add a grinding of black pepper.
Bake in the oven for 10–15 minutes along with the fish until just tender and softened.
To serve, place a salmon portion on a warmed plate and top each one with a few of the tomatoes still on their vine.
This recipe is from Traditional Favourites published by Simon & Schuster in 2012 ISBN 978-1-47110-178-6 priced £12.99
For the complete list of WI books please send a SAE to WIE 104 New Kings Road, London SW6 4LY