Salmon & rocket fettuccine
Salmon & rocket fettuccine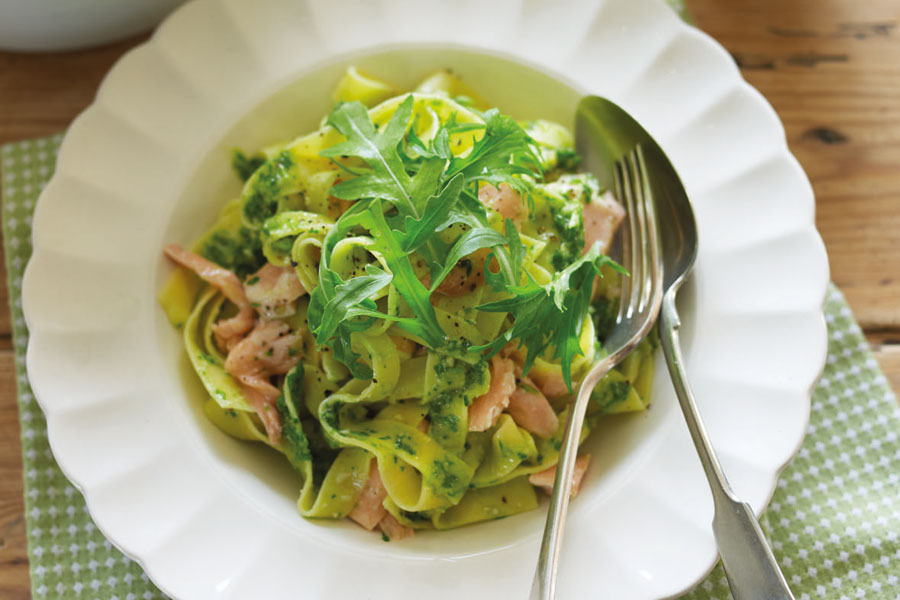 The idea of making your own pesto may seem fiddly, but if you have a food processor or liquidiser it can be blitzed together in just a matter of minutes.
Serves: 4
Preparation: 10 minutes + cooking time 10 minutes
Ingredients
salt and freshly ground black pepper
400 g (14 oz) dried fettuccine, linguine or spaghetti
4 x 125 g (41/2 oz) salmon fillets
juice of 1 lemon
Pesto
50 g (13/4 oz) rocket, plus extra to serve
65 g (21/2 oz) Parmesan cheese, roughly chopped
3 tablespoons pine nuts
120 ml (4 fl oz) olive oil
To serve
rocket
grated Parmesan cheese
Method
First make the pesto by placing the rocket, Parmesan and pine nuts in a food processor or liquidiser.
Add a little seasoning and a splash of oil and blitz until roughly chopped. Gradually trickle in the remaining oil with the motor running until a coarse paste forms.
Fill the base of a steamer with water, bring to the boil and then add the pasta. Arrange the salmon in the steamer top, cover and steam for 8 minutes until the salmon flakes when just pressed with a knife and the pasta is tender with a little bite.
If your steamer isn't very large, cook the pasta in a separate pan or adjust the steamer lid so that some of the steam can escape and the pasta water doesn't boil over.
Drain the pasta, return to the empty pan and stir in the pesto.
Flake the salmon into pieces, discarding any skin and bones, and toss with the lemon juice and a little seasoning.
Add to the pasta and gently toss together.
Heat through if needed.
Spoon into bowls and garnish the top of each with a few extra rocket leaves and a little grated Parmesan.
Serve immediately.
Tips
This is delicious served as it is, or you might also like to add a few fresh peas, tiny mange tout or sliced runner beans with the salmon as it steams.
Traditionally made with basil leaves, rocket adds a slightly peppery taste to the pesto and it is a great way of using up those larger less attractive leaves.
If you don't have quite enough leaves, make up the quantity with basil leaves, parsley or chives, or try it with mizuna instead.
For more ideas on using garden produce see the WI book Cooking From The Garden by Sara Lewis published by Simon and Schuster in 2012.
rrp £9.99 ISBN 978-0-85720-860-6
WI books are available from all good bookshops and online via this web site. For a complete list of WI books, please send a sae to Booklist, WI Enterprises Ltd 104 New Kings Road London SW6 4LY