Mussels with White Wine & Mushrooms
Mussels with White Wine & Mushrooms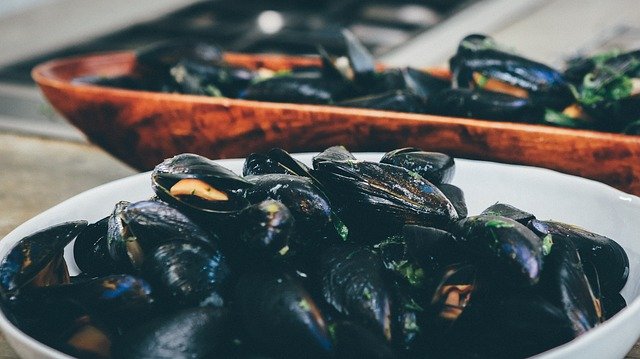 Here is a fishy starter specifically for mussel lovers: Coquilles de Moules a la Rochelaise. It requires a little more preparation than other recipes but preparation can be started the day before.
Ingredients
2kg Mussels
Flour or Oatmeal
4 Shallots
2 Sticks Celery
225g Button Mushrooms
Chives
50g Butter
1 1/2 wineglasses of White Wine
75-100g Fresh white Breadcrumbs
Chopped Parsley
Nutmeg
Salt & Pepper
Method
Soak the mussels in cold water with a handful of flour or oatmeal for 1 - 2 hours.
Scrape them well and wash in at least 3 changes of cold water
Chop the shallots finely. Wash the celery, wipe the mushrooms and chop both finely. Chop the chives.
Fry the shallots in the butter in a large pan until they are soft.
Add the celery, mushrooms and chives, reserving some.
Add the wine, mussels and season well.
Cover and cook over a high heat for 4 -5 mins, shaking the pan from time to time. The mussels are cooked when the shells are open. Do not over cook
Remove the mussels from the pan and reduce the liquor by half by boiling briskly
Add enough fresh breadcrumbs to bind the sauce.
Stir in a large spoonful of chopped parsley and chives.
To serve, place a little sauce in the bottom of the dish then add the mussels.
Cover with the rest of the sauce and brown for 5 mins at 210C Gas 7, if liked
Tips
Only serve mussels which have opened their shells. Discard the rest.
This recipe is from a WI Home Skills booklet; Dinner Parties printed in 1979