Jo's Easy Tomato chicken Curry
Jo's Easy Tomato chicken Curry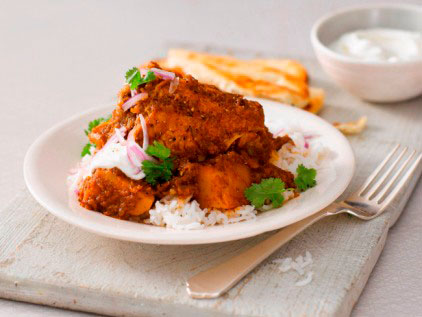 Easy and quick to make, great to eat!
Serves: 4-5
Preparation: 45 minutes to an hour. Make ahead
Ingredients
1 medium to large-sized good quality Chicken - cut into medium pieces (or equivalent of Chicken Thighs)
1 large Onion, sliced
3 medium white Potatoes, cut in bite sized pieces
3 tbsp flavourless Oil (vegetable, sunflower etc)
1 tbsp Ghee (or Butter is fine)
To blend
1 tin of Tomatoes
2 large Onions
1 inch knob of Ginger
6 large cloves of Garlic
Stalks from 1 bunch of fresh Coriander (keep the leaves to garnish the finished dish)
Juice of half a Lemon or 1 Lime
1 Chicken Stock Cube
1 tbsp ground Coriander
1 tbsp ground Cumin
1 tbsp Chilli powder (this is fairly spicy, reduce according to your taste or substitute with Madras Curry Powder)
1tsp Allspice or Mixed Spice
2 tsp Garam Masala
Salt to taste
Pinch of Brown Sugar
Method
Chop any of the ingredients that are too large for the blender to manage comfortably, then put into the blender and whiz until chopped up with some texture.
(You don't want the mixture to be a fine paste but it has to be pretty gloopy so add a little oil or water to help it along if it needs it.)
A handy tip is to put in the tomatoes first to make blending easier.
Heat oil and butter in a large, deep hot saucepan or casserole dish (with a lid), put in the chicken to brown slightly (remember, you do not need to wash the chicken as long as you cook it thoroughly).
Then add in the blended ingredients, mix well and cover.
Cook on a medium heat for 15 minutes, then add sliced onions and potatoes.
Cover and cook another 10 minutes, then reduce the heat and cook opened until a thick gravy forms and chicken and potatoes are cooked through. (Not too dry though, as you need enough gravy to eat this).
If you prefer, this dish can be started off on the hob, then cooked in the oven, following the same method.
Check seasoning, dish up and garnish with coriander leaves.
Serve with rice, Indian roti, toasted pitta bread or French baguettes; a fresh green salad with some tinned pineapple chunks and diced red onion (with a dressing of oil, white wine vinegar, salt and sugar) and a bowl of yogurt sprinkled with diced red onion and mint or coriander leaves.
Then sit down and enjoy!
Recipe by Joanna Abishegam-David
Picture courtesy of Olive magazine. For more quick and easy recipes go to www.olivemagazine.com