Sweet Spiced Pumpkin Pie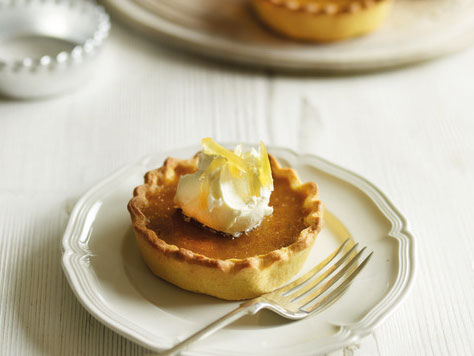 An all-American favourite made with roasted and puréed pumpkin in a baked spiced custard and topped with flavoured whipped cream.
Serves: 6
Preparation: 30 minutes + 30 minutes chilling + cooking time: 1 hour
Ingredients
175g Plain Flour
85g Butter, diced
40g Caster Sugar
Grated zest of 1 Orange
2 Egg Yolks
Filling
450g de-seeded Pumpkin, cut into wedges with the skin still on
115g Caster Sugar
2 Eggs
1 tsp ground Ginger
½ tsp ground Cinnamon
a pinch of ground Cloves
1 tbsp chopped stem or glacé Ginger, plus extra to decorate
Topping
250ml Double Cream
2 tbsp Bourbon
2 tbsp Caster Sugar
Method
Preheat the oven to 190°C/375°F/Gas Mark 5.
To make the pastry, place the flour, butter, sugar and orange zest in a bowl and rub the butter into the flour with your fingertips or an electric mixer until the mixture looks like fine crumbs.
Add the egg yolks and mix with a knife and then your hands to make a smooth dough.
Chill for 15 mins.
Place the pumpkin wedges in a roasting tin with a little water in the base and roast for about 45 mins until tender when pierced with a knife but not browned.
Meanwhile, knead the pastry very lightly, cut into six pieces and roll each piece out thinly (to about 3 mm) on a floured surface until large enough to line a 9cm individual tart tin or 200ml Yorkshire pudding tin.
Lift the pastry into the tins, trim off the excess and crimp the top edge with your fingertips or a fork.
Prick the base with a fork and chill for 15 minutes.
Line the pastry cases with squares of greaseproof paper or non-stick baking parchment and baking beans and bake blind on the shelf below the pumpkin for 10 minutes.
Remove the paper and beans and cook for another 3–4 minutes until the bases are dry and crisp.
Reduce the oven temperature to 180°C/Gas Mark 4.
Leave the pumpkin to cool slightly and then scoop the flesh from the skin with a spoon and add to a food processor or liquidiser.
Add the sugar, eggs and ground spices and blend to a smooth puree.
Pour into the pastry cases and sprinkle the chopped ginger over the top.
Cook for about 15 minutes until the filling is set.
Leave to cool.
Whisk the cream, bourbon and sugar together until it forms soft swirls.
Serve the pies at room temperature topped with spoonfuls of the whipped cream and a little chopped stem or glace ginger.
Tip
If you have butternut squash then this can be used instead, but make sure to weigh the squash after removing the seeds.
This recipe is from Cooking from the Garden by Sara Lewis and published by Simon & Schuster in 2012 ISBN 978-0-85720-860- priced £9.99
For a complete list of all WI books please send a sae to WIE 104 New Kings Road, London SW6 4LY