MPs attend the WI's End Plastic Soup drop-in session at Parliament
Representatives from the WI hosted a drop-in session for MPs to learn more about the campaign and what we're calling for.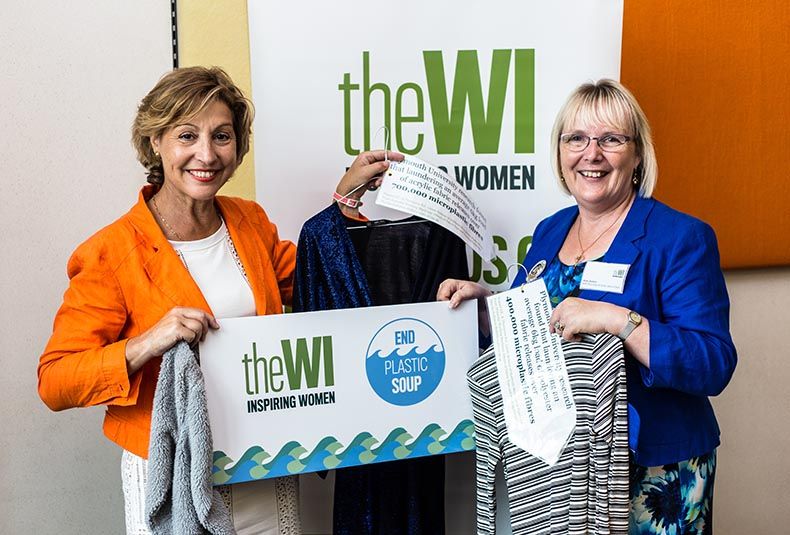 Rebecca Pow, MP for Taunton Deane with Ann Jones, Chair of Public Affairs Committee; photo: Zak Bond
We had a great turnout from MPs across the political spectrum for our End Plastic Soup drop-in session at Parliament on 4 July. The session, sponsored by Rebecca Pow MP, gave MPs the chance to learn more about the NFWI's campaign to end microplastic fibre pollution. It's important that politicians are aware of the problem and also play their part in finding potential solutions.
MPs included Victoria Prentis MP (Conservative), John McNally MP (Scottish National Party), Ben Lake MP (Plaid Cymru) and Chair of the Environmental Audit Committee, Mary Creagh MP (Labour). We encouraged them to take photos with props, including a soup bowl filled with fibres and a clothes rail with tags from Plymouth University research.
Guests included Sophie Mather, founder of Biov8tion, an organisation that runs projects to reduce the textile industry's environmental impact and works closely with the Microfibre Consortium. The Consortium comprises a number of brands and research partners, including Marks & Spencer and ASOS, who work together to develop solutions to the microplastic fibre challenge.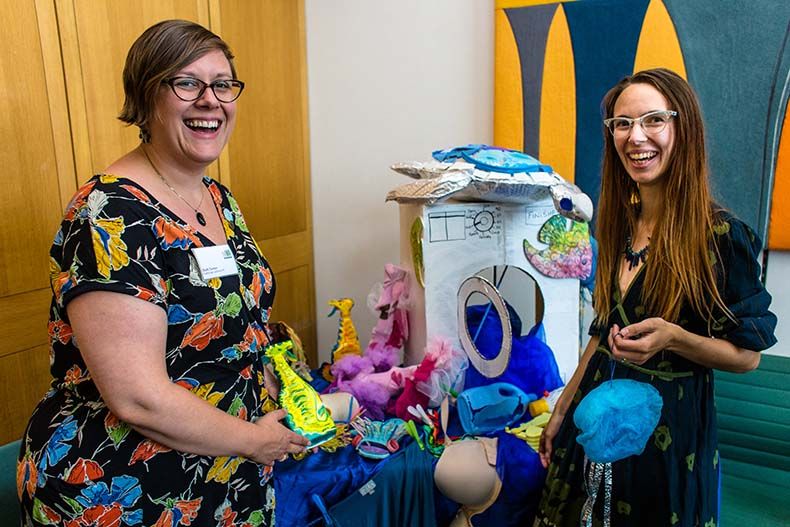 Ruth Turner and Sophie Collins of Cambridge Ladybirds WI with their 'plastic reef' made from plastic rubbish found on the beach; photo: Zak Bond
Members Ruth Turner and Sophie Collins of Cambridge Ladybirds WI, Cambridge Federation also met with MPs and shared their 'plastic reef' display made from plastic rubbish found on the beach. As part of World Oceans Day, Cambridge Ladybirds WI displayed the reef in the local Oxfam to raise awareness of the campaign and encourage less reliance on single-use plastic.
During the drop-in we spoke to 30 MPs, many of whom committed to raising awareness of this important issue in Parliament and within their constituency.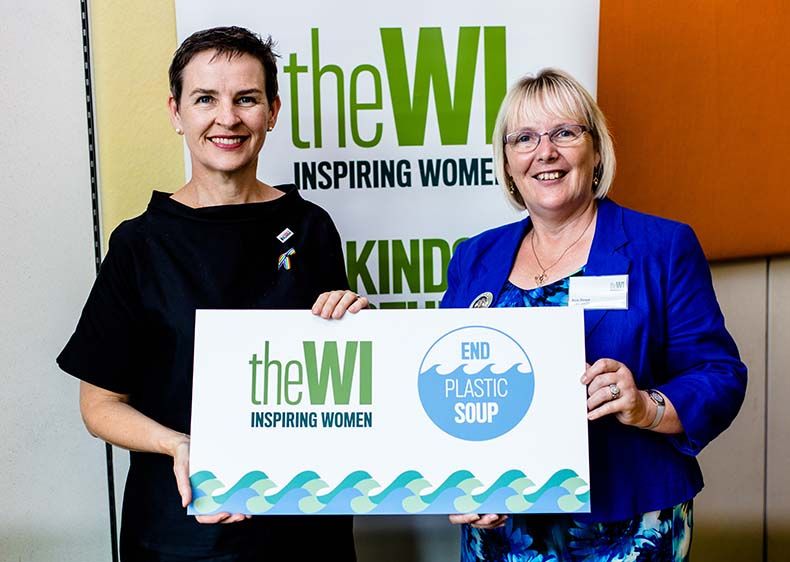 Mary Creagh, MP for Wakefield; 30 MPs from across the political spectrum attended the drop-in session; photo: Zak Bond
MPs were encouraged to sign an early day motion (EDM, a formal motion submitted for debate in the House of Commons which allow MPs to draw attention to an event or cause) based on the Environmental Audit Committee's recommendations on microplastics. Why not ask your MP to sign it too?
Please note: MPs with Ministerial commitments are unable to sign EDMs.
Our next step for the campaign is to bring together stakeholders from the water, clothing and washing machine industries at a roundtable at Parliament in late October. The event will give stakeholders the opportunity to share what they are doing to tackle the issue, be open about their future plans of work and identify knowledge gaps in the issue.
Want to find out more about what the End Plastic Soup campaign has achieved in its first year? Look out for the campaign update in the NFWI's August mailing.
Contact the NFWI
Phone: 020 7371 9300
Open hours: 9am–5pm Mon–Fri
Address: 104 New Kings Road, London SW6 4LY
Or fill in the contact form... to email a specific department