A Bee in My Bonnet! Martha Kearney's Bee Blog
Follow the seasons and gain a unique insight into the world of beekeeping with Martha Kearney, BBC journalist and beekeeping enthusiast. Martha has raised awareness of the honeybee's plight, notably through the BBC 4 series, "The Wonder of Bees."
View blog posts from previous years: 2014 | 2013 | 2012 .
2015
24 June
How My Bees Nearly Killed Me….
As I lay in the ambulance speeding through the countryside attached to a drip and being injected with adrenalin, I was forced to come to a painful realisation. The amazing creatures whom I have tended for nearly fifteen years had the power to kill me. My allergy to bees had taken a dangerous path.
I had just returned from a vigorous two hour cycle ride last summer. As I walked through the garden towards our cottage, I paused to have a look at the flower beds which we had specially planted with bee friendly plants, in particular, phacelia and borage.
I turned to go into the house and heard a loud buzzing in my hair. I tried to squish the bee but was too late and ended up being stung on the ear. My husband was very swift to extract the sting and I took some antihistamines. About fifteen minutes later, I was about to take a shower when I noticed that I had developed a bright red rash over most of my body.
Returning downstairs, I was given a cup of tea and then the alarming symptoms began. I had difficulty swallowing. As it happened, a local cab had just arrived to take us to the station. We got in and the chest problems continued so I had to ask the driver to pull over on our local common. He discreetly averted his gaze as I pulled down my jeans and stabbed myself in the thigh with an Epipen. We then noticed at the bottom of the printed instructions a line reading "Now call 999 ".
In a remarkably short period of time, the paramedics arrived and we were on our way to hospital. The doctors there diagnosed that I had had an attack of anaphylaxis, a severe allergic reaction which can occur with many food stuffs, most notoriously peanuts, and all kinds of venom. I spent the night in a unit off A and E where I was given more steroids to make sure the reaction didn't get any worse. I knew that my hobby which had given me so much pleasure was going to have to end.
I had had bad reactions before though nothing quite like this. My worst moment had been several years earlier while tending my bees at home. I had heard buzzing which was much louder than normal because I had accidentally left the zip of my veil open. The hood was full of bees. I managed to release a few and squish a few others but got stung twice with the result that my face swelled up in an alarming way. Just as well I was presenting on radio not TV that week. My sensitive journalistic colleagues greeted me with the words "Ah, here comes the elephant woman!" After that episode, I went to my GP who advised that I would be alright to carry on beekeeping so long as I carried an epipen. But as it turned out, that precaution wouldn't be enough.
This time when I was released from hospital, I arranged to see a consultant as soon as possible. He was surprised that I was still keeping bees when I had an allergy. "Just how important are these bees?" he asked drily. The verdict was bleak as he made it clear that I was to avoid any unnecessary contact with bees. I had one question - 'Does filming a television series about bees count as unnecessary contact?' His expression was a sight to behold. I don't think he had ever had such a reckless patient. But I was in the middle of filming a series called Hive Alive with Chris Packham and I was determined to finish the programmes if it all possible.
I was due to be filmed in a bee suit demonstrating beekeeping but clearly that wasn't medically sensible. In the end we came to a compromise as the producers took all sorts of precautions including employing a paramedic armed with a syringe full of adrenalin in case I got stung.
Normally this would be such a treat, spending days in a beautiful West Country garden and talking about bees. The foxgloves were brimming with bumblebees, honey bees sucked every drop of nectar from a bright blue clump of nepeta. But the buzzing which had once been the sound of a perfect summer day now seemed much more threatening. Sitting on a bench next to a pot of geraniums, I was acutely aware of the bumblebees flying around inches from my ear where that sting had landed me in hospital. The crew was being very careful. At one point our expert Professor Adam Hart had to show me a bee he had marked up. "Don't worry", he reassured me, "one sign of movement and the bee dies".
After the filming ended, we began the mournful business of giving my bees away. From our wedding present of one hive, we had built up to six all placed in a neighbouring field. Looking back this felt like hubris. We talked about our 'apiary' and even invested in an electric extractor.
My husband has been a rather reluctant beekeeping assistant over the years. In fact when I wrote a speech on Beekeeping in the Ancient World for the Classical Association, I came back from the library rather excited. 'I have discovered a new word - mellarius - which means beekeeping slave." My husband replied 'I already know what that means!"
However the lure of the honey was too great and he decided that he would extract the last honey before we sold off the hives. Perhaps the bees sensed what was afoot. At any rate he got a very angry reaction from the hives and ended up being stung six or seven times through the hood of his beekeeping suit. When he came back indoors, it became clear that he too had suffered an anaphylactic reaction. He complained of intense itching which I now know is called urticaria. More worryingly his face swelled up in an alarming fashion. In fact he wouldn't have needed any prosthetics to play the role of a troll from Lord of the Rings but I judged it wasn't the right time to make that observation. After taking some antihistamines, luckily the swelling went down. But it was clear that the bees really did need to go and our local postmaster and owner of the village stores found good homes for them all.
The doctors were adamant that I needed treatment for my allergy and so I have embarked on a course of immunotherapy which is quite a commitment. Anaphylaxis affects a number of beekeepers who instead of building up a resistance to stings become more sensitised to them. Immunotherapy involves being injected with bee venom over a period of three to five years. For the first three months I had to go to the Royal Brompton Hospital in London every week and now it is once a month. This is done in hospital in case there is an adverse reaction and I need to go to intensive care. I have to be monitored for an hour after the injection. Luckily the man inflicting the pain on me is a charming doctor from Costa Rica called Moises Calderon. We practise my Spanish together and he fills me in on the latest research on immunotherapy. In case you are wondering, he is equally kind to all his patients. A friendly relationship is an important one to make sure that people keep up the commitment to the treatment. In three years, perhaps I will be able to take up beekeeping again.
But bees have got under my skin -literally in this case. I can't give up my passion. My cottage is filled with bee cushions, bee books, bee butter dishes and table cloths but for the next few years, I will have to channel my passion for bees in a safer way. I encourage people to plant for bees especially in city areas where forage can be difficult.
I am also patron of two great charities which help people in the developing world make a sustainable living from beekeeping -Bees For Development and Bees Abroad. Last year I organised a fund raising garden party at Lambeth Palace which brought together an eclectic crowd of supporters from Jeremy Paxman who described it as one of the most eccentric events he'd ever attended to fellow BBC beekeepers Bill Turnbull and James Naughtie and the celebrity chef Yotam Ottolenghi. This year the Queen has given permission for us to hold the event in the gardens of Marlborough House on the Mall. The Royal gardener has created bee friendly flower beds which they have nicknamed Pollination Street. For me the event on July 1st will be a mixed pleasure - it's wonderful to meet up with beekeepers and exchange stories but every time there's a buzz too close, I shall be nervously clutching my epipen.
The Bee Garden Party is being held on July 1st at Marlborough House on the Mall. Tickets are available from www.beegardenparty.org/tickets .
---
2014
14 July
I have been busy filming in Somerset with Chris Packham from Springwatch and Professor Adam Hart, the zoologist for a new series called Hive Alive which starts on Tuesday July 15th on BBC 2 at 8pm.
Hive Alive takes a scientific approach to the world of bees using an amazing range of gadgets. We learn through a temperature gauge in the hive how bees manage to keep their brood at more or less the same temperature throughout the year. Our camera team used high tech equipment which films the bees in slow motion. You are able to see how a bee manages to fly. This isn't like a bird simply flapping its wings up and down but a twisting motion which enables her to get off the ground.
Perhaps most extraordinary of all is the ways bees perceive the world. They can detect ultraviolet light invisible to the human eye. Flowers have ultraviolet patterns designed to show bees exactly where the nectar lies. This is a symbiotic relationship which has endured for millennia with the bees gathering nectar and pollen from the flowers who in turn are pollinated by the bees and able to reproduce. We see how bees and flowers use electrical fields to communicate about nectar supply. The producers also use a mini drone to check out the directions given by one particular bee in a waggle dance.
This was a very pleasurable filming expedition as we were based in the beautiful organic gardens of Yeo Valley in Somerset. There was a constant supply of homemade elderflower cordial and chocolate brownies. Combined with the sunshine, we couldn't believe we were working.
8 June
I was away filming at the Hay on Wye Festival so had to leave the bees for a while. When I got back, they were definitely in a frisky mood. In one hive where the so called angry bees live, the queen had managed to get above the excluder so there are two supers full of brood. This isn't good news as it ruins the honey crop so I took advice from The Master Beekeeper who suggested that we smoke the bees and try to drive as many down to the brood box as possible and hope that the queen is there. That's what we have done.
In the other hives there was plenty of honey which needed extracting, much of it quite crystallised as our bees tend to feed on oil seed rape which sets very quickly. But they didn't take kindly to having their honey removed and at one point my husband had to abandon some supers and beat a strategic retreat. That set off a spate of robbing which you can see below.
They did calm down eventually and we manage to harvest a reasonable amount of honey which I think will have some hawthorn nectar and some early bramble flowers as well as oil seed rape.
In other bee news, there is an interesting bee installation happening soon at Snape Maltings as part of the Aldeburgh Festival where bees may play the piano!
http://snapaldeburgh.co.uk/2014/art_green.html
There has also been some interesting new research on the best habitats for bees carried out at the University of Sussex which suggests that the bees themselves are the best judges.
http://www.sussex.ac.uk/lasi/newsandevents/index?id=24883
28th April
I was asked to give a speech recently in my new role as President of the Classical Association and decided to pick the theme of beekeeping in antiquity with the title Mellis Caelestia Dona, the heavenly gift of honey. That comes from the most famous bee poem of all time - Virgil's Fourth Georgic. As well as being beautiful verse, this also contains remarkably good beekeeping advice including the best plants to have nearby, to use smoke to calm the bees and the need for a source of water. He does get a bit nutty about producing bees from the carcass of a dead ox which was known as Bugonia in ancient times. If you've ever looked at a golden syrup tin you'll get the idea. They used the image of a dead lion from a Biblical story. Nonsense of course as honey bees hate carrion.
Bees were popular from the most ancient of times. There are pictures of beekeepers in Egyptian temples from four and a half thousand years ago.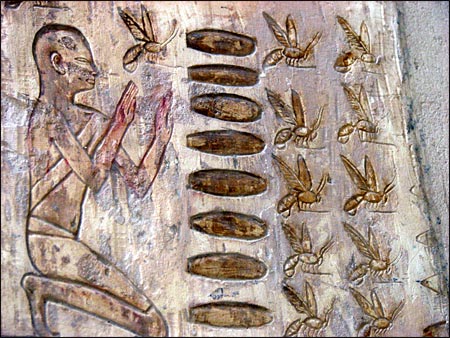 And take a look at this beautiful brooch from the Minoan civilisation on Crete.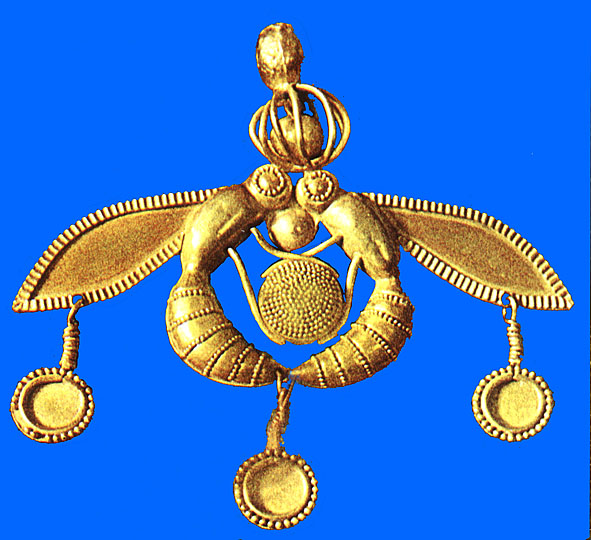 Virgil was only one of several ancient authors who wrote on bees - Homer, Hesiod, Aristotle, Cato, Pliny, Columella and Varro for whom the nasty varroa mite is named. I kept my other half informed about my research and told him one day that I had found a new word - mellarius which means beekeeping slave. "I already know the meaning of that word" he said drily.
You can see us both in action in episode 3 of The Wonder of Bees on BBC4 at 8pm on Monday night. The earlier ones are on the iplayer. This time we are extracting honey in a very much Don't Try This at Home way. I also meet a natural beekeeper who lets her bees swarm and doesn't use chemicals to treat for varroa. You can find more information here.
But many beekeepers will disagree with that approach. There is extensive information on the British Beekeepers association site here.
They also run a scheme called Adopt a Beehive for people who want to support bees with keeping them themselves.
If you have any thoughts on how the government can help honeybees and other pollinating insects, then there is still time to contribute to the consultation on the National Pollinator Strategy which ends on May 2nd.
If you have any thoughts on my blog or bees, do get in touch via Twitter @MarthaKearney
April
My hives have now truly become Bee List Celebrities. This weekend the society magazine Tatler came to photograph them for their feature called Pet of the Month.
I am not too sure about the lineage of my bees but Apis Mellifera does have a noble heritage. The Barberini family in Rome had a bee as their emblem. Napoleon picked one as the symbol of his grandiose coronation.
The reason Tatler was interested is because my TV series The Wonder of Bees begins on Monday April 14th, the first of four about the ups and downs of beekeeping in the course of a year. I thought we were doomed from the outset as it was so cold last year.
Under the expert eyes of John Everett, a master beekeeper from Norfolk, I was taught many new aspects of beekeeping from spotting disease to seeing a baby bee being born.
I also became much better at spotting the queen but I still find it very difficult to see eggs which are like tiny white threads in the hexagonal cells. John also showed me a way of controlling swarms but I'm not sure I am ready to follow suit. It involves clipping the queen's wings.
So did we succeed against all the problems of the weather and produce a jar of wildflower honey? Stay tuned......
More information on The Facebook page The Wonder of Bees or on Twitter @wonderofbees
For related newspaper coverage see:
The Independent; To bee or not to bee
The Telegraph; Archbishop of Canterbury - I talked to the bees
The Financial Times; Martha Kearney's bee list celebrities
March
I have recently returned from a trip to Burma and of course couldn't resist enquiring about bees. It turns out there are very few hives there so most honey is collected from wild bees which seem to be smaller than the UK varieties when I observed them on plants. In the mountains of Shan State honey was certainly plentiful judging by these bottles for sale by the side of the road.
Also for sale were bottles jammed with garlic cloves in honey. It was a tonic, I was told. For what? That produced much hilarity and my guide said that he would only explain that secret to my husband. It's an aphrodisiac apparently. Add that to your honey recipe file!
Back home I took advantage of the sunny weather this weekend to have a quick check on my bees. There were plenty around, enjoying the blossom on a nearby tree. In each hive I could see bees just below the crown board at the top so I didn't open any further and put some fondant in just to keep them going. All six seemed fine but I won't really know for sure until the full spring inspection which should wait till warmer weather.
The winter is riskiest time for bees so what official help can be given to help them and other pollinators? The government has launched a consultation on its National Pollinator Strategy. If you would like to have your say, the link is here
February
After a lot of wavering, I decided that it would be safer to feed my bees even though that meant opening them up in the cold weather. At this time of year, it's better to give them sugar fondant rather than syrup which requires more work for the bees to change into stores. This is white sticky stuff more normally found on the top of iced buns.
We cut it into strips and I then put it into the hives very quickly. I was relieved to see bees in all of them though one colony looks very small.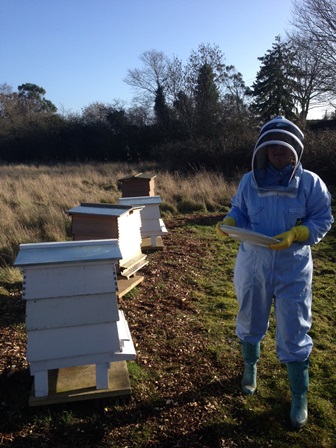 By the way any theory that the bees are more sluggish at this time of year was disproved by my other half or the Reluctant Beekeeping Assistant as he prefers to be called. The RBA decided not to wear a suit and received two stings. A good start to the year!
January
Most days as I walk through the BBC, people ask me "How are the bees doing?" The trouble is that this time of year, I haven't the foggiest. During the winter months the colony is much reduced as the bees form a cluster in the middle of the brood box for warmth. It's only on the warmest days that you might catch a glimpse of them heading out for a flight (for a call of nature, so to speak).
But there is plenty for the beekeeper to do. I now have a new apiary with six hives (not all occupied),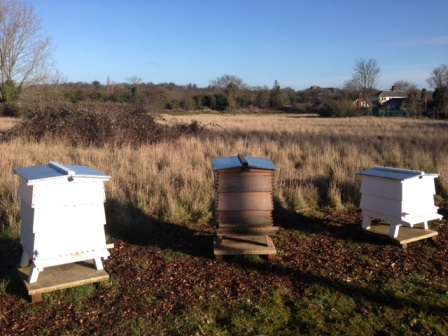 I have expanded as a result of a television series I have been filming for BBC 4 called The Wonder of Bees which will be shown in April. (More about that in future blogs). In their new position, I have space for two new flower beds which I will be devoting to bee friendly plants. One will be mainly borage with some hebe in the middle. The other will have phacelis and echium with mahonia in the middle. Elsewhere in the garden I have lots of hellebores which the bees like in early spring when they are most hungry. I did my research by reading Plants for Bees by Kirk and Howes which really is fascinating. I had no idea that honey bees and bumblebees thrive on different plants.
It's good to spend the winter planning by the fireside but I can't wait until spring to see if my beautiful bees have survived this awful wet winter. Weather is one of the big factors in bee death as they can't get out to forage .
---
2013
November
It has been rather a long time since my last blog - apologies. Much of my free time has been spent filming for a new TV series about keeping bees which will be broadcast next spring called The Wonder of Bees. I learnt a huge amount under the watchful gaze of master beekeeper John Everett.
Now the colonies have all been fed up with syrup for the winter but the autumn has been so good, they've been out flying and I fear they may run out of stores as there isn't too much forage about apart from some ivy flowers. So I plan to buy some sugar fondant from the bakers tomorrow and place some of that on the crown board of the hives.
I now have six hives and realised that it was getting a bit crowded so I have asked a neighbour if I can establish an apiary on his field and that's what we have been doing today. There's lots more space and sunshine there so I hope they survive the winter in their new home.
I have also now finished all my reading for the Man Booker prize - only 150 novels! That's given me a chance to catch up on other books and I do recommend A Sting in the Tale by Dave Goulson which is all about bumblebees. Very funny and informative.
20 June
Well this has certainly been another difficult year for beekeepers as the recent British Beekeepers Association survey discovered.
http://www.bbka.org.uk/files/pressreleases/bbka_release_winter_survival_survey_13_june_2013_1371062171.pdf
Let me recap on my hives. I had three after the winter but it emerged during the course of the spring that one had lost its queen. I put some frames of eggs in and they did raise a queen but she has only been laying drones. Then there is my World War Two hive which was built then by a beekeeper called Eric who has been passing on his bees to me. They are very scary and aggressive but great producers of honey so I try not to complain. My third hive has been moved to a wildflower meadow where I am doing some filming for a BBC series called The Joy of Honey which will be shown next year.
You can see the hives at the open days on June 29th and 30th.
http://www.wildflowermeadow.org.uk/
And finally my documentary Who Killed The Honeybee? got another screening this week. It's still on iplayer
http://www.bbc.co.uk/iplayer/bigscreen/tv/episode/b00jzjys/Who_Killed_the_Honey_Bee
5 April
A feeling of spring at long last. The bees were out flying from all my hives which is a huge relief. Even though the sun was out, it is still too cold to open up the hives so there's no way of checking if the queen is still there or if there are any diseases present. One good sign though is that there aren't any dead bees near the hive entrances.
The bees have been busy bringing back lots of pollen to the hives. This is a form of protein which is needed for the brood as the queen starts laying again for the new season. I can watch the bees for ages as they return to the hive with their bright yellow pollen " baskets". As the bees search for nectar in plants, pollen is trapped in the long hairs on their bodies which they then comb and compress before storing in the pollen basket or corbicula on the lower part of their legs. So ingenious!

Photo: Muhammad Mahdi Karim
Meanwhile the arguments about pesticides and bees are still raging. There was a debate on the Today programme on the issue after a report from the Commons Environmental Audit Committee called for a moratorium on neonicitinoids. You can read the full report here:
http://www.parliament.uk/business/committees/committees-a-z/commons-select/environmental-audit-committee/news/pollinators-pesticides-report/
But the government argues that more research is needed and the Chief scientific adviser says that the evidence is finely balanced. You can read the government's view here:
http://www.defra.gov.uk/environment/quality/chemicals/pesticides/insecticides-bees/
As you'd expect from a BBC presenter, I'm not taking sides!
Image credit: http://en.wikipedia.org/wiki/File:Apis_mellifera_flying.jpg#filelinks
26 March
I have just spent the morning sweeping snow off the roofs in order to feed my bees. There were even icicles hanging from the roof. This has to be one of the worst springs ever and bees around the country risk starvation.
DEFRA issued this press release.
and let me pass on these tips from John Everett of Applebee Apiary:
What could be happening in your beehives?
What can you do?
Needless to say we have had one of the coldest, non foraging springs I can remember.I have been round my colonies and removed the woodpecker protection (plastic sheeting) and checked that the colonies are alive and have some stores. I have not looked at a brood frame yet so have no idea whether the queens have made it through the winter.
If your colonies have any brood (and they should have) the brood has to be kept at 34-350C – almost our blood temperature. Opening a colony in these conditions will probably kill the brood. Please don't yet!
The bees will be rapidly using up last autumn's food stores and now is a likely time for your bees to die of starvation. If you are worried about your colonies you can/must feed them now.
Dribble a little warm syrup onto the bees and then use a contact feeder with a little warm syrup in it. Replace the warm syrup frequently until the spring arrives. If you use a 50% solution (1lb to 1 pint) the bees can use the syrup without needing to forage for water but do not worry about concentration any syrup will do.
Some folk like to feed the bees candy.
The recipe I use
3lb supermarket sugar(sucrose) is dissolved with ½ pint boiling water add a little (1/2 a teaspoonful ish)tartaric acid or citric acid and boil vigorously to 240oF.
The chemistry bit
The acids make the solution slightly acidic and this helps the boiling sucrose change to glucose and fructose.
Exactly what happens when bees digest sucrose!!!
I use a jam thermometer and heat the solution until it gets to softball 240oF.
Immediately put the pan into the sink with cold water in it and stir madly.
When the sugar starts to crystallise and goes milky pour into a suitable container like an old margarine container.
If you under heat it will not crystallise. If you overheat you will get toffee/caramel which is rich in HMF Hydroxymethylfurfural!!!!!!!!! but it does not matter.
The bee bit
Please feed your bees now - a new nuc costs £240 from Thornes - 5 kilo bags of sugar are £3.95 from our biggest supermarket chain.
25 February
Varroa is the mite which is the main cause of the decline of bee colonies. Beekeepers usually treat for this in the autumn before the colonies are shut away. But increasingly some also apply a treatment of oxalic acid during the winter months which the master beekeeper in our area thinks is very effective. I have been a bit wary myself as it is a strong chemical and I don't like the idea of opening up during the winter but I did send off for some this year. Unfortunately the weather was too bad when I had free time to apply the acid and it is probably too late in the year to do it now as it has to be dripped on the frames before the queen starts laying.
There are many beekeepers who believe that varroa isn't the only cause of bee decline and they blame the use of pesticides called neonicotinoids. There has been a big campaign by Friends of the Earth to have these banned. You may even have seen some of their giant bees handing out leaflets.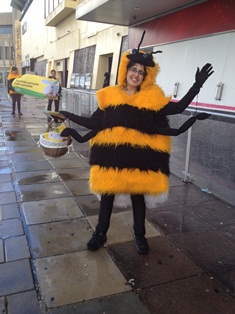 It looks as though they may have been successful as the EU has decided to take action after commissioning research. Officials want to ban pesticides on crops which are attractive to insects. You can read more in this BBC report.
http://www.bbc.co.uk/news/science-environment-21277933
But not everyone agrees that neonicotinoids are to blame. Francis Ratnieks the professor of apiculture at Sussex University has written in the journal Science that he believes that habitat and the loss of flowers for forage is far more significant than the use of pesticides.
12 February
It's been a while since I blogged and that's mainly because so little happens to bees over the winter. You just hope that they are snuggled up in the brood box at the bottom of the hive with plenty of stores to keep them going. This is the time of year when bees die out but there is little way of checking until the spring when it's warm enough to open up the whole hive.
The bees will fly out on occasion though - in order to relieve themselves. I don't want to be too graphic on a WI blog. One day in January when there was plenty of snow on the ground, I went down to the bottom of the garden to show my hives to some girlfriends who'd come to stay. Some bees were flying which was good to see but they came from my mentor Jan's hive not mine so I'm still in a state of suspense about mine.
There was one consolation though in January. I took part in The Great Comic Relief Bakeoff along with Claudia Winkelman, Ed Byrne and Helen Glover. My biscuits passed the scrutiny of Paul and Mary but my lemon meringue pie was a disaster - too thin and the filling leaked. However my bee themed show stopper which had to celebrate Red Nose Day seemed to do the trick and I now treasure the Star Baker apron.
---
2012
6 November
I returned from the party conferences where surprisingly, bees were very much in evidence. MPs were lobbied by giant bees at Conservative, Liberal Democrat and Labour conferences.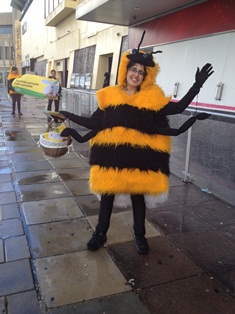 Luckily my own bees are the normal size. There is nothing more to be done for them until the spring now. I have fed each hive with 20 kg of sugar dissolved in syrup as recommended by the Master Beekeeper of Rockland St. Mary, John Everett. That sounds a lot but as he says, it's cheaper than a new colony.
I have also treated with Apiguard against varroa. I may also apply oxalic acid early in the new year which lots of beekeepers recommend as another good treatment. Fingers crossed that they all survive.
13 August
How Not to Feed Your Bees.....
"well, that was a job well done" we smugly said to each other, in an act of hubris. Nemesis was swiftly buzzing our way. To prepare the bees for winter, I decided to start feeding early and prepared a vat of sugar syrup. I poured that into feeders on three of my hives and left the fourth as I want to extract honey from there next weekend. I also treated for varroa, the horrible mite which attacks bees and spreads disease.
We took off one super from a hive with a small colony so they wouldn't have too much space during the cold weather. Then we forgot to put the super away. Mistake number one. In addition I hadn't replaced the roof of my WBC properly, leaving a tiny gap. Mistake number two. And seasoned beekeepers will probably point out that I should have fed all the bees at the same time. Mistake number three.
The following morning I went for a quick check and found the abandoned super full of bees...and the outside of one of my hives covered in bees. Robbing had begun. This is bad news as it can lead to the end of a colony when bees from one hive attack another to steal their honey. I replaced the roof, smoked the robber bees and swept them back towards their own hive. That seems to have worked and when I checked later on, there were only a few bees left on the outside.
Annoyingly this all had to happen on the day the Master Beekeeper came to call when I had hoped to show off a well maintained apiary. Still he was very kind about yet another mistake I had made.
6 August
Once you are interested in bees, you will find them everywhere. A week last Friday I was lucky enough to go to the Olympics opening ceremony. I have to say it was alternatively moving, awesome and funny. Danny Boyle's knighthood must be guaranteed by including these hives in the spectacle.
And they were even WBCs....my favourite. The weekend before I was at another grandiose opening ceremony. I had been asked to do the honours at the unveiling of a phone box at a village in Suffolk. The Queen and James Bond were not available.
But this was no ordinary phone box. Each stained glass panel had been made by someone from the village to create a colour therapy experience! I was pleased to see this panel.
My own bees are struggling on. I will be surprised if I extract any honey this summer after all the rain and one colony swarmed this week even though I have been assiduous in eliminating queen cells. But we have added to the apiary as I have inherited another hive from an elderly beekeeper who is keen to downsize. The lifts from this one were made during World War Two when he had to get special permission from the MoD to get the wood. The bees did get a bit grumpy after their car journey in the boot and my poor other half got stung twice on the ear THROUGH his veil. The lobe swelled so much that he now resembles one of the Bash Street Kids.
18 July
I never quite know what to say when people ask me how the bees are doing. The answer can be quite involved, eyes glaze over and my husband says I am becoming a bore with a capital B. However last weekend we had some friends to stay who were genuinely interested and asked to be kitted up. The end result made me feel a bit like we'd all joined a strange cult.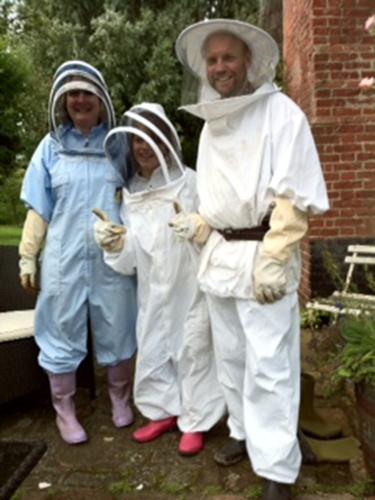 Well, perhaps there are some shared qualities between beekeeping and cult like behaviour. Certainly obsession seems to play a part. I regularly dream about my bees now.
All three of my hives do seem to be doing well and they all have queens. One is so busy that I spotted five queen cells during the inspection. That's a bad sign as it can be the precursor of a swarm. The bees prepare a new queen for the time when the old one flies away. In order to prevent that, I squished the cells.My other worry is that there are very few stores of honey - I guess because the weather has been so bad that the bees have bee reluctant to venture out for nectar and pollen. I have ended up feeding a couple of the colonies which I have never done before in the summer but anything to avoid starvation. It is a nuisance though because it means I can't extract honey even if the weather improves.
While the rain has been pouring, I have stayed indoors in front of a fire doing some reading.
Here is my latest list of bee related books...
Bee Journal by Sean Borodale: A lovely book of poetry about a year of beekeeping
The Beekeeper and the Bee by Kate Lynch: This is a beautifully illustrated book about beekeeepers in Somerset (I wrote the foreword)
The Urban Beekeeper by Steve Benbow: A practical diary of London beekeeping
27 June
Given this dreadful summer, it is quite hard finding a good day to inspect the hives as the bees hate any damp. I have been dodging the raindrops to try to find the right time. This weekend after a thunderstorm the sun came out so I took my chances but I think the unsettled atmosphere upset the bees as they all seemed much more bad tempered than usual and there was a lot of pinging against my veil.
The state of play so far is that my new colony is thriving which is great news. My second colony was queen less after the winter so we put in some queen cells and that has clearly worked as there is plenty of brood. There were barely any stores of honey though and I worried after reading about the possibility of starvation so a week ago I put on a contact feeder of syrup and that has helped. There is now plenty of sealed brood in that hive.
My third hive has swarmed and I am not sure if there is a queen there or not so I have added a frame of sealed brood to keep it going and then I hope I will find some brood there one of these days.
Talking of swarms, I heard a most unusual story the other day.
This is certainly the time of year for swarms as I wrote in my blog recently. Not long after that, I bumped into an inspirational young woman called Zoe Palmer who is one of the leading lights of a social enterprise called The Golden Company. It works with young people, often from disadvantaged backgrounds who tend bees and make natural cosmetics. The project is based in Hackney. http://www.thegoldenco-op.com/home
While we were chatting, Zoe told me about her latest swarm experience. She was cycling through the city of London and saw a cast - a small swarm - clinging onto a BMW. All she had in her pannier was a crisp packet but she scooped the bees into that and cycled off to her Hackney hives. Now that's what I call dedication.
The way of avoiding swarms is to make sure you eliminate all the queen cells or to create an artificial swarm. I have never done that as I am really useless at spotting the queen but here is a handy guide with dinky little models if you ever wanted to attempt one. It was done by @surreybeekeeper on Twitter.
The link is here: dld.bz/b5hSN
and finally, another lovely cartoon from John Goodison:
20 June
I was sitting in front of a log fire - such a lovely June isn't it? - but feeling rather pleased because we have extracted our first honey of the year. The hive which swarmed has recovered very well and has already filled a super with honey. We have fields of rape near us which means you need to get the honey out quick as rape flowers produce a viscous form of honey which sets very quickly. I put a Canadian clearer board on top of the super which means the bees leave the frames and can't get back in so it's much easier for extraction.
The next day the frame was bee free so we took it up to the house where we had prepared our extractor and sterilised jars.
All went well for a while. I uncapped the frames, slicing off the wax layer to reveal the glistening honey below. The frames then go into the extractor to be whirled round which spins out the honey. I began to speed up the uncapping but got a bit careless and cut my thumb.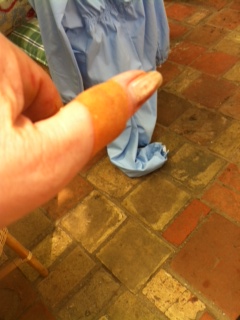 Still one has to suffer for one's art and we now have fifteen jars of honey which is fifteen more than I thought I would have at the beginning of the year.
11 June 2012
This was certainly one of the busiest bee days we have ever had. We'd planned to go to pick up a new colony and hive from a master beekeeper who lives in Rockland St Mary near Norwich.
Before we set out, I went to inspect my hives and discovered several queen cells in one brood box which I dutifully destroyed in order to prevent swarming. As I turned to head back up the garden, I realised that my measures had been in vain as the bees had already swarmed and attached themselves to a fence. We grabbed a nuc box and got as many bees as possible in there.
But what to do about the original colony which was now queen less as the old queen had gone off with the swarm and I had carefully killed all the possible replacements? Well, luckily I had some sealed queen cells in a nuc which I had taken out the previous week so I put them back and crossed my fingers.
We then headed off to take possession of our new colony and beautiful cedar hive.
While we were at the apiary I sought John Everett's advice about the swarm and he suggested that I put it into our third hive which has been queenless since the winter. When we got home, I opened the nuc box to find that the swarm had absconded. All that work for nothing! But it was not in vain as I had a quick look around the garden and found the swam had settled on a gate post. Luckily swarms are generally pretty docile as they eat a lot of honey to prepare for the journey and I was able to brush most of them into my nuc box and from there into the queenless hive.
To sum up I now have one new colony and two potentially queenless hives.
27 April 2012
Shortly after I put the sealed brood in my queenless hive, my lovely bee mentor Jan rang up. She had been out for a drive and spotted a man in a beekeeping suit so stopped for a chat. They ended up talking about my predicament and it turned out that he had a queen. So Jan has put her in my hive and will check in a few days to see whether she has settled in alright.
26 April 2012
Now that my new colony seems to have settled in well, I decided to take action over my first hive which lost its queen over the winter. In the past I have sent off for a queen by post which was a New Zealand Italian mix. She produced lovely calm bees but I have since learned that many beekeepers don't approve of imported queens and think it is best to use local ones. Anyway bad weather conditions in New Zealand meant that there none available. So what to do? After seeking advice - bearing in mind the old adage, ask two beekeepers, get three opinions - I got in touch with BIBBA. That's the British Bee Improvement and Bee Breeders Association.

The weather has been pretty terrible for looking inside the hives but I took advantage of a short sunny spell one Saturday afternoon to try Operation New Queen. I got my smoker going and opened up the queenless hive. It promptly went out. I always struggle with this and have tried many different fuels including hessian on this occasion. The blasted thing wouldn't get going so I had to put the roof back on, run back to the house and relight indoors.
Once I got going and had a proper look inside, it was clear that there was still no queen. So I took a frame of sealed brood from the new colony and put it in my old one. The idea is, according to Roger from BIBBA, that the bees themselves will raise a queen from the larvae I have placed there. She may not be a very good queen but at least she will keep the colony going . No guarantees of course and I began to worry because the weather had turned and got cold very quickly. There are many ways to feel guilty as a beekeeper. The new colony didn't have many stores so I gave them some fondant.

Back indoors, I sat back with a cup of tea and then felt a strange flickering inside the leg of my jeans. I squished the material and then pulled it up. Sure enough, a bee had got inside. How that happened through the bee suit, I have no idea but at least I didn't get stung.

And another cartoon from John Goodison.
23 April 2012
Things are looking up. A very experienced beekeeper called Eric who lives about forty minutes from me has decided to downsize his operation and very kindly agreed to give me a colony. We headed up on Saturday to take possession. Like me, Eric has WBC hives though his are now painted brown to make them less visible to thieves.
A friend of his recently had his white painted hives stolen from his front garden. Bee rustling has become a real problem as the price of colonies rises. Six frames can cost as much as £200. I always laughed when I saw bee veils advertised in camouflage "so that no one can see where you keep your bees". Now I can see why.
Eric had already wrapped up the brood box and super in a hessian sack from the chocolate factory where he used to work. We set off to drive home and listened nervously to the passengers in the back. It's amazing how loud buzzing can sound. A few did escape but we kept the windows open and the draught kept them towards the back of the car.
On arrival we loosened the boards which had kept them in place and they seem to have settled down well in their new home.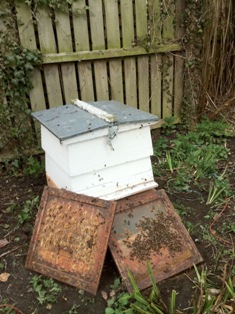 and finally another lovely cartoon from John Goodison.
11 April 2012
I had already had a premonition of disaster. My bee mentor Jan had taken a look in my hive and said she feared there was no queen. That was such disappointing news as they had seemed so well this spring with plenty of flying bees on sunny days. But when I took a look myself, she was right. There was no sealed brood or eggs to be seen which means that the hive is not "queen right". I also took a close look at the bees flying in and out and they weren't carrying any pollen. Without a queen, this colony will die out so I have been trying to find one without success as this seems to be too early in the season.
Another possibility is insert a frame of eggs and hope that they requeen themselves but I have been told that the quality of the queen can be bad that way. And in any case the weather has been far too cold and wet to open up the hive.
To be continued....
But on a happier note, another cartoon from John Goodison's Small World.