Campaign Overview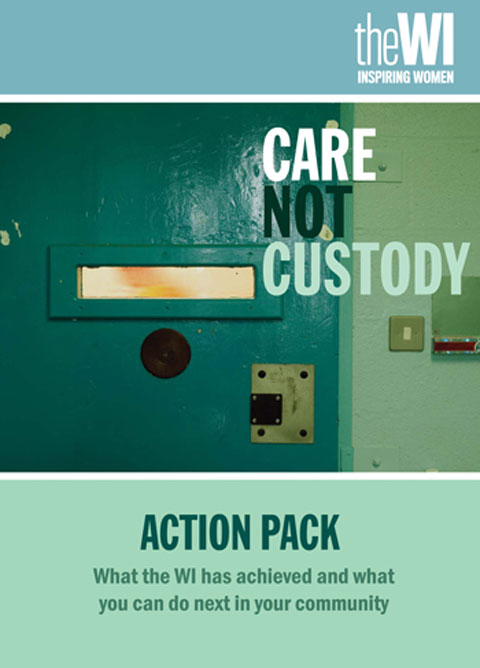 What is the WI calling for?
Effective diversion schemes around the country. We would like to see a national network of diversion schemes at police stations and courts.
Access to early assessment and intervention. This could take the form of mental health clinical advisers in courts and police stations to ensure problems are spotted and assessed quickly.
Community mental health services available offering safe alternatives to imprisonment. Diversion will only work if there are adequate services around the country to which people can be diverted, wherever possible out of custody.
Full implementation of Baroness Corston's proposals for women in the criminal justice system including investment in local community-based provision based on women's centre models such as the Asha Centre and the Calderdale Women's Centre, which carry out therapeutic work and are close to families and networked into local services.
Help with resettlement and contact with families. Support should begin as soon as people are diverted to prepare for life outside. Alongside mental health treatment, they need to help build up work skills and get jobs, to have a home to go to and to maintain contact with family where they are supportive.
The Care not Custody Coalition
The Care not Custody Coalition, convened in 2011 by the NFWI and PRT, comprises a wide range of allied professional groups and charities. The Coalition represents over two million people across the health, social care and justice sectors and wider civic society. Together our organisations show the breadth of support that there is for the development of effective liaison and diversion arrangements across the country for people with mental health needs and learning disabilities caught up in the criminal justice system.
The organisations and professional bodies in membership have agreed to work together to support the government in keeping its 'care not custody' promise and to hold government to account for effective delivery. The coalition is well placed to monitor the implementation of liaison and diversion arrangements, offering support for positive steps and raising concerns where they arise.
| | |
| --- | --- |
| Action for Prisoners' Families | NHS Confederation, Mental Health Network |
| Advocacy Training Council | National Appropriate Adult Network |
| Association of Directors of Adult Social Services | National Federation of Women's Institutes |
| Association of Members of Independent Monitoring Boards | Probation Chiefs Association |
| Bar Council | Police Federation of England and Wales |
| British Association for Counselling & Psychotherapy | Police Foundation |
| Centre for Mental Health | Prison Governors Association |
| Children's Commissioner | Prison Officers Association |
| Clinks | Prison Reform Trust |
| Criminal Bar Association | Rethink Mental Illness |
| Criminal Justice Alliance | Revolving Doors Agency |
| Howard League for Penal Reform | Royal College of Nursing |
| KeyRing Living Support Networks | Royal College of Psychiatrists |
| Law Society | Victim Support |
| Magistrates' Association | Women in Prison |
| Mencap | Women's Breakout |
| Mind | |
Contact the NFWI
Phone: 020 7371 9300
Open hours: 9am–5pm Mon–Fri
Address: 104 New Kings Road, London SW6 4LY
Or fill in the contact form... to email a specific department