Surrey WI News
This monthly magazine for members contains all the information they need to have as part of Surrey Federation.There are regular columns from our Chairman, the Treasurer, the Office and the Editor, June Green. All of the members of the Board of Trustees write to inform members of events, outings, classes, and possibly new WIs.If you are a member make sure you get a copy every month, there is an opportunity to write to Surrey Selection (now renamed Over to You) where you can tell everyone about your WI and what it is doing.
The cover of our magazine has some beautiful photographs throughout the year. Some of these are taken by the editorial team, but if you are interested in photography, you could join our Camera Club. Our HQ is home to the Club, the fee is quite small and meetings will be taking place in future on different days from previously to offer flexibility. Everyone with an interest in taking photographs is welcome and there are outdoor sessions throughout the year.
As members will know a new service started in January with the possibility to read all of SWIN and not have to recycle the paper at the end of the day. On the Federation Team part of the MYWI website area, members who are registered are now able to use this facility. I am finding this a boon as you can zoom in on the pages. Let's hope it all goes well.
The June issue has photos of some of our WIs showing what they have done during the year for the NFWI competition. Old Coulsdon Cupcakes have won this competition and they are the group pictured in hi-viz jackets with all the bags of rubbish they have collected. Well done to everyone especially to Old Coulsdon Cupcakes who will be collecting the Elizabeth Bell Trophy at Bournemouth.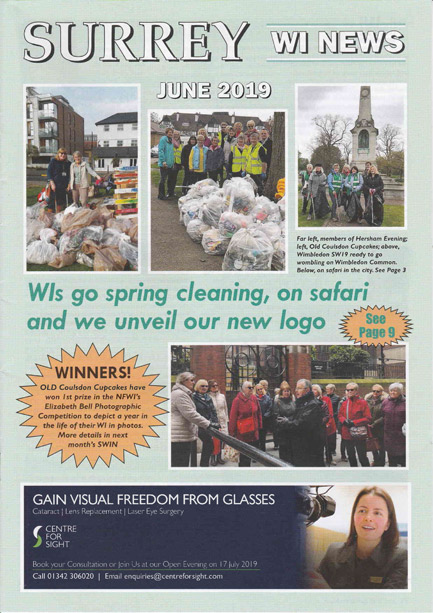 Another important step for the Surrey Federation is the new logo "for a new century" - details below from Toto James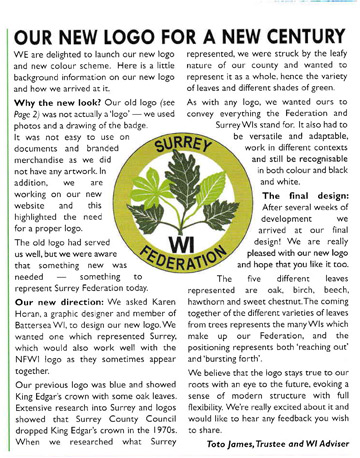 To read this article in a larger text and more stories in the magazine.........
Check in to MYWI in the menu line above with your email and password, look for Surrey Federation in the tag line and under that heading you will find the SWIN copy for this month. Enjoy......
Contact the NFWI
Phone: 020 7371 9300
Open hours: 9am–5pm Mon–Fri
Address: 104 New Kings Road, London SW6 4LY
Or fill in the contact form... to email a specific department