About Us

6 Paris, Parklands, Railton Road, Guildford. GU2 9JX
Welcome to the Surrey Federation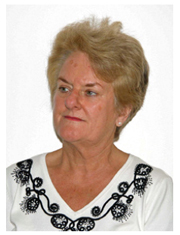 Surrey Chairman Jane Randell
At the Surrey Federation we have a tradition of fun and friendship, with a strong network of valued friends throughout the county.
We hold many different events, where members and non-members can get to know each other, and become involved in all sorts of interesting activities. How We Work is the page where you can meet members of the Board of Trustees who arrange all of these events.
From our Federation Headquarters, based in new offices in Guildford, we also help and advise the WIs throughout the federation. Our office is open for three days a week and you can contact the staff during the times shown. Our WIs hold monthly meetings with speakers and demonstrations and are always happy to welcome new members.If you are thinking of joining please contact the office when you will be put in touch with a WI Adviser to help you find the one in your area which suits you best.
From the Chairman - 26 September 2017
It would seem that I have not updated my piece on the web since June and it is now nearly October. I have no idea where the time goes as I always seem to be busy trying to keep up with the work.
On October 16 the federation will be at Dorking Halls holding the Autumn Federation Meeting. I think I have arranged a good and varied programme for the meeting and as you know I keep business down to a bare minimum at this meeting. I hope you will come and then you can let me know what you think of the programme. Unless members tell us what they think we just carry on and hope it appeals. So please let us know what you think. I am sure that there are still tickets available if you want to come, just contact the office.
In August I entered the Huxley Cup in Bakewell and was it wet. To say that the Bakewell show was a bit of a wash out is putting it mildly. They were even trying to drain the main arena there was so much water. I did not win but it was a good experience.
The Trustees have held four meetings called 'Meet the Board' this year. We held two last year and will hold two more next year, which means that every WI has been invited to a meeting. At the meeting each Trustee stands up and tells the members what they do. After each Trustee there is a Q & A so that members can clarify their understanding. Many members think that the Trustees do not do much and some think they are paid. I hope that at the end of the meeting it is clear that not only are the Trustees volunteers, but they also have to devote quite a lot of time to their Trustee work.
The Federation and all the WIs are coming to the end of their financial year. Reports have to be written and accounts produced and examined. My thanks to all those committee members who work so hard to keep their WI running. Keep up the good work. Don't forget that 2018 is Surrey's Centenary Year, which I hope will be a fun year despite all the hard work involved.
Jane Randell
Federation Chairman