About Us

6 Paris, Parklands, Railton Road, Guildford. GU2 9JX
Welcome to the Surrey Federation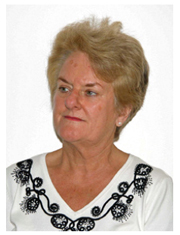 Surrey Chairman Jane Randell
At the Surrey Federation we have a tradition of fun and friendship, with a strong network of valued friends throughout the county.
We hold many different events, where members and non-members can get to know each other, and become involved in all sorts of interesting activities. How We Work is the page where you can meet members of the Board of Trustees who arrange all of these events.
From our Federation Headquarters, based in new offices in Guildford, we also help and advise the WIs throughout the federation. Our office is open for three days a week and you can contact the staff during the times shown. Our WIs hold monthly meetings with speakers and demonstrations and are always happy to welcome new members.If you are thinking of joining please contact the office when you will be put in touch with a WI Adviser to help you find the one in your area which suits you best.
---
Chairman's Message - September 2018
September is now upon us and the year is fast passing me by. Last year I was hoping that the Centenary year would be more events rather than nose to the grindstone with work. In fact, 2018 has been a mix of both, making it the busiest year of my chairmanship, and I still have six months to go before I step down as your chairman at the ACM on 18 March 2019. All the events this year have been a pleasure to attend with every variation you could think of. I am also a member of the Surrey Serenaders choir as well as being Chairman and because the choir were asked to sing at many of the events it has been such a pleasure to attend as an entertainer as well as Chairman. The Guildford Cathedral Celebration service on Saturday 8 September went very well and was enjoyed by most of those who attended.
The next big event is the Autumn Federation Meeting (AFM) which will bring the celebrations to an end and hopefully we will sell off the remaining centenary goods. For those of you who like to go to Denman we are awarding the usual three bursaries of £350 and one £320 for a Surrey at Denman 2019 course. To enter the draw just write your name, address, telephone number and WI name on a postcard and put it into the appropriate Denman Draw box at the AFM. There will be one box for the £350 bursaries and one for the Surrey at Denman bursary.Any members can enter, you can also put in more than one entry. You do not have to go to the meeting to enter as long as you can find someone to take your entry to the meeting. We draw the winners in the afternoon.
One issue which came up at Surrey at Denman, which you may all like to consider. Members are encouraged to take pictures at events for the newsletter. The Denman Ambassador takes lots of photographs at Denman during the Surrey at Denman weekend. This year one of the attending members did not want her photograph taken and quite correctly left the room. The Board of Trustees have discussed this as an issue and have decided that if you are at a Federation event and you do not wish to have your photograph taken then you should wear a red dot sticker on your right shoulder so that the photographer knows, and your wish will be respected. If WIs would like to do this as well then it is up to them. It does mean that it saves having bad feelings when someone complains.
Jane Randell - County Chairman