About Us

6 Paris, Parklands, Railton Road, Guildford. GU2 9JX
Welcome to the Surrey Federation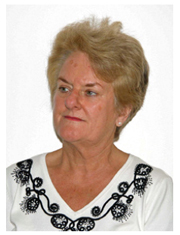 Surrey Chairman Jane Randell
At the Surrey Federation we have a tradition of fun and friendship, with a strong network of valued friends throughout the county.
We hold many different events, where members and non-members can get to know each other, and become involved in all sorts of interesting activities. How We Work is the page where you can meet members of the Board of Trustees who arrange all of these events.
From our Federation Headquarters, based in new offices in Guildford, we also help and advise the WIs throughout the federation. Our office is open for three days a week and you can contact the staff during the times shown. Our WIs hold monthly meetings with speakers and demonstrations and are always happy to welcome new members.If you are thinking of joining please contact the office when you will be put in touch with a WI Adviser to help you find the one in your area which suits you best.
From the Chairman - January 2017
A very happy New Year to you all
With the start of a new year we look forward to what the year has to offer.
Events in January are Supper Quiz at Worplesdon Memorial Hall on Friday 27 January starting at 7.30 sharp. On Thursday 19 January a visit has been arranged to Denbies Vineyard in Dorking starting at 11.45. In February workshops are being held at HQ on how to make your own trousers. A series of Art classes are being held during March and April on different aspects of art.
I hope that many of you will be going to the Annual Council Meeting at Dorking Halls on Monday 27 March. This will be my first Annual meeting as Chairman so the format will be slightly different from past meetings. The main speaker is Jo Salter who was the first female fighter jet pilot in the UK so her talk 'A Bird's Eye View' should be very interesting. The Trustees will also be launching the centenary celebrations for 2018. Every WI will be encouraged to be involved and there will be lots to do in preparation for a very busy June in 2018. As this is the Annual meeting each WI should send a delegate who goes for free and can claim expenses from her WI. The rest of you pay £16 per ticket but if you ask the delegate nicely you should get free transport
On 29 March to 1 April NFWI are holding the WI Fair at Alexandra Palace. The Surrey Trustees have discussed the possibility of the federation putting on coaches to visit the Fair, but because so many members get reduced rates on the transport system making public transport cheaper than a coach, it was decided that the federation would not put on coaches. If, however WIs want to get together to arrange coaches then please feel free.
On 5 April there will be a Resolution Briefing meeting for those of you who have been asked to present the resolutions at the resolution meeting in May. This event is well worthwhile attending.
Membership is arranging a series of workshops in April on Confident Speaking for those who need more confidence in speaking out at meetings.
If you are interested in any of the above please contact the office to get more details and book a place. 01483 233230
Jane Randell
Federation Chairman