About Us
WI TREASURERS please note that under the Treasurer's role on the How We Work page there is available to download, the Account Book used by Surrey including the Financial Statement and also a copy of the Treasurer's Handbook.

6 Paris, Parklands, Railton Road, Guildford. GU2 9JX
Welcome to the Surrey Federation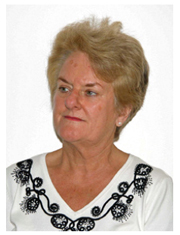 Surrey Chairman Jane Randell
At the Surrey Federation we have a tradition of fun and friendship, with a strong network of valued friends throughout the county.
We hold many different events, where members and non-members can get to know each other, and become involved in all sorts of interesting activities. How We Work is the page where you can meet members of the Board of Trustees who arrange all of these events.
From our Federation Headquarters, based in new offices in Guildford, we also help and advise the WIs throughout the federation. Our office is open for three days a week and you can contact the staff during the times shown. Our WIs hold monthly meetings with speakers and demonstrations and are always happy to welcome new members.If you are thinking of joining please contact the office when you will be put in touch with a WI Adviser to help you find the one in your area which suits you best.
Federation Chairman - 21 October 2016
Hello Everyone,
Next month is November when all WIs will be having their Annual Meetings. At this meeting hopefully new members are voted on to the committee. The objective of the WI is to inspire members and encourage them to broaden their horizons by trying something they have never done before. How about putting your-self forward as a committee member? You only have to do it for a year if you find it is not for you, but at least you will have tried and there is another experience tick in the box.
Following on from my last report, why not offer your help on a show committee. From my experience it is a great opportunity to see another world about how shows are organised. I was once on a committee who organised a marquee at the Hampton Court Palace Flower Show. It was great fun and yes a lot of work which does not worry me. There are however perks such as free tickets and parking and possibly a chance to make purchases at a discount. At Hampton Court we also got reduced rates for everything we purchased before the show opened. I am very glad that I had the opportunity to take part as it was a wonderful experience. You too can gain such experience by offering to help.
The AFM – the Autumn Federation Meeting at Dorking Halls went reasonably well as far as I was concerned and I was very happy with the mix of speakers. This was my first federation meeting and the feedback to date is such that I am somewhat worried about how I can beat that! For those of you who did not attend perhaps you should give it a go sometime You do not know what you are missing until you have tried. Anne Diamond's talk was on 'Never turn down an adventure'. I am encouraging you to do the same and try something you have never done before.
Jane Randell
Federation Chairman