About Us

6 Paris, Parklands, Railton Road, Guildford. GU2 9JX
Welcome to the Surrey Federation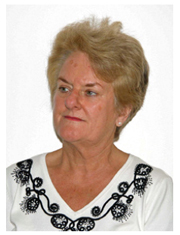 Surrey Chairman Jane Randell
At the Surrey Federation we have a tradition of fun and friendship, with a strong network of valued friends throughout the county.
We hold many different events, where members and non-members can get to know each other, and become involved in all sorts of interesting activities. How We Work is the page where you can meet members of the Board of Trustees who arrange all of these events.
From our Federation Headquarters, based in new offices in Guildford, we also help and advise the WIs throughout the federation. Our office is open for three days a week and you can contact the staff during the times shown. Our WIs hold monthly meetings with speakers and demonstrations and are always happy to welcome new members.If you are thinking of joining please contact the office when you will be put in touch with a WI Adviser to help you find the one in your area which suits you best.
---
Chairman's Message - October 2018
Thank you to all those who attended the Autumn Federation Meeting (AFM) on October 8th at Dorking Halls. It was so interesting to hear Tricia Stewart, one of the original Calendar Girls, who updated us on how the fundraising for their Cancer charity was progressing. Many of you will remember that they originally wanted to raise £5,000. Twenty years on they have raised £5.5 Million for the charity. What a wonderful success story. The WI movement needs another such success story to inject more public interest. Has anyone got any ideas? What a challenge for Surrey members. Please let me know if you have any ideas.
In June the federation sent out a questionnaire to all the WIs asking about your interest in attending the federation meetings at Dorking Halls and your preference for the time and day. The 80 WIs who responded represented 4103 members of whom 2538 took part in the survey. The results show that 550 (28%) members were not interested in attending either meeting. Of the 1988 who were interested, 338 (17%) voted for no change i.e. Monday all day, 133 (7%) voted for all day Thursday and 74 (4%) for all day Tuesday. The vote for Saturday or Sunday was very low with 21 being the highest, voting for a Saturday all day. Half day meetings were also not as popular as whole days, and evenings were even less popular. The results indicate that we stay with Monday all day. Thank you all for taking the trouble to reply. It is essential that the federation asks questions of members from time to time rather than assuming that what they are doing is what the members want.
Jane Randell -
Federation Chairman
Contact the NFWI
Phone: 020 7371 9300
Open hours: 9am–5pm Mon–Fri
Address: 104 New Kings Road, London SW6 4LY
Or fill in the contact form... to email a specific department