Previous Talks
Watch this space for details of our talks once they've happened.....
---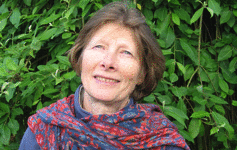 Novellist Pauline Manders
Pauline Manders has been writing contemporary crime novels - The Utterly Crime Series since 2010, all of which are set in and around Suffolk.
Her books are available in Suffolk, Norfolk and North Essex libraries and her 2016 novel Utterly Crushed featured in the Suffolk Libraries' Suffolk Loves selection. She was invited to talk at the Felixstowe Book Festival on a Set in Suffolk theme in 2016 and has been featured in an article in Suffolk Age UK magazine.
She has also featured as a sofa guest on the BBC Suffolk Radio's Lesley Dolphin show and her latest book, Utterly Dusted was given as a prize on Radio Suffolk Dolphin's Dart competition!
Pauline was born in London and trained as a doctor at University College Hospital. Having gained her specialist surgical qualifications, she left the city for pastures green and moved with her husband and young family to East Anglia, where she worked in the NHS as an ENT Consultant Surgeon for over 25 years. (She used her maiden name throughout her medical career).
Pauline retired from medicine in 2010 and has finally had time to pursue her interest in writing crime fiction. She has also become an active member in a local carpentry group, follows her husband's interest in classic cars and lives deep in the Suffolk countryside - all of which seep into her novels. Her novels make up the Utterly Crime Series (but can be read as stand-alones).
---
LAWSHALL W.I.
Tony Whittingham (Eco Frenzy)
Talking about the 'Magic & Disaster of Plastic'
Are you part of the problem?
or
Part of the Solution?
A PowerPoint presentation on the meteoric rise of
plastic usage, and the consequences to the environment.
---
---
---
---
---