Gallery
Our delegate at the 2018 Annual meeting in Cardiff
The famous five go on adventure - to 42nd Street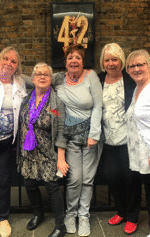 Saturday 12 May - entry to the wedding festival at Lawshall Church
Friday 11 May - topping up teas - voluntary tea-making at Hawstead Village Hall for the performance by Suffolk Philharmonic Quartet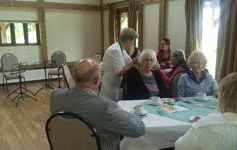 Let's make cheese - Karen Wilcox
This was my second time at Denman, as I was on my own I decided to take the train. I arrived at Oxford station with an hour to wait for the Denman shuttle. Looking round the station, there were several ladies sitting alone! I approached one and asked "I don't suppose you are going to Denman?" Eventually there were seven of us waiting for the transport. We hovered around the entrance looking for the Green Cab. We spotted one parked and all wandered over. He had 4 names on his list, so in they packed and left 3 of us on the roadside waiting. Luckily the other ladies had a phone number for the cab company. We were told the cab was waiting, eventually it arrived and had been there but just not where we were! Finally, we arrived at Denham just in time, as they were clearing away the coffee and cakes. Checked in I was allocated North Yorkshire room in Holly Block near to the teaching block. Not as grandiose as last year, but comfortable.
6pm we were introduced to our tutors before a scrumptious dinner.
After dinner it was straight to work. A bit of theory, then we started on our cream cheese.
All cheeses start with heating milk or cream to various temperatures, adding starters or Rennet. That then makes the curds. The cream cheese needed to be left overnight near the Aga to do its thing!! Exhausted I fell into bed.
Day 2 -
After a hearty breakfast we began a very full on day. By the end of the day we had made, Ricotta, Halloumi, Butter, Mascarpone, baked Parmesan Shortbread which filled the whole venue with a wonderful aroma. (I have made some for you all to try)
We completed the next stage of the cream cheese, by putting the curds into cheese cloth to drain for 12 hours, to be finished in the morning. We started the Feta and put the curds into a mould, this has to be inverted 2-3 times and this too will be finished tomorrow. We had about half an hour before dinner then after dinner was social time. We were all exhausted and decided we would turn our Feta around nine then turn in.
Day 3 -
We only had the morning and lots to do. We made Mozzarella, which is a bit more complicated than the other cheeses we had made. It involved using rubber gloves as you have to heat water to 70 degrees C, immerse a portion of the curds one at a time, when heated it has to be stretched and formed into balls. The balls of mozzarella have to be placed into chilled salted water for 20 mins then wrapped for home. We then took the cream cheeses from the cloth, divided into 2 and half had blue cheese and garlic added to make the most delicious blue cheese spread.
At morning break we were treated to the most amazing Pavlova made by Louise with the egg whites left from parmesan shortbread. We had a wander around looking at what the other delegates had been up to. Silver clay jewellery looked fascinating.
We then packed up our cheeses ready for lunch and home.
We worked out we had used 15 litres of whole milk and 1700 mils of double cream to produce our cheeses.
The taxi picked me up and I headed off to Wales to see Helen. We enjoyed most of the cheese, I am definitely going to be making the Halloumi again as this was my favourite to make and eat. What to do next year??? Blue cheese maybe!!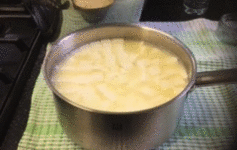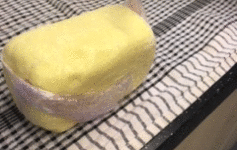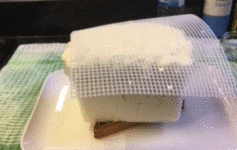 A chat with the vicar ... 11 April 2018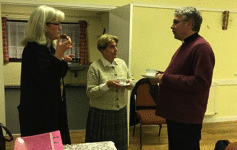 Table Top Sale - 7 April 2018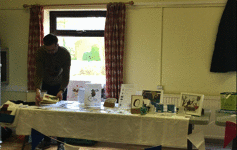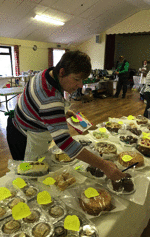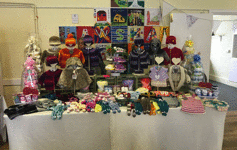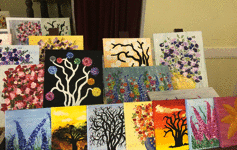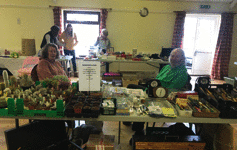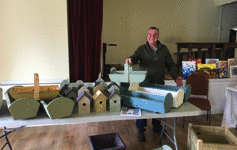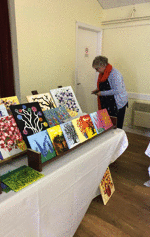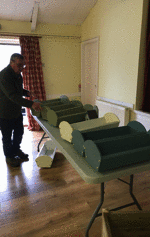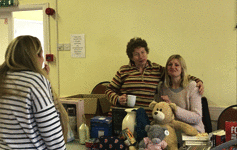 Tony Whittingham - March 2018 meeting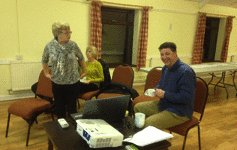 "Whittington made a difficult topic accessible and fascinating, and invigorated a subject which maybe suffers from 'metal fatigue' at the moment ,as one often feels helpless when hearing mostly bad news. He illustrated how everyone can help by making even small changes and welcome economies to their daily life, which in turn benefit the environment and us all".
"How fortunate we are to be able to go a short distance down the road on a Wednesday evening and hear such a varíety of interesting talks all given by people who are knowledgeable and absorbed by their interests". Jenny