County Office & Downloads
Hi from the County Office and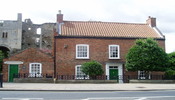 This is Trent Bridge House, Newark. (Link to its history)
Home of Nottinghamshire WI if you would like to contact us go to: Contact us or Contact Nottinghamshire Federation to submit an enquiry by email.
Forms and Downloads at the bottom of the page.

The Office Angels are: Sue Sanderson, Federation Secretary, and Heather (Right) & Sandra.(Left)
We have to announce that very sadly Fiona decided to retire at the end of August.
We are pleased to say we have recently appointed Sandra Carter to the Office Team.
Every month we send out Event forms and documents to every WI with our monthly newsletter -
The Hornblower.
---------------------------------------------------------
Congratulations to Ollerton Owlers who were the winning team. They received the trophy and prizes at the Literary Lunch. (See Events) 146 Teams of WI members took part in the quiz at 6 venues around the County.
Annual Federation Meeting 2018 minutes are available to download, if you require a paper copy please contact the County Office.
There are 4 enclosures in the September mailing
Sent out as an enclosure to WIs but Not available on website:
Coffee Morning WI Shop Wednesday 24 October at County House 10am - 12 noon.
Craft Sale Thursday 11 October at County House 10am - 3pm
Tea/ Coffee and cake.

Below are enclosures for events and documents - some have closing dates. Please note not all of the documents will be sent out as an enclosure or available on the website. Please click on the green link to download to view.
-------------------------------------------------------------------
Craft and Chat
from 10am - 1pm and every third Monday of each month at County House.
Next one:
Monday 15 October at 10am
We invite you to come along for a chat, perhaps learn a new skill,
bring along a craft. This is a drop-in session - no need to apply for tickets.
------------------------------------------------------
Event Form Enclosures:
It is always worth telephoning the office after the closing date for tickets if you would like to attend an event as there may be tickets available.
Refunds will not be issued after the closing date.
-----------------------------------------------------------------------