About us
Welcome to the Nottinghamshire Federation
160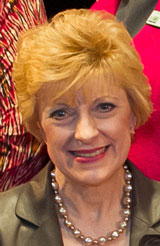 A very warm welcome from the centre of England and
from Nottinghamshire.
Our headquarters, Trent Bridge House (County House) is located in the market town of Newark on the eastern borders of the county. The Board of Trustees & Committees bring everyone together to share in a range of activities, each committee have their own web page with reports of events and the latest news and a WI Guide & Promotions page for our WIs. See the Calendar for 2018
----------------------------------------------------------------------
Have a look at the Centenary Events page to see what we Fun we have had so far.....
The News and Stop press page has all the latest news.
In April 2017 we commenced the celebration of 100 years of the WI in Nottinghamshire. We have organised events throughout the year until April 2018.
We have lots of fun & laughter with a variety of events and classes with a mix of education and entertainment thrown in. Food & Craft Classes are very popular, Art, Sports - you name it we do it! - and WI Training events. An Annual Quiz and Lunches with entertaining speakers and visits to places of interest in and out of the county. We had a Federation Weekend in July 2017 to Denman College. Our monthly Newsletter - The Hornblower keeps everyone informed. We organise an annual coach Holiday, last year we went to Torquay in April 2018 to the Isle of Wight. We went to Australia on a shared holiday with the Derbyshire Federation during October/November 2017.
Every year we organise the Bramley Apple Pie Competition for the County at Southwell - the home of the Bramley. We attend the County Show at Newark in May.There will be a WI Marquee with an exhibition by WIs and displays plus the WI Show. During the year our members raise funds for a project in aid of ACWW. Associated Country Women of the World.
Nottinghamshire Federation was established in late 1917, we have 119 WIs and over 4000 members. Our oldest WIs are Southwell and East Bridgford, which were formed in 1917 and are still thriving. If you are looking to make new friends or have recently moved into Nottinghamshire - come and join us.You can either type in your POST CODE in the search box at the top of the page or go to Find a WI.
Nottingham is our one major city with a WI in the City and WIs on the fringes of Nottingham. WIs are In the market towns of Bingham, Newark, Worksop, Mansfield, Southwell and Retford, but most of our WIs are located in the large number of villages, farming and former colliery villages throughout the county. There will be a WI near to you or why not start a new one, please Contact us.
If you are visiting the area or have recently moved into Nottinghamshire, please contact us here at County House, Trent Bridge House, Tel No: 01636 673550. Our staff: Sue Sanderson, Federation Secretary, Fiona and Heather, are always pleased to welcome visitors or call in for a cup of tea during office hours on Monday, Tuesday, Wednesday 9am-3pm. CLOSED THURSDAY & FRIDAY.
We will be delighted to see you.
Jane Jefferson
Federation Chairman