Norfolk Day
We are looking forward to
Norfolk Day 2019! (27th July)

#NorfolkDay
#NorfolkWIonehundred
Did you hear Norfolk WI at the launch of Norfolk Day 2019? They were with Norfolk Chamber of Commerce on Radio Norfolk, on Friday 15th February 2019 and then at ES House with the EDP You can hear the radio recording on our Youtube Channel.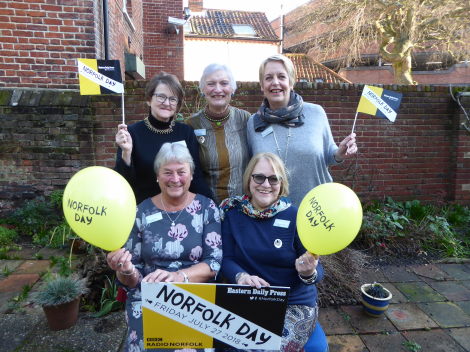 The WI has been deep at the heart of the community of Norfolk for 100 years. In our centenary year, our 5000 members in over 155 WIs right across this wonderful County, we pleased and proud to once again be involved in making the #NorfolkDay initiative a success.
What

is planned in WIs around Norfolk

This will be constantly updated as Norfolk WIs get in touch with their plans.
WI

Plans for Norfolk Day 2019

Watton Evening WI

Norfolk Day, the WI Way: We are serving sweet and savoury refreshments from10.00am until 3.00pm.

10.30 Neighbourhood Plans......speaker
11.00 Norfolk recycling.....speaker.
11.30 Scams....speaker
12.00 The Daisy project....speaker
12.30 Lunch.

In the afternoon format will be repeated and Anglian Water may be able to give a talk on 'Keep it Clean'. Looking forward to sharing it with people from the town and surrounding area.

Mundsley WI

We will bake and hand out to the public, 100 lavender cupcakes. Each bearing a little flag to inform recipients that Norfolk WI federation is celebrating its 100th birthday. The flags will be made and handwritten by members. There will, of course, be gluten-free and vegan versions included.

Aylsham WI

We are making 100 small buns and icing with WI colours to give away in Aylsham on Norfolk Day. Further details TBC.

Barford, Wramplingham & District WI

We are working with Barford church to have a community event in aid of the church and Barford & Wramplingham Village Hall. Click here to see the history of our WI and the three village halls we have fundraised for in this community.

Let your WI creativity loose on the theme of Centenary+Birthday+Cake!
#100WIwayswithcake ??
It might be that you celebrate with one hundred tiny birthday buns distributed to the public, or with one large celebration cake cut into a hundred slices. Using a traditional Norfolk recipe or relying on your favourite WI recipe or Great Grannies' best. You might have a special tea party in a special place with your WI or walk your local footpath armed with celebration cake, for visitors to Norfolk. Full details have been sent to all WI Secretaries.
Follow the link to see how we celebrated the first ever
Contact the NFWI
Phone: 020 7371 9300
Open hours: 9am–5pm Mon–Fri
Address: 104 New Kings Road, London SW6 4LY
Or fill in the contact form... to email a specific department