Denman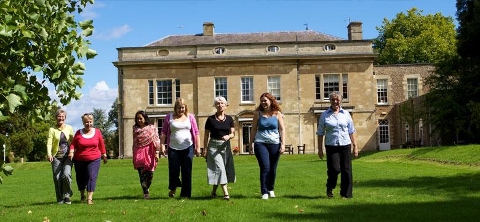 .....................................................................................................
Denman College
Click HERE to download the full details and application for the 2018 visit.
Norfolk Federation arranges regular residential visits to Denman College. Travelling by Federation-organised coach, you have the opportunity to choose from different courses, stay in beautiful surroundings, with all your meals provided, enjoying the company of fellow members, all whilst being looked after by the Federation's Denman Ambassador.
As anyone who has been to the College will tell you, Denman is an opportunity not to be missed, so sign up for a course now and see for yourself. Bedrooms are furnished by Federations – Norfolk has two rooms: Poppy and Lavender, appropriately decorated.
Named after the first National Chairman of the WI, Lady Denman, this is the WI's own education college and was opened in 1948. The college is a pleasant country house set in rural surroundings, not far from Oxford.
Day school and residential courses are on offer, and are extremely varied. There are workshops and lectures on everything from architecture to Zumba, and everything in between – crafts, cookery, singing, dancing, aromatherapy and photography to name but a few. There are opportunities to visit places of interest as part of a course and, for the more energetic, rambling in the Cotswolds.
Look out for opportunities to visit with Norfolk Federation in Norfolk monthly mailing and Gazette.
Bursaries
Norfolk Federation is very lucky to be able to offer a number of bursaries.
Your WI may well do so, too.
Bursaries are open to all members, to be used for a variety of educational opportunities. Some are for use in Norfolk only and some to help with the cost of attending a course at Denman. The Bursaries are drawn in March and announced at FAM.
In the Gazette and you can apply for either of them using the Application Form.