About us
Telephone: 0116 2661342
Email : wihouseleics@aol,com
Hours of business: 9.30am to 3.00pm Monday-Thursday
Welcome to the Leicestershire & Rutland
Federation


The Leicestershire and Rutland Federation was formed in1918. We have expanded since then and currently have 144 WIs through the two counties. These range from small village ones with a few members to larger ones with over 100 members – so whatever your age or interests, there is sure to be a WI not too far away from you waiting to welcome you.
All the different WIs offer fun and friendship and a chance to learn new skills. There is usually a speaker at the monthly meetings, and time to socialise with fellow members. Other activities, such as walks, outings or craft groups feature on the WI calendar depending on the interests of the members. If you are new to an area, it is a wonderful way to make friends.

The Federation sub-committees also offer members a varied programme of events on topics such as health, science, public affairs, leisure activities, art, crafts and cookery. The staff at our newly refurbished offices in Leicester will be very happy to help you find a WI to suit you.
Janet Kirk
Federation Chairman
Leicestershire and Rutland Federation of Women's Institutes
March Monthly Draw Results
| | | |
| --- | --- | --- |
| First Prize £25.00 | 136 Joy Coleman | Braunstone & Brooke WI WI |
| | | |
| Second Prize £15.00 | 89 Jane Bryson | Quorn WI |
| | | |
| Third Prize £10 | 74 Mary Page | Groby WI |
| | | |
Go to the Federation Events page for all up and coming events.
Officers for the Year April 2017 - March 2018
Eunice Wignall 1st Vice Chairman, Linda Martin 2nd Vice Chairman Janet Kirk Chairman and Anna Bold Treasurer.
ACM 2017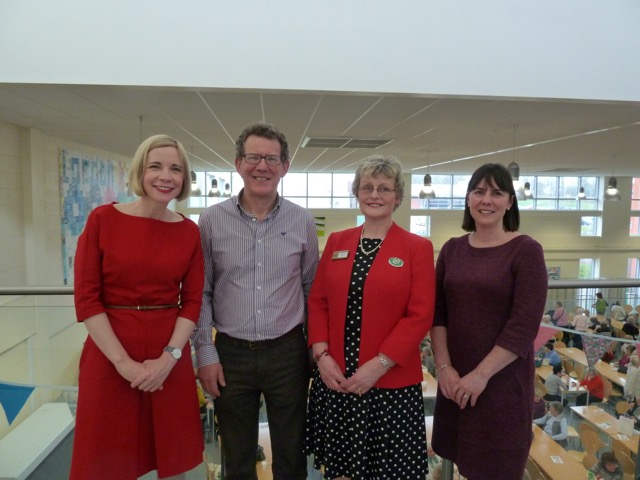 Janet Kirk, Leicestershire and Rutland Chairman with our guests at the ACM. Lucy Worsley, historian, author, curator and television presenter, Nick Hamilton talking about "Barnsdale" and Kate Naish Director of Income Generation from Vista.
Lucy Worsley signing her book "If walls could talk" at the ACM
More photographs can be found by going to ACM 2017
Resolution Briefing Meetings 24 April 2017 1.30pm at Salvation Army Conference centre or Wednesday 26 April 7.15 at Queniborough Village Hall. Application form on Download Page
Photograph Competition
County News Event 'We've Got Talent!' Bid to make the front cover of County News with your photo! We want to show off the talents of WI photographers, and create some striking front covers for 2018's County News.
For more information and Entry Form
HE Events
Special Dietary Requirements at Home Economics Full Day Events.
When attending HE events please read attached
Saturday 1 April WI Fair, Alexandra Palace London £25.00
for more details go to the events page
An exciting opportunity has arisen for federations and WIs to share and display craft and other items at the WI Fair at Alexandra Palace, for all visitors to enjoy.
The event organisers, Upper Street Events, have asked WI members to share any items that they have created – old and new – that represent what the WI stands for to them. They have also asked whether or not federations have any items they may wish to showcase at the WI Fair.
Federations and WIs would be responsible for all miscellaneous costs including transporting items to and from the fair. Further to this they would be required to set up and steward the displays, and also be responsible for insuring any items of value.
For more information and to access whether or not your display item is suitable, please contact Katie Ventresca, Events Director at Upper Street Events – Katie.Ventresca@upperstreetevents.co.uk / 020 7288 6645
Please submit your enquiries directly to Katie who is managing this project.
For Members attention
All WI correspondence e.g. Yearbooks, Programme Secretaries and Officers Lists or any members contact details should not be passed to outside organisations without consent.
Saving Denman
The Appeal to save Denman has raised £264,017.00. We've also now set up a JustGiving site so people can donate online.. Here's the link:https://www.justgiving.com/nfwi-denman.
A quilt has been donated by Helen Goodman to be raffled in aid of the Saving Denman Appeal at the ACM. Tickets can be purchased before hand from WI house and various Federation events.
NEW QUIZ NOW AVAILABLE "PASS THE SHAKER PLEASE"