About us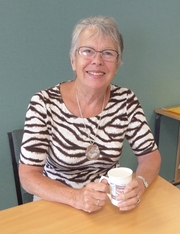 Federation Chairman, Shirley Thornton
Welcome to the Lancashire Federation
Our Federation was formed in 1920 and we have over 160 WIs situated in the villages, towns and cities of Lancashire. All our WIs have their own personality, as each meets the needs of its membership. and they vary in size from as few as 12 members to over 100. (Follow this link to see more about LFWI Short History 1918-2015)
Our hard working federation sub-committees organise classes, events and outings covering many aspects of the arts, craft, leisure, our lovely countryside and local, national and international affairs. Our science co-ordinator has recently arranged a practical session on the science of scents and a visit to Jodrell Bank.
We really do have something for everyone.
Each September our Shows sub-committee organises a two-day craft and produce show at the Garstang Country Hotel and Golf Club. The show is open to the public and everyone is welcome to come along and see a wealth of talent we have.
If you are interested in becoming a member please contact our office on 01772459020 or email admin@lfwi.org.uk
WI Office address – LFWI, 8 Croston House, Centurion Way, Lancashire Business Park, Leyland, PR26 6TU
---
---

2017 COUNTY SHOW SCHEDULE - CLICK HERE to VIEW
Forthcoming Events updated:
Click on above Calendar tab to view.