Treasurer's Corner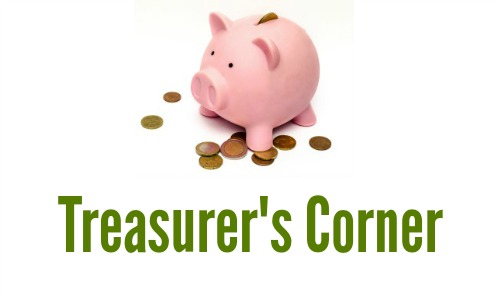 March 2018
Many of you have been asking whether it's possible to pay money due to the Federation using on line banking. Now that we have successfully negotiated the change over to a new accounting software package, we have been looking at ways we can best manage this.
When you receive your April monthly statement, you will see that we have included our bank account details should you wish to pay us via online banking. If you are only paying the amount on the monthly statement, as part of your instruction to your bank please show which month's statement you are paying. If you are paying a different amount to that shown on the monthly statement, please email our book-keeper on accounts@wkfwi.org.uk to let him know exactly what you are paying. In this way we will be able to keep track of what you are paying and maintain an accurate balance in our records.
Please also remember that Charity Commission and WI rules state that there must be dual control when making any online payments. This means that one of your signatories must set up the payment and another of your signatories must release the payment. You will therefore need to arrange for at least two of your signatories (preferably three) to be approved by your bank for internet banking.
This is the last Treasurer's Corner that I write as I am standing down from the Board of Trustees at the Annual Council Meeting on 21 March. I have been a Trustee for ten years and Federation Treasurer for six and I would like to take this opportunity to thank everyone for their interest and the support I have received over the past few years and to pass on good wishes to the next Federation Treasurer.
Gill Bowden
February 2018
As you pay your annual subscription, have you ever wondered how many members there are in the WI? I thought I would share the figures which were produced by NFWI and circulated at the Autumn Council Meeting, attended by Federation Chairman and Treasurers from all over England and Wales in early November. These membership numbers were accurate at 30 October 2017.
Kent-West Kent Federation has 7,632 members and we are the sixth biggest Federation, the only ones larger being Essex, Cheshire, Hampshire, Surrey and Lancashire. In total there were 221,984 members in England and Wales.
The NFWI Annual Raffle was also drawn at the Autumn Council Meeting and once again a member from Kent-West Kent won one of the prizes which I hope she is enjoying. NFWI retains 40% of the proceeds of this raffle and distributes the remaining portion to the Federations, the amount being received being a proportion of the raffle tickets sold by that Federation. Members of Kent-West Kent Federation as usual, supported the raffle enthusiastically, and as a result we have received the sum of £1330.24.
This money is put into the Bursary Fund to assist with the payment of not only the NFWI Raffle Bursaries but the other bursaries offered as well. Other sources of income put into the Bursary Fund are the interest received on our fixed-term deposits and donations made at the Annual Council Meeting to the Lucky Denman Draw.
So, please continue to purchase NFWI Raffle tickets when they are on sale in the summer - you may be the lucky winner and you will also be supporting the bursaries offered to our members.
Gill Bowden
January 2018
A happy New Year to you all.
We recently held an IFE get-together when some of the newly appointed IFEs updated us on their recent training and we discussed a number of the points which are raised regularly when examining a WI's accounts. I thought I would share some of these with you.
The column entitled Committee Expenses should only include expenses incurred by members of the committee, i.e. postage, stationery, travel etc. Reimbursement for any items purchased by the committee members for events and meetings should be shown under the relevant heading, e.g. expenses of meetings, fund-raising, expenses, WI activities etc.
It is good practice to maintain a daybook where all the information about payments and receipts are recorded at the time. This practice will also enable the books to be kept in case anything should happen which causes your treasurer to be unable to continue with her post. The daybook should be passed to the IFE with the other accounts information thus providing an additional source against which the accounts can be checked.
If you are using the WI accounts spreadsheet, please remember to save a copy with a different name before starting to use it. In this way you will always have a clean copy available. It is also a good idea to keep backup copies on two memory sticks, one of which should be passed to another committee member for safe-keeping, also allowing the accounts to be maintained if the treasurer is incapacitated for any reason.
I hope you find these comments helpful.
Gill Bowden
December 2017
First of all, I would like to send you all my very best wishes for a Happy Christmas and hope you enjoy all your celebrations, both with your families and with your WI.
As I write this, a training course for WI Independent Financial Examiners has just been held and I would like to welcome the six new IFEs who have been approved to examine WI accounts.
One of the items discussed at the training course was the new acting as agent arrangement for subscriptions and Federation tickets and it was confirmed that the revised financial statement, which will show these new arrangements, should be used by Kent-West Kent Federation for the current financial year. Copies of this new financial statement will be sent to all WIs in an end of month posting in good time for completion of your accounts, and it is included in the latest version (August 2017) of the WI accounts spreadsheet, which can be downloaded from the MyWI website or I can email you a copy on request.
If you are using the old accounts book, it will be necessary to adjust the totals for the year in order to transfer these to the correct section of the new financial statement. Otherwise, you may wish to transfer your year-to-date figures to the new accounts book and continue with the new version until the year end.
If you would like a WI trained IFE to examine your accounts at the year end, please contact Elizabeth Patterson who is the IFE Administrator.
Gill Bowden
November 2017
As you are aware, it is mandatory to be registered with the Charity Commission if your WI's annual income is over £5000 and I know many of you will be considering whether to de-register from the Charity Commission as a result of changes to the accounting procedures recently announced by NFWI. If you do decide to de-register, your WI will become an unregistered charity; you should not use any charity registration number but you will still be able to claim gift aid.
If you do decide to remain registered with the Charity Commission, I would like to remind you that, in addition to the completion of the annual return showing your WI's income and expenditure, other information must be recorded. All details must be submitted on-line and a password is necessary to access this function.
All trustees (i.e. committee members) of your WI must be listed with their full name, address and date of birth. It is important to keep these details up to date and not to leave on trustees who have resigned for any reason listed.
The address of one of your trustees must be shown as the 'registered address' of you WI - not Ethel Hunt Lodge.
A registered email address is also required. As well as enabling the acknowledgement of receipt of your annual return, this is very necessary as it is to this email address that a new password is sent if the old one has been lost or forgotten.
The information recorded on the Charity Commission website regarding your WI is available to any member of the public and it is important to remember that other organisations, such as banks or grant-making bodies, use Charity Commission records to authenticate applicants details.
Gill Bowden
October 2017
I have frequently been asked whether WIs may subsidise outings or other events for their members. The short answer is 'no' as this course of action is against WI rules which prohibit use of WI funds in this way. All outings must be paid for in full in advance by members taking part. There is an exception however.
If your WI has a surplus in excess of its estimated requirements, WI funds may be used to pay for an event of outing, which must be of interest to all members, and must take place at a time when all your members are in a position to attend. The decision to arrange this event or outing must be agreed by all your members and must be recorded in the minute book.
If you wish to donate from your surplus, you must abide by Charity Commission and WI guidance. You may, for example
Give a bursary to attend an educational course for one (or more) of your members
Donate to a local project which will benefit all members of your community
Give a donation to the hall where you hold your meetings
Give a donation to Denman College
Give a donation to ACWW
Give a donation to Ethel Hunt Lodge
If you would like further information on this, NFWI have produced a Guide to Fund Raising for WIs which is available to download from the WI Moodle or, if you contact me, I can send you a copy.
Gill Bowden
September 2017
As I write this we have just held the two Treasurer's Training sessions and I hope that all the new treasurers who attended now feel more confident in tackling their very important task. I am aware that a few of you were disappointed in not being able to attend and we are considering arranging another session to take place either later this year or early next year.
One of the topics discussed was of course the changes recently announced by NFWI regarding the new accounting requirements for dealing with membership subscriptions and tickets for Federation events. NFWI have stated that the new programmed spreadsheet should be available for download sometime in August 2017 - if this was the case, I will already have a copy and can email it to you on request. Sadly, I have no information regarding the date the new accounts book will be available.
If your WI claims Gift Aid, I would also like to remind you that the changes in the way membership subscriptions are treated will impact on the sum that can be claimed from HMRC as only the amount of the subscription kept by your WI can be included in your claim. This may have a significant impact on your finances next year and should be borne in mind when you are preparing your budget for 2018/19.
Still on the topic of Gift Aid, I should remind you that if your WI claims Gift Aid you may not charge any entrance fee to visitors to your WI and if any of your members who have signed up for Gift Aid attends a course at Denman College, you may not claim Gift Aid on their subscription for that year. This is because HMRC deems that members are in receipt of a benefit because their Denman course fees are lower that those charged to non-members.
Please do contact me if you would like any further clarification.
Gill Bowden
August 2017
With the centenary of the Federation occurring next year, I am sure many of you are already planning celebrations to mark this event. You may decide that some fund-raising is needed and it might be a good idea to start this as soon as possible.
Any funds raised this year should of course e shown in your WIs accounts under Fund Raising and the sum raised will be reflected in your WIs financial statement prepared in March 2018. However, I expect that most of your celebrations will take place in the summer 2018, during the following financial year.
It would therefore be a good idea to keep an additional separate record of funds raised (which may have resulted from efforts taking place in more than one financial year) so you have an accurate idea of how much has been raised in total. This will help decision making on whether your members will need to be charged to attend the celebratory event. In addition, you will be able to produce a financial statement after the event showing in total how much had been raised and how much had been spent.
I would also like to remind you that each member of the WI is entitled to attend 11 meetings every year totally free of charge. Therefore you should be aware, if you are planning to sell tickets of make any change for your event, that any centenary celebratory event cannot be held on the same day as your monthly meeting.
I hope this information will prove helpful to you.
Gill Bowden
July 2017
As I write this, the Independent Financial Examiners have nearly completed their annual task of examining and signing off the WI accounts. I thought I would share with you some of the issues which have arisen this year.
If you decide to pay money back from petty cash into your bank account, this should be shown only under the column entitled 'Total Paid into Bank' on the Receipts page of the accounts book. This will enable the bank reconciliation to be completed but will not affect the total receipts for the year as the petty cash in question will have already been included in your total funds.
Both the Charity Commission and NFWI guidelines state that no membership subscriptions from anyone should be paid from WI funds.
All cash received must be paid into the bank with no payments to anyone made from this cash. This is also Charity Commission and WI advice and by complying with this rule the accounts are simplified and accurate payments and receipts are recorded.
You may find that a cheque recorded in the unpresented cheques in the previous year has been lost. A replacement cheque should be written and recorded on the Payments sheet for this year in the usual way. When reconciling the bank statement on the financial statement, show the lost cheque against the 'unpresented cheques from previous years'.
If you are using the WI accounts programmed spreadsheet, do not unprotect the sheets and add and delete rows unless you are absolutely confident in the use of Excel as there is a real danger that the formulae for the calculations can be corrupted.
I hope you will find these tips of help to you.
Gill Bowden
June 2017
First of all I would like to say 'welcome' and 'thank you' to all of you who have volunteered to become your WI's new treasurer. I hope you will find your new role to be a rewarding one and that you will soon feel quite at home with your new responsibilities. I hope you have applied to attend one of the Treasurers' training sessions to be held at Ethel Hunt Lodge in July where, as well as receiving guidance on the treasurer's role, you will meet other members in the same position as you and can exchange views and ideas. If you are unable to attend one of these sessions there is interactive online training for treasurers to be found on the WI Moodle.
I would also like to say thank you to those of you who have agreed to carry on serving as your WI's treasurer. Another big thank you must go to those of you who have volunteered to be trained as WI Independent Financial Examiners. The training course will be held at Ethel Hunt Lodge on the 18th October and there are still some places available, so if you are interested in becoming an IFE please contact me and I can add your name to the list.
I look forward to meeting many of you at these courses and in the meantime, if you have any queries, please do get in touch with me and I will do my best to help.
Gill Bowden
May 2017
I am sure you are breathing sighs of relief that your accounts have been examined and finalised ready to be presented at your Annual Meetings this month. Have you also produced your WI's budget for the forthcoming financial year? This is always a useful exercise as it will reveal whether your WI has enough funds to meet all expenses in the coming year or whether some fund raising will be required.
At the Federation we not only produce a budget for each year, but also produce a budget for each event that we put on. This is quite a simple affair, but by listing all the expected to be incurred and estimating how many members may wish to attend, we have a good idea on how many tickets we need to sell to ensure that each event does not run at a loss.
It is a good idea to produce a budget for any of your WI's fund raising events - this may help to ensure that funds are indeed raised!
Another idea to assist with fund raising, particularly if serving food at your event, is to sell tickets to your members prior to the event - in this way you will know how many people to cater for and you do not run the risk of providing and paying for food that is not required.
I hope these tips help with your fund raising efforts.
Gill Bowden
April 2017
Recently, some WI Treasurers have asked if they may pay us direct into our bank account, rather than sending us a cheque. This is of course possible and we are in the process of setting up a routine to enable this and to help us to identify who and what has been paid. Details will be sent out to all WIs in an End of Month Posting when this has been finalised.
It is clear that many WIs have now set up or are considering setting up internet banking. There are many advantages to this, particularly when reimbursing expenses to members now that so many bank branches have closed. It is also much easier to record members transferring money for tickets and membership subscriptions direct into your WI's bank account - again saving the Treasurer that awkward trip to the nearest bank to deposit the money.
However, Charity Commission guidelines recommend that a dual authorisation procedure is followed when making electronic payments. This means that one signatory sets up the payment and another signatory releases this payment. Each signatory would have their own security details which must not be shared with anyone else.
If you wish to set up internet banking, please enquire from your bank whether they support dual authorisation as this is the recommended procedure. If not, please get in touch with me and we can discuss possible alternatives.
Gill Bowden
March 2017
I'm sure you will all soon be hard at work finalising your WI's accounts before they are seen by your Independent Financial Examiner and you will now know the amount of your income for the year. This amount affects your WI's status with the Charity Commission.
All WIs are charities in their own right and do not require to be registered with the Charity Commission until their annual income from all sources exceeds £5000. However, all WIs, whether registered or unregistered, must adhere to the Charity Commission guidelines. Many of the WIs in the Federation were registered some years ago and will have a registered charity number. However, newer WIs were not registered and if your WI falls into this category and your annual income for the year is in excess of £5000 you must now register with the Charity Commission. There is guidance on the WI Moodle on how to do this or, if you do not have access to the Moodle, I can email a copy of the guidance to you.
You will receive a registered charity number, which it is good practice to include on all correspondence, and will be required to complete an annual return, which can now only be completed online. You will also need to supply details of your Trustees (committee members).
If you were registered many years ago, your WI's annual income is below £5000 and you feel your WI will never achieve that amount of annual income it is possible to deregister from the Charity Commission, thus saving the necessity of completing the annual return.
If, unfortunately, you find that your WI must suspend and you are registered with the Charity Commission, one of your last acts as a WI Trustee must be to close your charity officially. There is a form available on the Charity Commission website to cover this eventuality and you will need to know the amount of money remaining in you WI's bank accounts at the time of suspension for inclusion on this form. This money should be sent to the Federation prior to the closure of your WI's bank accounts. It is then held in trust for three years in case your WI wishes to reform. After three years this sum becomes part of the Federation's income.
You can click here to visit the Charity Commission website for more information
Gill Bowden