Treasurer's Corner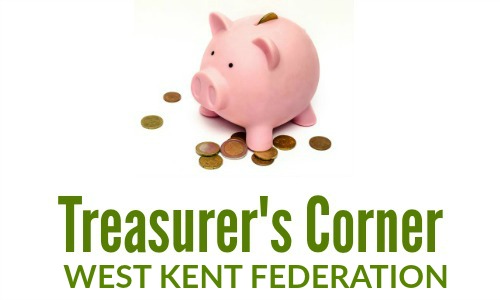 August 2019
As I write this at the beginning of June you will have finished presenting your financial statement to members at your WI's Annual Meeting.
Many of you will have used a Federation trained Independent Financial Examiner (IFE) to examine and sign off your accounts. Out of the 180 WIs in West Kent approximately 100 use a Federation IFE and there are always new requests to join the Federation Scheme.
Federation IFEs are trained specifically in the ways os WI financial practices, especially regarding Charity Commission/law requirements, something that outside examiners don't always understand.
However the continuing demand for the Federation scheme does mean that we are always looking for volunteers to undertake the IFE role. IFEs are responsible for examining their allocated WI's end of year accounts and records as well as providing advice and guidance to Treasurers. WIs are allocated to IFEs by the Federation's Scheme Administrator, Elizabeth Patterson.
A days training, held at Ethel Hunt Lodge, covering the above aspects of the role is arranged and paid for by the Federation. Ongoing support will also be available from either myself or Elizabeth.
If you feel that joining the IFE team would be of interest to you or want to know more about the role please get in touch woth me here at EHL on 01892 823813.
Gillian Neville
---
July 2019
Some of you may or may not have seen some correspondence in 2018 from NFWI about fundraising for ACWW (Associated Country Women of the World) Pennies for Friendship. This led to some confusion. The reality is, there is no problem so please do keep collecting your 'Pennies' for such a good cause.

There are two types of Pennies for Friendship:
1. PFF - Funds the administration of ACWW.
2. WIPFF - Pennies for Friendship, funds projects and project administration
This is the preferred WI route. WIs pay their collected funds into the Federation once or twice a year. Donations can be made via the monthly statement.
We will then pay this money over to ACWW once a year to reduce bank charges for ACWW. The money is ring fenced by ACWW in order for it to be applied to projects within the category the WIs have asked for.
If any cheques are sent directly to ACWW they must be made payable to ACWW and on the back must be written they are for WIPFF (NOT just PFF).
The categories, which are now under the umbrella of the WE Fund (Women Empowered Fund) are:
Education
Nutrition, Good Health, Well Being
Sustainable Agriculture Training and Development
Income Generation and Livelihood
Sustainable Water, Sanitation and Energy
Maternal and Reproductive Health
The West Kent Board of Trustees decided that money raised this year will go towards the Income Generation and Livelihood 'pot'. We are then sent details of projects funded from this pot. So far there has been just one, Project 1048 Beekeeping for Sustainable Income, Kenya.
Tricia Ashdown is the Federation's ACWW Rep and is always happy to visit WIs and talk about ACWW or provide updates on current projects. If your WI would be interested please contact Tricia on triciaashdown@yahoo.com
Gillian Neville
---
June 2019
First of all I would like to say 'welcome' and 'thank you' to all of you who have volunteered to become your WI's new Treasurer. I hope you will find your new role to be a rewarding one and that you will soon feel quite at home with your new responsibilities.
At the risk of repeating myself there is support available to you. The Federation will be running two one day sessions in July, on the 10th and 16th. The application form is in this month's West Kent News (page 4). Please do come along if you can.
If you can't make either of these dates there is a treasurer's training module on My WI and of course if you have any queries please do get in touch either by phoning Ethel Hunt Lodge or emailing me at treasurer@wkfwi.org.uk
The April end of month posting contained two documents which I hoped might be useful. The first one provided an explanation about 'Acting as an Agent' and how to account for funds that fall within this definition. The second document set out what should be included in each heading in the accounts book/spreadsheet. I hope they are useful.
Gillian Neville
---
May 2019
If you weren't at the ACM in Tunbridge Wells this year I thought you might be interested in the main parts of my presentation on the Federation accounts.
The Federation in 2017-18 had a deficit of £17K. The main reason for the deficit was the drop in income on charitable activities. As a board we knew that would happen since in 2018 the focus was on running the special centenary evets at Rose Bruford, Aylesford and Hawkhurst. Therefore less of the normal workshops and days were organised.
We also used some of our reserves to subsidise the ticket cost, in line with Charity Commission guidance that charities should be using their reserves for the benefit of its members. A planned deficit is not a bad thing and won't cause any problems for the Federation.
With that in mind as a Board of Trustees we will be looking at both our reserves policies to ensure that the £155,000 budgeted to keep the Federation running for nine months is at the right level and will also consider how to use any surplus above that.
This year the Federation will be paying for six months for each WI to cover the cost of a web based version of the West Kent News. We are also holding the price of the hard copy at 25p per magazine.
Ticket prices - I know there have been some recent comments about the pricing of some of the workshops, so an explanation about pricing might be in order. Our aim with Federation events is not to make a massive loss or profit on them. Each event is budgeted at a break-even point or just over and takes into account the main costs of halls, speakers and tutors.
The Federation tries to book expert tutors and speakers for events to ensure that members hopefully have an interesting and educational experience from any of the workshops/annual days etc. However, sometimes tutors do come at a price and that can be an issue for the Federation. There will, in some instances, be costs that make an event so expensive that the take up is poor. This will not always be obvious until an event is advertised. If it doesn't reach it's break even point it will have to be cancelled as happened with the Sevenoaks Country Fair last year.
Now some of you may be wondering what this has to do with the finances of your WI. Well apart from the scale of the money involved some of what I have written here also applies to a WI.
As a committee you should know how much your WI will need to meet your commitments for a period of time should anything happen to your income. The period of time can be what you decide on but it's usually in the realm of 6-9 months.
If you have a substantial surplus you can consider what you can spend it on for the benefit of your members. As I said at Tunbridge Wells as a Treasurer I love having a large surplus in the bank but we should not just let it sit there. There is guidance on My WI as to what activities a surplus can be used for.
A planned deficit is not necessarily a bad thing.
Do prepare a budget for any fundraising activities/events you might put on for members.
May I finish by saying I hope you have a good annual meeting. To those of you stepping down I thank you for all the time and effort you have contributed to the running of your WI. Of course, this also applies if you are continuing in your role as well.
Gillian Neville
---
April 2019
Next month it will be time for the WI Annual Meeting. I wanted to take this opportunity to thanks those treasurers who are standing down, for the time and effort you have put into this very important job. I am sure your members, as do we at the Federation, appreciate all that you have done for them.
Hopefully, you will have someone who is prepared to take on the role from you. I know that many people worry about the role of Treasurer but if anyone is considering it then do be aware that there is a lot of support available to new treasurers. Also remember that it is a role that can be shared between two people.
As I mentioned in the previous paragraph there is support available. The Federation runs two one-day courses for new treasurers, this year the dates will be the 10th and 16th July. The courses will be advertised in the West Kent News so do keep your eye open for the application forms. As well as this there is a Treasurer's Training Module on My WI and of course if you have any queries please do get in touch and I will do my best to assist you.
The following is something I have put together to highlight the main responsibilities of the treasurer's job. It is available to download here and hard copies will be available from myself.
Treasurer's Job Description - click here to download
I hope it will be a useful resource for WIs to show potential treasurers. I also hope it won't scare them off!
Prepare and monitor the WI budget for the year
Keep the accounts up to date, either using manual accounts book or the computerised spreadsheet
Collect the annual subscriptions and other monies and pay these into the bank (this should be done promptly), Issue receipts for all money received.
Make sure that obligatory payments are made e.g. membership fees to the Federation, pooling of fares.
Pay all bills/speakers fees.
Maintain a day book of receipts and payments.
Maintain petty cash system if your WI operates one.
Reconcile the bank statement monthly.
Id gift aid is claimed complete the annual return for HMRC
Prepare the end of year financial statement and arrange for it to be signed off by an Independent Financial Examiner.
Report to members on the end of year accounts at the Annual Meeting
Once again, I thank you for the work you do and I hope that new treasurers will find the job as rewarding as I did when I was my WI's Treasurer.
Gillian Neville
---
March 2019
I have had a number of Treasurers contact me recently concerned about changes that the Charity Commission have made to the information now require when a WI does its annual return and has to update it's details.
For instance the Charity Commission now require email addresses of all trustees and bank account details. Obviously this has been of concern to Treasurers, with some worrying that details, could be vulnerable to hacking etc and that it was becoming more of a burden to complete the return.
I contacted the NFWI Head of Finance to ask whether he was aware of these new requirements and I copy his reply below.
'I am aware of the changes charity commission has brought. This is in line with the need for more transparency and accountability in charities. You are right they are requesting for more information now and it seems unfair on small charities such as WIs because they are time consuming. These are sector wide changes and chances are once they are done, most areas will not need to be updated every year. Below is a link to more information on charity commission website
https://www.gov.uk/government/news/update-your-charity-details-improved-service-coming-soon
This is what the commission said about bank account details:
Changes to bank account information
You will need to provide details of all your charity's UK bank/building society accounts. This information will not be available to the public.
We will use the information to make sure that charities are protecting and managing their funds appropriately, where we need to. Trustees have a duty to act responsibly, reasonably and honestly and protect charity funds and assets so that they are only used to support or carry out its purposes.
Working inside the regulated banking system is the best way to achieve this. Holding a bank account also aids with transparency providing an audit trail and records, such as bank statements'.
Finally It might be worth remembering that if your income is less than £5,000 you can deregister your WI, even though NFWI feel its good practice to remain registered. However, I do know that a couple of WIs have recently deregisterted because of concerns around the extra information now being asked for.
Gillian Neville
---
February 2019
I know it is only February but I thought this month I would look ahead to March
The poem says March brings breezes to stir the dancing daffodil. However, for WI Treasurers it also brings the end of the financial year and time to prepare the end of year accounts.
Therefore, I thought it would be useful to repeat a Treasurer's Corner from a couple of years ago and offer some suggestions to hopefully smooth the process and try to ensure there are no last minute panics.
If you have not already done so, reconcile the bank account, leaving only the last few items to be agreed at the year-end.
Make sure you have to hand the necessary paperwork relating to all payments you have made, together with supporting documentation.
Make sure all the receipts you have issued includes information indicating what the money was received for.
Ask your committee to submit any outstanding expense claims in good time.
If your WI runs a petty cash account, ensure you have all the signed receipts with supporting paperwork so the payments can be allocated to the correct headings in the account book.
Contact your IFE in good time to make arrangements for handing over the accounts for examination. If you have an IFE from the Federation scheme they will have other accounts to examine and liaising with them (once you know who it will be) will enable them to plan their workload.
I hope this will help you in preparing your accounts and if you have any queries about the process please do get in touch.
Gillian Neville
---
January 2019
I hope you all had a good Christmas and New Year.
As it is now January it is of course time for you to collect the WI subscriptions from your members. For 2019 the subscription for full members is £42. Of this, your WI will keep £20.50, NFWI will receive £11.70 and the Federation will receive £9.80.
The annual subscription for dual members will be £20.50 payable to their second WI, who will be able to keep all of this amount.
Any new member joining in 2019 after the end of March will pay a pro rata subscription depending on when they join. NFWI define a new member as someone who has not previously been a member of any WI in the past 10 years. I will be including in the January end of month posting, details of the pro rata rates (they are also set out online on My WI) and the forms on which we would like you to make your returns.
Also included in the January end of month posting will be the Trustees Report and Accounts for 2018 as part of your WI delegates pack for the Annual Council Meeting in March. I have just spent two days with the auditors who were carrying out the field work for our audit.
Just before this I had been asked what the Federation's portion of the subscription covered. The Annual Report sets out the many events and activities provided by the Federation. Our share of the membership fees accounts for about 50% of our total income and meets approximately 90% of the costs of running Ethel Hunt Lodge and paying the salaries of our staff. Without the income from the subscription the Federation would not be able to provide as much as we do for the members or support WIs with their queries.
If you get the chance please do read the Annual Report and Accounts
Gillian Neville
---
Contact the NFWI
Phone: 020 7371 9300
Open hours: 9am–5pm Mon–Fri
Address: 104 New Kings Road, London SW6 4LY
Or fill in the contact form... to email a specific department