About us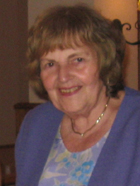 Miss Val Ware
Welcome to the Isle of Ely Federation
The Isle of Ely Federation is small but beautiful! Set in the fens and waterways of Eastern England, we have WIs in small villages, market towns and in the city of Ely itself. We now have just over 800 members in 34 WIs and are happy to report that our membership is steadily increasing. We would love to welcome you as a member of our federation so if there is not a WI where you live our WI Advisers will be happy to look into forming one.
Our federation offers a good range of activities to our members including most recently a Literary Lunch, a planting winter containers day and a shopping trip to Norwich. We encourage our members to learn new skills at our Day Schools and to take an informed role in public affairs through events organised by our Public Affairs committee.
Leisure activities are wide-ranging, from Scrabble, Ten Pin Bowling and whist to walks and outings and an annual Federation holiday. We also have a newly formed choir which meets monthly in March. We hold two Council Meetings a year when we enjoy excellent, well-known speakers, an update on Federation activities and the opportunity to catch up with WI friends.
Our WIs have their own full and interesting programmes and always welcome new members. As well as eleven or twelve monthly meetings some of our WIs have interest groups which may be a reading group, a walking group or a craft group. Try more than one WI to see which suits you best.
Fun and friendship are two words that occur frequently when members are asked why they joined our fantastic organisation. Just contact our office in March and talk to Su our Secretary and she will be able to provide you with all the information you need to become an Isle of Ely WI member.
Chairman - Miss Val Ware
Isle of Ely Federation